MM3
SET -UP MOTOR & SPAR
and SOME NEW STUFF



Instruction examples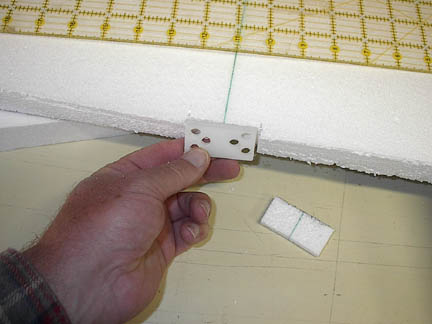 Use the small block of nylon included in the kit
Cut a notch for the block at the center of the propeller bay and glue in place before you glue the balsa end cap on.
This block will give you hard point to screw the motor plate to the wing.

---
SPAR WITH CROSS MEMBER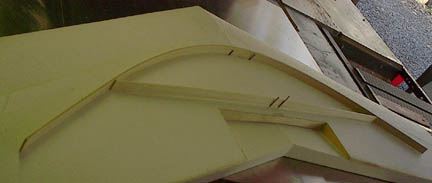 The bowed spar and cross member is laid out on the bottom of the wing and thin nails are used to hold in place (the front nails are hidden but they are there) for marking with thin tipped marking pin. Make the slot the depth of the spar and width of the spar. This can be done with a razor blade and depth stops.
OR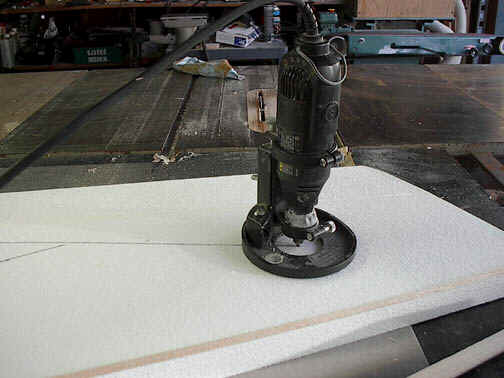 A Drimel with router base. Make several test cuts on the top of the beds to
make a test slot snug for the spar before you cut on the wing.

FOAM WINGS WILL FLUTTER AT HIGH SPEEDS UNLESS!
The more horse power you add to a foam wing the greater the need for a stronger spar. The single bowed spar in the kit is good for the suggested motor combination however motors with prop combinations of more than 25oz of thrust or high speed dives requires the full spar installation (included in the kit) as seen in the graphic below. The reason the step options of the spar gives the builder more or less ounces for target wing loading need for the desired set up the builder wants.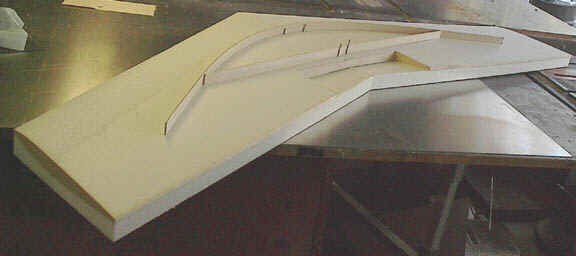 The above picture shows the full spar set up for hot motor & prop & battery set up's.
Both spar units come with the kit. If you choose to use epoxy dry fit first and lay out
your carbon strips before you mix the epoxy. See on-line instructions for more detail.
---
Ok Jack you got it! Jack Files ask for a keel so I made a ABS molded keel. You know a skid. It is experimental for now but if you want one- just ask for it at time of your order. It can be used for ballast or place a wooded or lead plug or a hook for thrust launchers.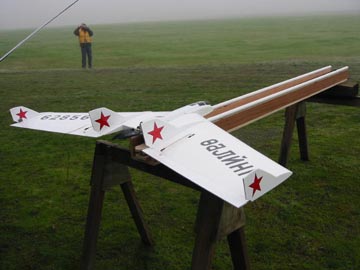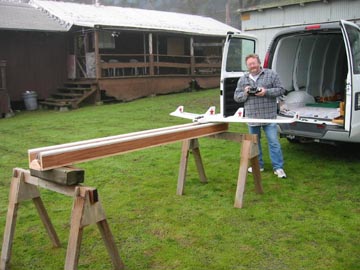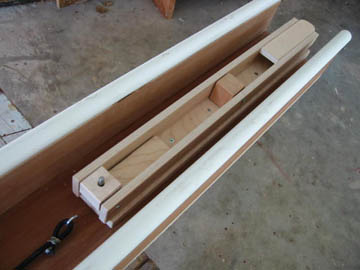 One needs to use a 30 foot 3/8 to 1/2 in bungee stretched until you have 8 or 10 lbs of pull. Hook it up and then step on the peddle and "Look Mom" no hands in the launch.....You'll get a 50 to 100 foot launch then hit the throttle....Zoom
---
Builders Notes:
1. Build light for thermal no zooming or no high speed runs, no spar. 64oz airborne weight
This no spar suggestion is only when you are trying achieve the lightest set up for light lift.

2. Build for stock suggested motor and conservative flying use the bow spar only (will add 4oz)

3. Build for hot motor use both bowed and cross member spar and carbon end caps (will add 6oz)
---