state
M E G A M A N T A 'S
D E S I G N
S T A T E M E N T

DESIGN STATEMENT
Wide Range Of Performance Options
The Mega Manta was designed to provide three kinds of flying. The first type is slope soaring in light to heavy winds combat ship (non-electric). The second type is thermal duration (electric and/or winch launch) and stay aloft as long as possible ship. The third target was to have a fun moderate (electric) aerobatic ship with 12 to 15 minutes or more with managed battery flying time. This target was meet with the Mega Manta. With that said the need for speed guys have suggested the new hotter "Mayhem Manta" a thinned and shorten span special ordered. The Mayhem Manta is fast and will go to speck in 25 seconds. It is rock solid in speed dives and can do several vertical rolls. To say the least it is as aerobatic as any wing on the market.
MODIFIED AIRFOIL
The Mega Manta's airfoil was modified to provide stable low speed turns and provide extra lift at all speeds. The Mega Manta has proven to be a good thermal ship with great duration using the suggested power and prop combinations. It was not designed to be a completive speed ship, however with the spar beefed up and hot motor and battery set up the Mega Manta can be modified to satisfy the speed need. For more speed The Mayhem Manta a 60 inch thinned airfoil can be ordered for better speed performance, however the slow and thermal performance is reduced.

OPTIONS OPTIONS OPTIONS

The large number of optional set ups are designed to fit a wider range of pilots needs. The Mega Manta can be set up for light lift slope ship or light touch winched thermal ship. The full spar installation including the cross member will ad to the wing loading however this full spar set up is suggested for those who want deep dive and hot motors speeds without wing flutter.
VERY VERY TOUGH

The 4 inches of EPP on the leading edge and pre-loaded bowed spar system provides a durable aircraft. I have hit trees, fences, barbed wire, posts, large rocks, pylon poles, chars, other wings, and the side of the house with no to minor damage. O yeah. You can make smash landings, cartwheel landing, and crash fence landings.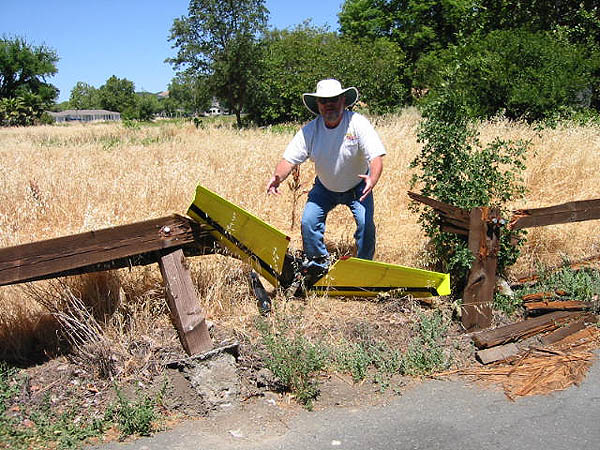 WOW!
The above picture was good joke. On one of the early test flights a loose connection caused it to fly over the trees. I found it next to the smashed fence the picture was shown to guys who fell for the gag for about 5 seconds.
"THROW IT-THEN HIT THE THROTTLE"