twin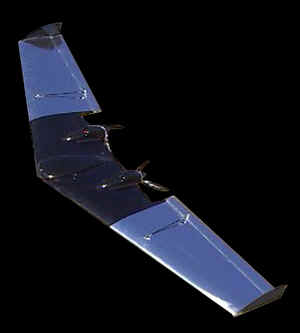 MEGA MEGA
MANTA

TWO MOTORS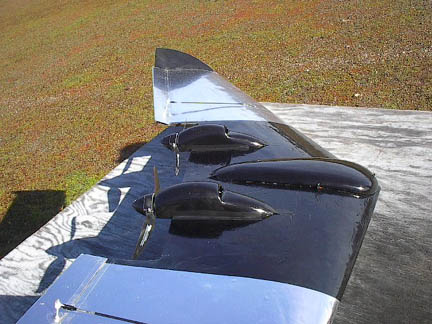 The custom molded cowls by Gary are outstanding
---
FEBRUARY 2ND 2003
First flight of the twin Mega Manta was like nothing I've ever
seen in a electric aircraft. One of the spectators said "I like it when
an airplane makes me want to duck for cover from just a fly by". The sound, the speed, the flash of the sun on chrome covering made the first flight a wild thing watching it go vertical.
I've been to Reno and seen the air races and heard the
"White Lighting" a P-38 War Bird
with her twin engines roaring, this was scaled down a lot but the
excitement of hearing twin high speed props crack the air must have the same harmonics.
---
Yo Doug,
I am very pleased with my Mega Manta. A really good flying wing. Even at over 6lbs. It's very groovy, ah or like on rails. No trim adjustments on first flight and I felt so confident that I pushed the envelope on the first flight. Even proved how tough it was with dorked nose in boing boing landing. (wind shear?)
Every one should have one since you can't hurt them it's always available to fly.
garyg
---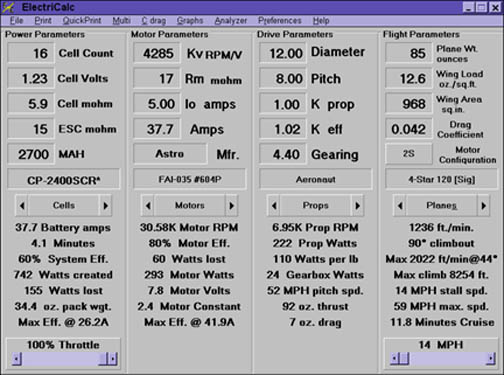 See the specks
The ElectriCalc is an invaluable tool to
compute data

110 watts per lb
92 oz of thrust
37.7 amps
11.8 minutes of Cruse flight time
2022 ft/min@ 44*
85 OZ TARGET FLYING WEIGHT
UP DATE
A FEW YEARS LATER TWO MEGA MOTORS
WERE PLACED ON THIS MEGA MANTA WHICH PRODUCED 140 OZ OF THRUST
THIS WILD RIDE CRASHED AFTER A YEAR OR
MORE OF FUN
WITH LIPO AND 13.5/6 PROP THE NEW
ON WORK BENCH VERSION WILL SOON BE
FLYING ONCE AGAIN.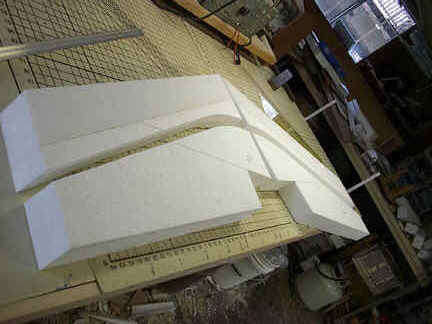 A curved template was used on cores after the airfoil was cut. I use a table saw
converted into a horizontal hot wire.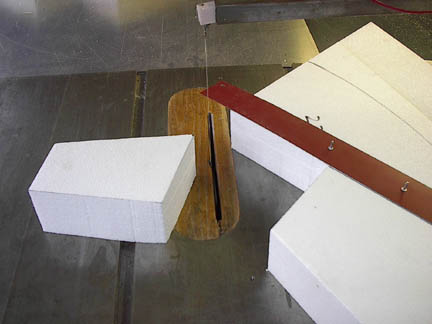 Horizontal hot wire from a table saw and over hang support allow thick cuts at
a 90 Degree. One side of prop well shown above.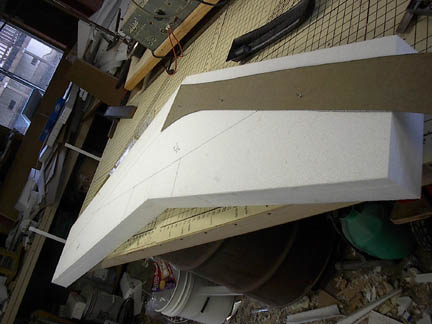 Wire cut one side at a time and when put together they make a full curved slot for the
carbon firber.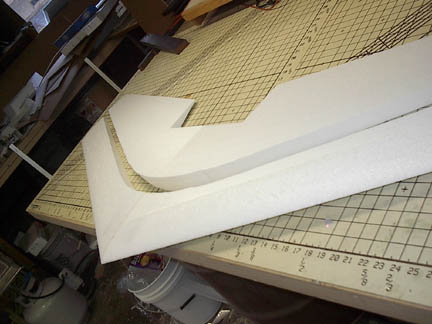 Next the beds and cores are glued together, except the wing cores are left
unglued along the curvature split. The beds are lined with shrink wrap and the
curvature groove is lined with carbon fiber. The cores are placed back in the bed
aligned and pressed with flat plywood and 300 lbs of weights. The results is a
curved carbon fiber spar with cross connecting carbon caps.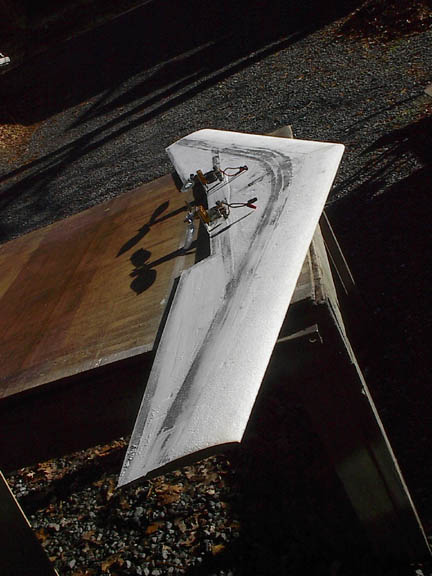 THE SPAR IS EXTRA EXTRA TO SAY THE LEAST LEAST
CARBON FIBER "I BEAM" CONSTRUCTION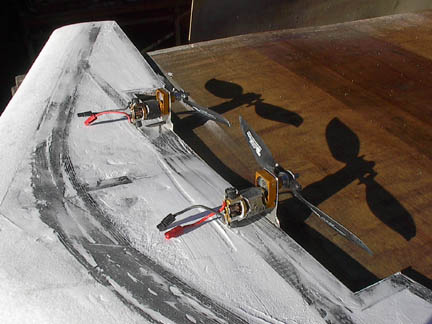 MOTORS ARE MOCKED IN POSITION THEY MAY BE TURNED DOWN
TO REDUCE THE HIGH PROFILE. He did! see ......the picture at the top of the page
GARY SMEARED SOME KIND OF FILLER SPACKLE ON THE SURFACE
HE IS GOING MAKE IT SHINY AND SMOOTH.
---