RUNICROCK
RUNIC MONUMENT ROCK
GOOGLE EARTH MARS
https://www.google.com/earth/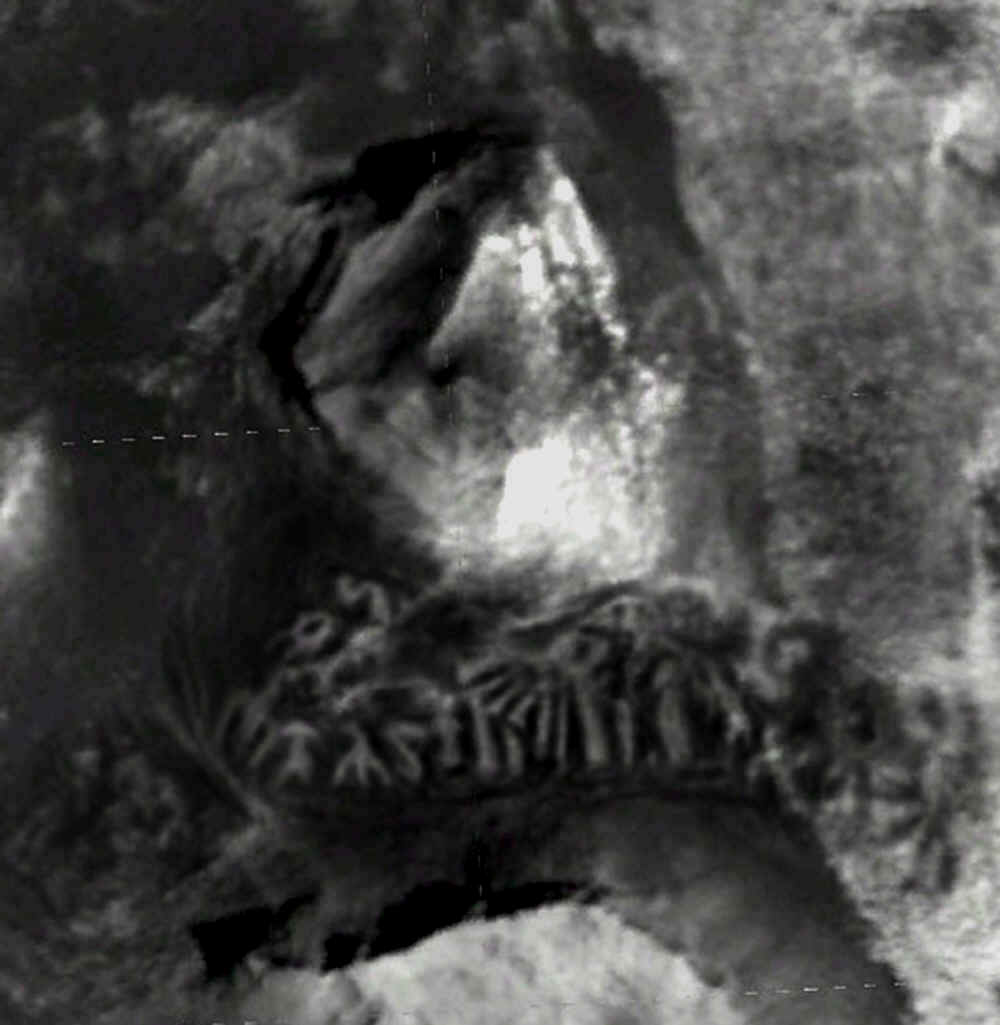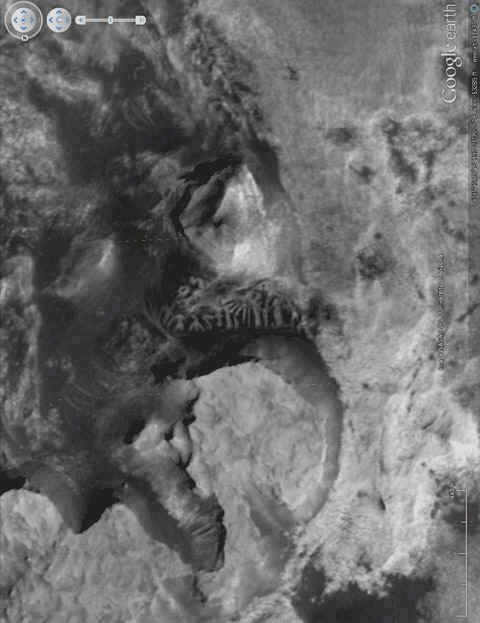 4°45'53.29" S 137°21'32.33" E MARS GPS
425FT x 425FT, 400FT x 400FT TAPER STEP,
400FTO DIAMETER DOME, WITH 250FT TRIANGLE
HEADER
ANCIENT EARTH RUNIC LETTERING
CARVED AT THE BASE OF RUNIC ROCK
MONUMENT
BELOW ARE NEWLY DEVELOPED ENHANCEMENTS
OF RUNIC-ROCK USING GOOGLE EARTH/MARS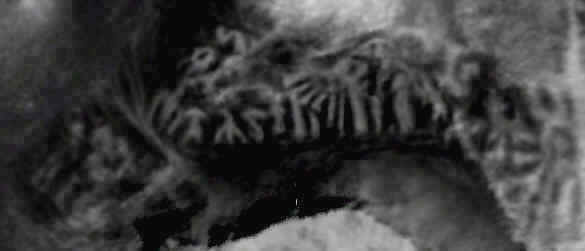 4°45'53.29" S 137°21'32.33" E MARS GPS

ALMOST 20 SYMBOLS ARE UNCOVERED WITH
THE USE OF COMPUTER SHADOWING, HIGHLIGHT,
CONTRAST, AND SHADING ENHANCEMENTS
PATTERNS OF UNKNOWN MEANINGS ARE
NOT NATURAL GEOLOGIC FORMATIONS
DOWNLOAD GOOGLE EARTH AND OPEN THE MARS OPTION BY CLICKING ON https://www.google.com/earth/
YOU CAN PIN A MARKER ON A SPOT AND SAVE A SCREEN IMAGE TO A FILE. DOWNLOAD TO OPEN IN YOUR IMAGING PROGRAM TO CLEAN UP THE BLURS, AND ENHANCE THE
IMAGE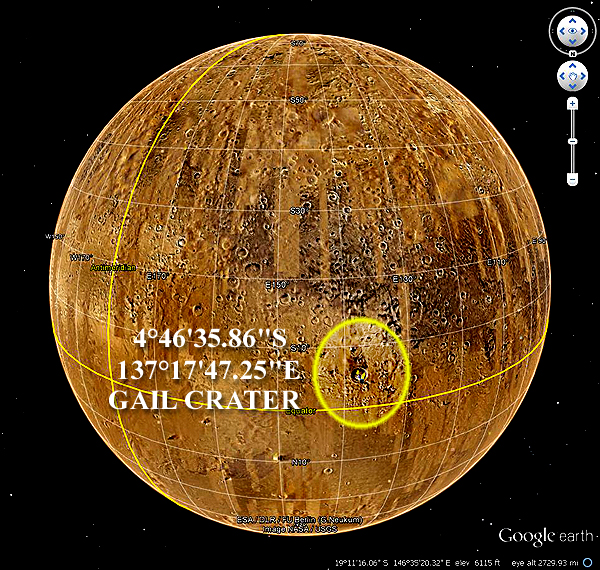 A SCREEN SAVE IMAGE OF
GOOGLE/MARS WITH GPS COORDINATES
TO FIND GAIL CRATER AREA
-----------------------------------------------------------------------------------------------------------------------------------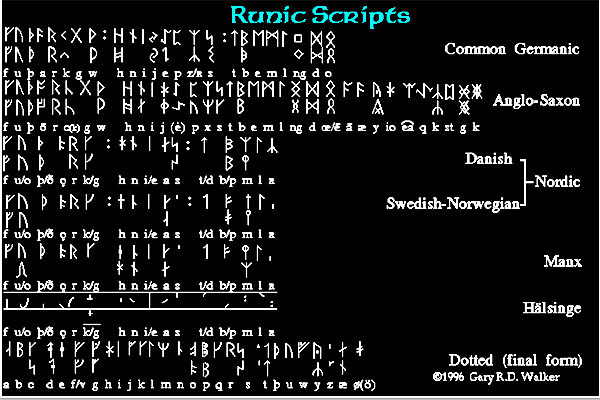 http://www.sunnyway.com/runes/origins.html
THE JELL STONE HAS THE SYMBOL FOUND ON SOL 502 AND 589 CARVED IN STONE WITH PERHAPS THE QUARRY SAW LISTED ON SOL 601
DECEMBER 2015 NEW FINDINGS NEAR RUNIC ROCK ALTHOUGH THE NEW FINDINGS HAVE FEATURES CONSISTENT OF RUNIC LETTING THE FORMATIONS MAY BE GEOLOGICAL IN NATURE THE ZONE APPEARS TO HAVE BEEN ONCE A WASH IN MAJOR FLOODING. ONLY THE BED ROCK AND SEDIMENTS OF FLOOD DEPOSITS WOULD REMAIN. IT IS POSSIBLE THAT NATURAL FORMATIONS WOULD ALSO HAVE BY NATURAL CAUSES THE SHAPES OF RUNIC LETTERING THE POSSIBLE RUNIC LETTERING AT THE BASE OF RUNIC ROCK ARE MORE DEFINED AND HAVE MUCH HIGHER VALUE THAN THE SURROUNDING NATURAL FORMATIONS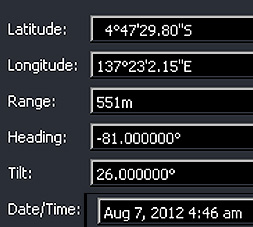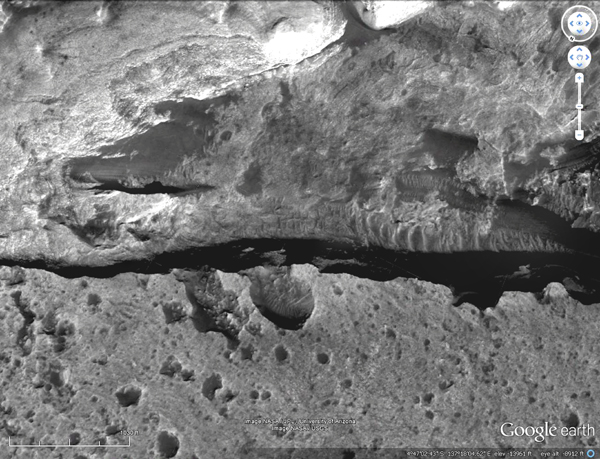 HIGH ALTITUDE VIEW OF CLIFF FACE RAW SCREEN SHOT
NO ENHANCEMENTS OR CONTRASTS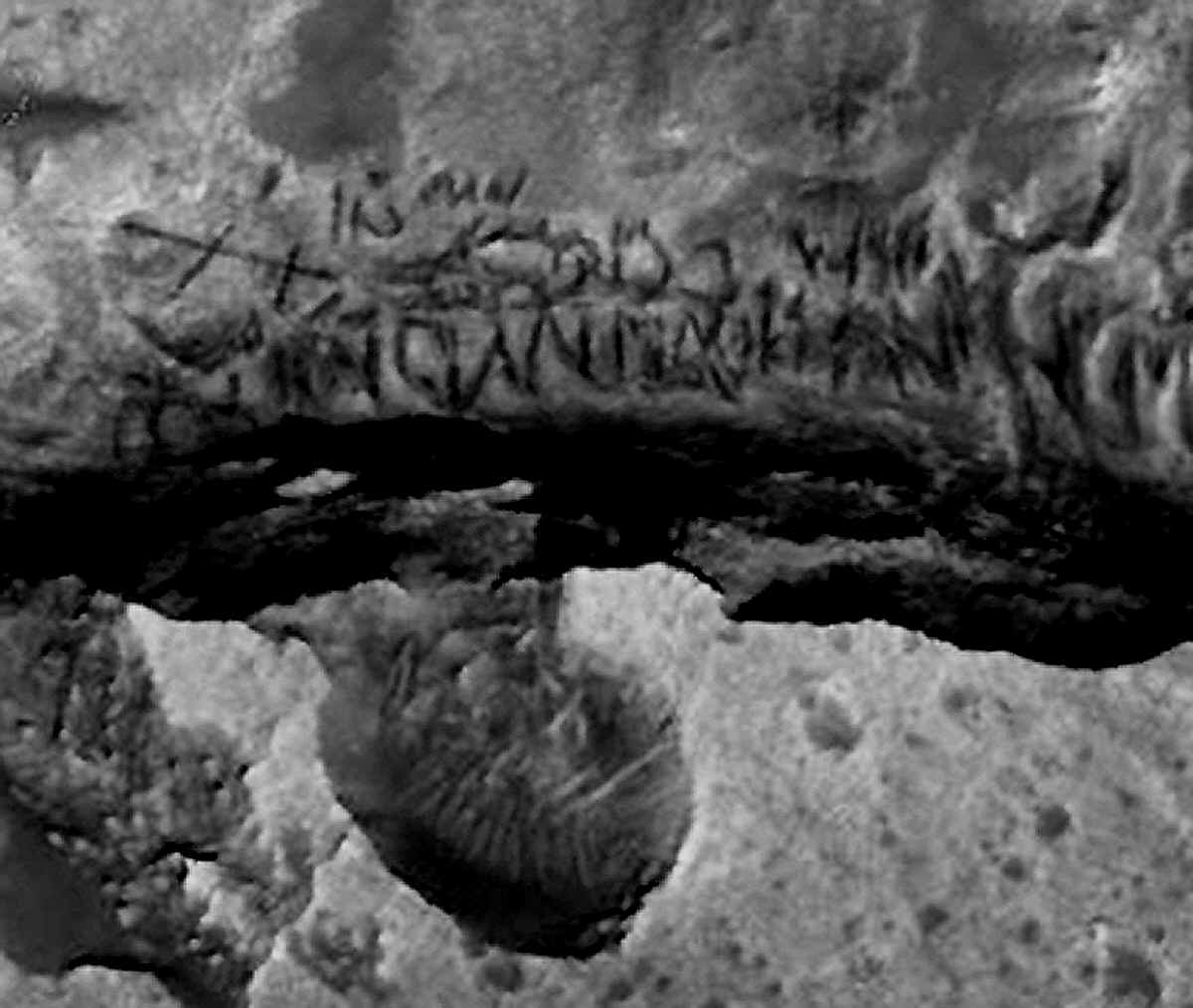 THE LETTERING APPEARS TO BE CARVED INTO BEDROCK
THE GROVES WERE FILLED IN WITH HIGHLIGHT IMAGING FUNCTION
OF THE SOFTWARE
ANOTHER IMAGE ENHANCED 3,200 FEET WEST FROM RUNIC ROCK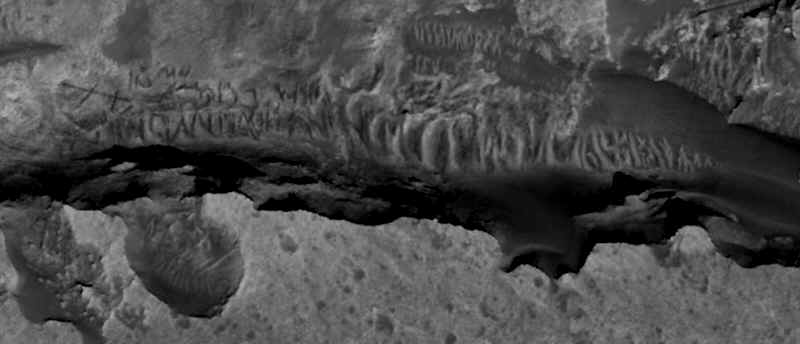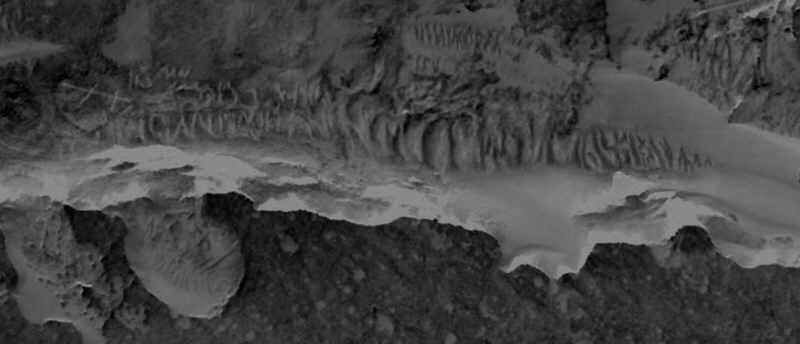 POSITIVE IMAGE INVERTED NEGATIVE IMAGE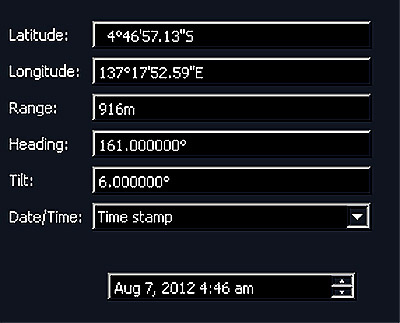 __________________________________________________________

ADDITIONAL FIND JUST ABOVE CLIFF IN DARK SHADOWS
LIGHTING THE EXPOSURE TO REVEL A VERY STRANGE ROW OF OBJECTS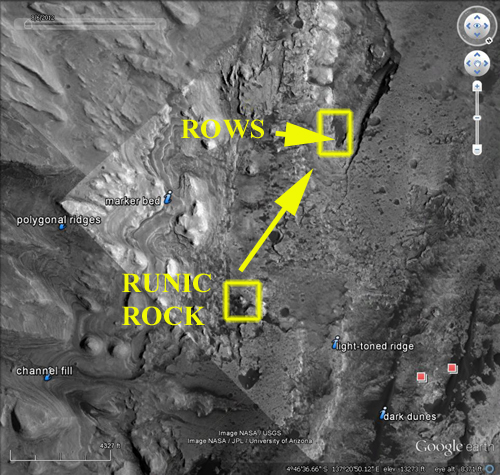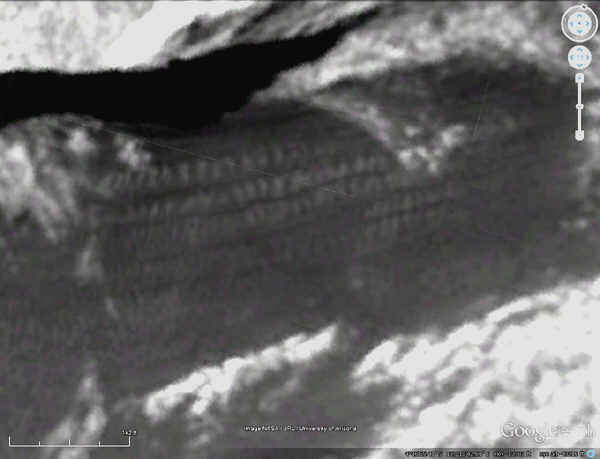 ROWS
4°46'56.85"S 137°18'40.10"E
AUG 7TH 2012
STRUCTURES, FORMATIONS, OR A LARGE OBJECT UNDERGROUND PARTLY EXPOSED RAW IMAGE FROM NASA IS CONFUSING AS THE SHADOWS ARE NOT JIVING WITH SUN LIGHT?
FULL CONTRAST AND ENHANCEMENT ADJUSTMENTS
THE IMAGE AT BEST IS BLURRY, SHADOWED, DISTORTED HIGHLIGHTING THE LIGHT PIXELS, AND MID-TONED THE DARK PIXELS BRINGS OUT ONLY A SMALL PORTION OF THE OBSCURE OBJECT
THE STRUCTURE HAS THE FEATURES OF A WALL WITH ROWS OF LETTERS, AND SYMBOLS OR THE SHARP EDGE OF A VERY LARGE EXCAVATING BIT;;;;;;;;;;A SCARP AT THE POINT OF ENTRY, A VERY LARGE PILED MOUND BEHIND BEHIND THE HOLE?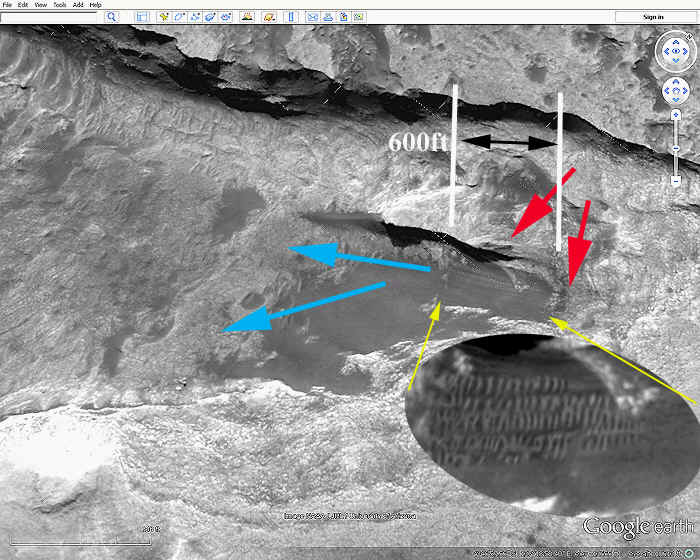 THE BLUE ARROWS INDICATE A DEBRIS FIELD, THE WHITE INDICATE THE OBJECT IS VERY LONG, THE RED ARROWS ARE POINTING OUT THE ESCARPMENT OF A TUNNEL OR HOLE. THE ZOOMED IN OVAL GIVES A SHARPER IMAGE OF THE ROWS OF UNKNOWN OBJECTS?

3DMAX RENDERING

USING A DIFFERENT VIEW OF THE SAME STRUCTURE IS A TECHNIQUE TO FIND ADDITIONAL CLUES TO WHAT IT MAY BE. THE ROWS OF THE LIGHTED OBJECTS, A FLOW INTO A TUNNEL OR HOLE, AND DARK AREAS OF WHAT MAY BE DEBRIS FLOW FROM THE ZONE ARE MADE MORE APPARENT. THE GOOGLE EARTH/MARS VIEW IMAGE IS VERY DIFFICULT TO WORK WITH, THUS A SHARP CLEAN IMAGE IS NOT POSSIBLE WITH CURRENT SOFTWARE.
IT BEHOOVES THE VIEWER TO LEARN HOW TO NAVIGATE WITH GOOGLE EARTH TO SEE FOR YOUR SELF THE WONDERS UNCOVERED ON MARS, AND EARTH. 360 DEGREE VIEWING WITH HEIGHT AND ZOOMING TOOLS ARE EASY TO WORK WITH WHEN
VIEWING GOOGLE EARTH/MARS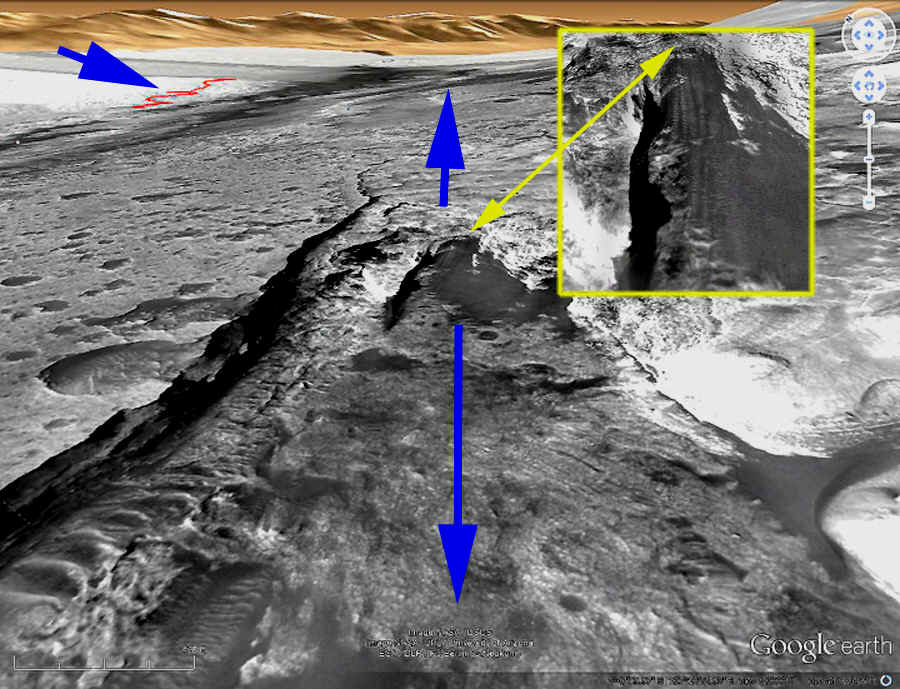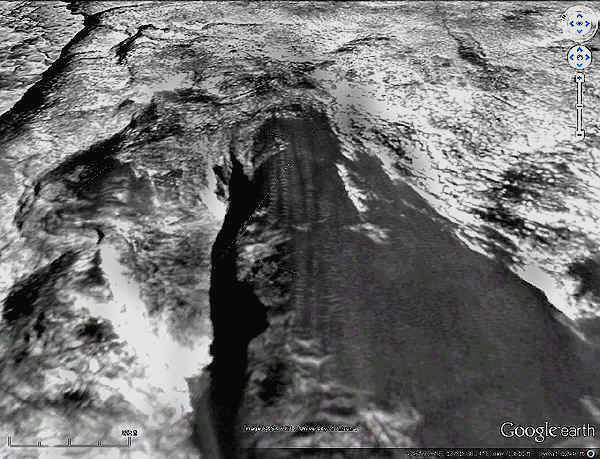 WIDE ANGLE AND HIGH ALTITUDE VIEW SHOWS A MAJOR
FLOW OF MATERIAL EMANATING FROM THE CENTRAL POINT IN QUESTION. THE BLUE ARROW TOP LEFT IS POINTING TO THE RED PATH OF CURIOSITY ROVER, THE TWO BLUE CENTER ARROWS INDICATING TWO POSSIBLE DIRECTIONS OF THE MASS FLOW OR SCARP. THE QUESTION RAISED; IS IT A NATURAL MARS GEOLOGY OR IS IT SOMETHING ELSE? THE ROVER IS 4.9 MILES FROM THIS SITE, AND 3.4 MILES FROM RUNIC ROCK AND IT'S PROJECTED PATH IS DIRECTED TO THIS MYSTERIOUS ZONE OF OBJECTS.
SPECULATION CAUSES ONE TO THINK OF A PIPE BREAK, AND THE MASSIVE AMOUNT OF ROCK, MUD, AND SAND MAY HAVE COME FROM A NATURAL TUBE MADE BY A LAVA TUBE, OR A ELECTRIC ARC TUBE. IF A LARGE BODY OF WATER WERE AT THE END OF THE TUBE AND THE FLOW CHANNELED THROUGH THE TUBE THIS MAY THE EXIT POINT OF A DEBRIS FLOW. AFTER MARS WAS DESTROYED COOLED AND WEATHERED, EXPLORERS (RUNIC WRITERS),
COULD HAVE BEEN DRAWN TO THIS ZONE.
Copyright All Rights Reserved © 2015 by Dseth
UPDATED FEB 2018