RUNICROCK
RUNIC MONUMENT
MAYBE NOT A GEOLOGIC ROCK FORMATION
GOOGLE EARTH MARS

IMAGES FROM MARS GLOBAL EXPLORER SATELLITES
https://www.google.com/earth/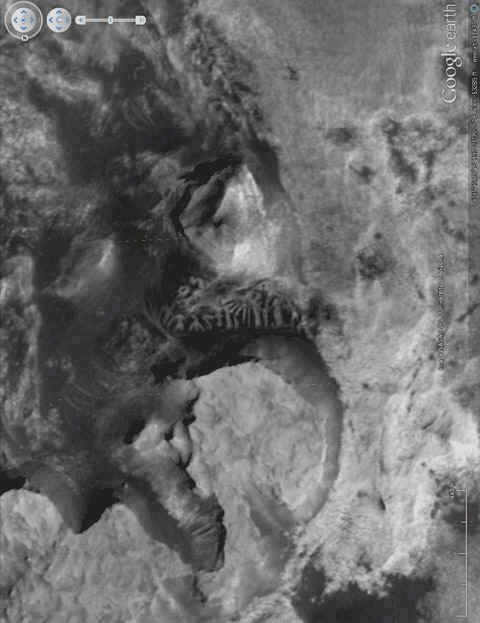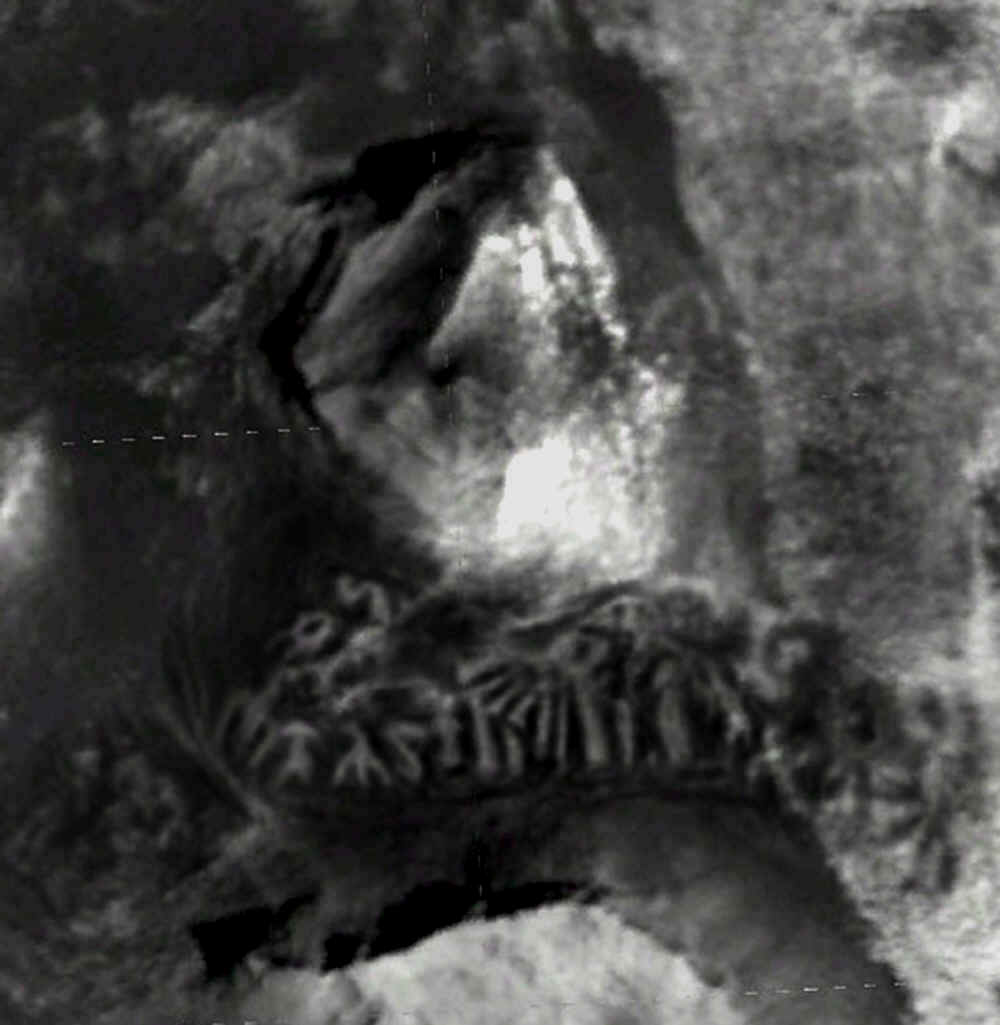 425FT x 425FT, 400FT x 400FT TAPER STEP PLATEAU
400 FT DIAMETER DOME, WITH 250FT TRIANGLE TOP HEADER
ANCIENT RUNIC LETTERING AT THE BASE
THIS MAY BE A CONSTRUCTED MONUMENT COVERED IN ASH AND DUST
MAJOR GEOMETRY AND NOT SO MUCH GEOLOGY
PATHWAYS AND CHECKER BOARD SQUARES 42 FEET BY 42 FEET
CAN BE SEEN TO THE RIGHT OF THE TALL MONUMENT
SATELLITE IMAGES OF ANCIENT VIKING SETTLEMENTS ARE SIMILAR

HIGH DETAIL IN FOCUS IMAGES ARE NOT RELEASED TO PUBLIC
IF A MAJOR BASE WAS ONCE HERE AT THIS SITE MAYBE WHY THE
ROVER IS HEADED FOR THIS AREA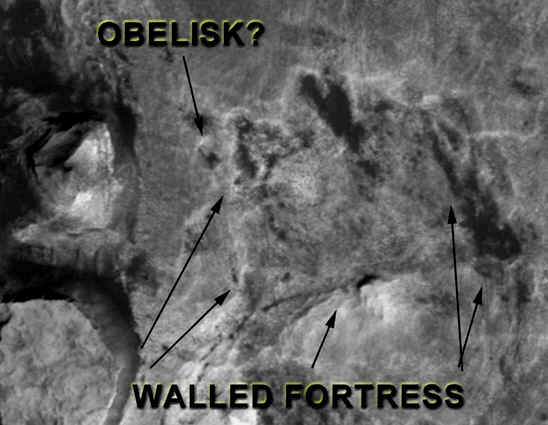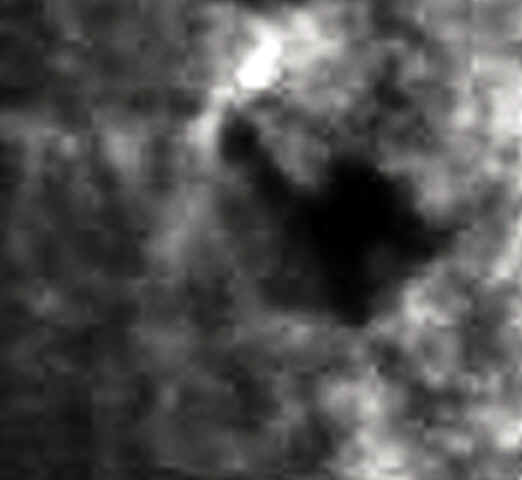 RUNIC ROCK MONUMENT MAY HAVE A OBELISK NEXT TO IT?
OUTLINE OF WALLED IN RUNE FORTRESS AS WELL?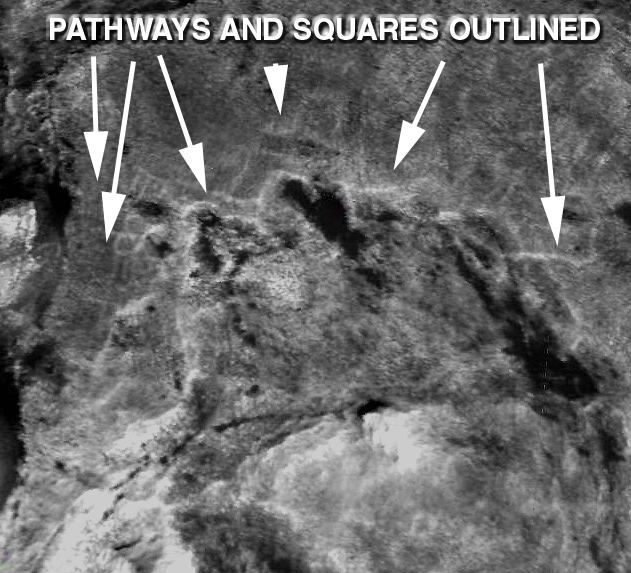 PATHWAYS AND 42X42 FOOT SQUARES
SQUARES OUTLINED AND PATHWAYS?
A ANCIENT BASE ?; FORT ?; CITY ?; SETTLEMENT?
_______________________________________________
4°45'53.29" S 137°21'32.33" E MARS GPS
425FT x 425FT, 400FT x 400FT TAPER STEP PLATEAU
400 FT DIAMETER DOME, WITH 250FT TRIANGLE
HEADER
ANCIENT EARTH RUNIC LETTERING
CARVED AT THE BASE OF RUNIC ROCK
MONUMENT
BELOW ARE NEWLY DEVELOPED ENHANCEMENTS
OF RUNIC-ROCK IMAGING FROM GOOGLE EARTH/MARS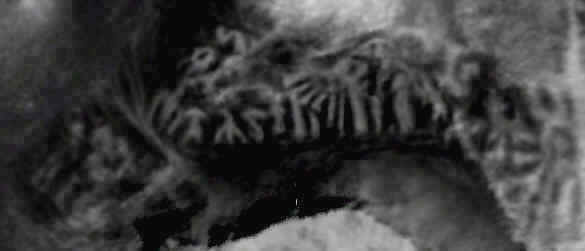 4°45'53.29" S 137°21'32.33" E MARS GPS

ALMOST 16 + RUNIC LETTERS & SYMBOLS ARE UNCOVERED WITH
THE USE OF COMPUTER SHADOWING, HIGHLIGHT,
CONTRAST, AND SHADING ENHANCEMENTS
PATTERNS IN ALIGNMENT ARE
NOT NATURAL GEOLOGIC FORMATIONS
IF IT IS NOT GEOLOGY IT IS SOMETHING ELSE!
DOWNLOAD GOOGLE EARTH AND OPEN THE MARS OPTION BY CLICKING ON https://www.google.com/earth/
YOU CAN PIN A MARKER ON A SPOT AND SAVE A SCREEN IMAGE TO A FILE. DOWNLOAD TO OPEN IN YOUR IMAGING PROGRAM TO CLEAN UP THE BLURS, AND ENHANCE THE
IMAGE, SEE FOR YOUR SELF
______________________________________________________________
RUNIC LETTERS & SYMBOLS EARTH SAMPLES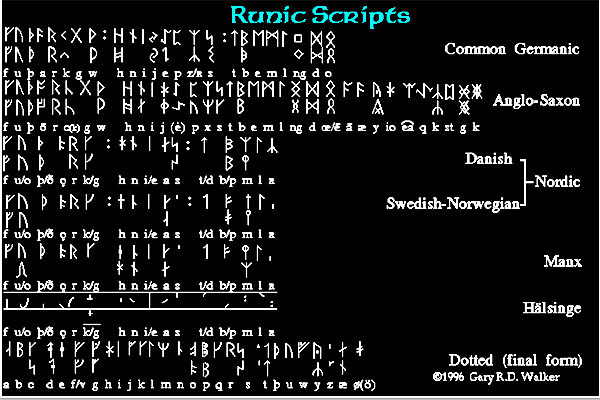 http://www.sunnyway.com/runes/origins.html
THE "TELL STONE" HAS THE SYMBOL FOUND ON SOL 502 AND 589 CARVED IN STONE WITH PERHAPS THE QUARRY SAW LISTED ON SOL 601
OTHER OBJECT LIKE WALLS OF A CITY AND PATHWAYS
AROUND THE WALLS
OBELISK FOUND AT THE SITE MAYBE A LINK TO EARTH
__________________________________________________________
OTHER RUNIC LETTERS FOUND NEAR
RUNIC ROCK MONUMENT 2.35 MILES AWAY
THE LETTERING APPEARS TO BE CARVED INTO BEDROCK
THE GROVES WERE FILLED IN WITH HIGHLIGHT IMAGING FUNCTION
__________________________________________________________

STRANGE ROW OF CARVED SYMBOLS OR LETTERING

ADDITIONAL FIND NEAR THE CLIFF IN DARK SHADOWS
LIGHTING THE EXPOSURE TO REVEL A VERY STRANGE ROW OF OBJECTS
2 MILES FROM RUNIC ROCK MONUMENT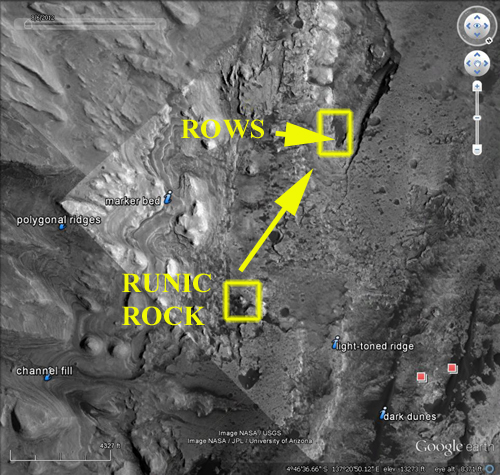 ROWS WITH POSSIBLE CARVED RELIEF SYMBOLS
4°46'56.85"S 137°18'40.10"E
AUG 7TH 2012
STRUCTURES, FORMATIONS, OR A LARGE
OBJECT UNDERGROUND PARTLY EXPOSED
FULL CONTRAST AND ENHANCEMENT ADJUSTMENTS
THE IMAGE AT BEST IS BLURRY, SHADOWED, DISTORTED HIGHLIGHTING THE LIGHT PIXELS, AND MID-TONED THE DARK PIXELS BRINGS OUT ONLY A SMALL PORTION OF THE OBSCURE OBJECT
THE STRUCTURE HAS THE FEATURES OF A WALL WITH ROWS OF LETTERS, AND SYMBOLS OR THE SHARP EDGE OF A VERY LARGE EXCAVATING BIT, A SCARP AT THE POINT OF ENTRY, A VERY LARGE PILED MOUND BEHIND THE HOLE?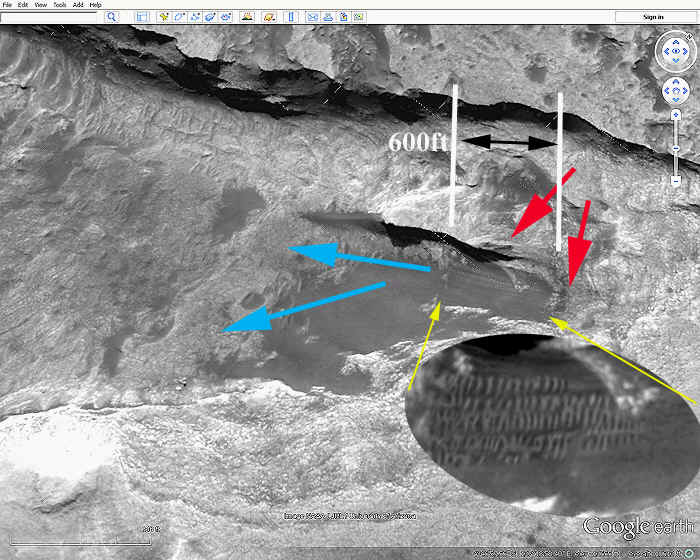 THE BLUE ARROWS INDICATE A DEBRIS FIELD, THE WHITE INDICATE THE
OBJECT IS VERY LONG, THE RED ARROWS ARE POINTING OUT
THE ESCARPMENT OF A TUNNEL OR HOLE. THE ZOOMED
IN OVAL GIVES A SHARPER IMAGE OF THE ROWS OF UNKNOWN OBJECTS?
RENDERING BY COMPUTER AIDED DRAWING
USING A DIFFERENT VIEW OF THE SAME STRUCTURE IS A TECHNIQUE TO FIND ADDITIONAL CLUES TO WHAT IT MAY BE. THE ROWS OF THE LIGHTED OBJECTS, A FLOW INTO A TUNNEL OR HOLE, AND DARK AREAS OF WHAT MAY BE DEBRIS FLOW FROM THE ZONE ARE MADE MORE APPARENT. THE GOOGLE EARTH/MARS VIEW IMAGE IS VERY DIFFICULT TO WORK WITH, THUS A SHARP CLEAN IMAGE IS NOT POSSIBLE WITH CURRENT SOFTWARE.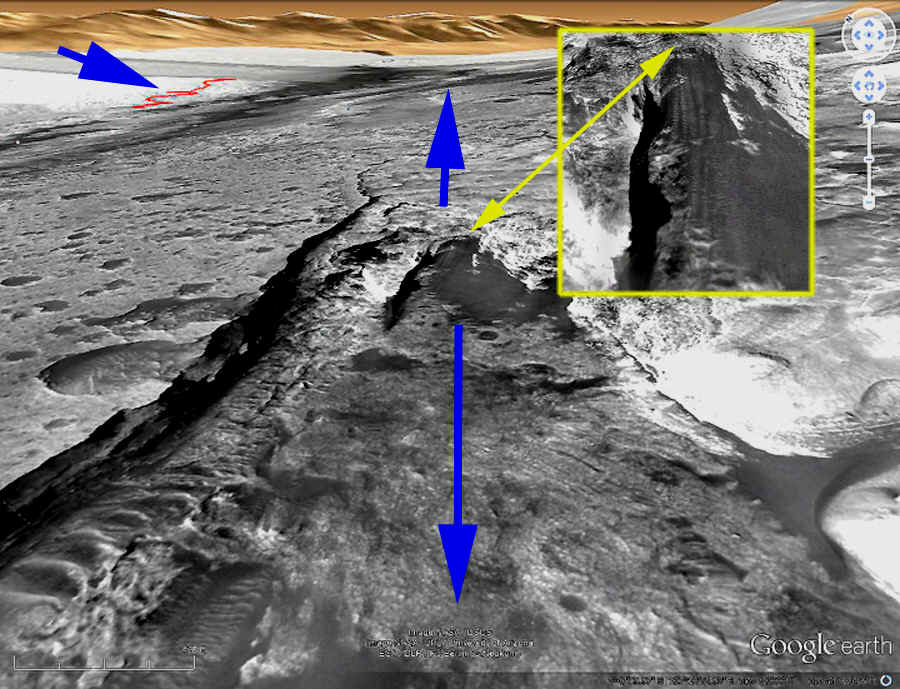 THE BLUE ARROW TOP LEFT IS THE CURIOSITY ROVERS LOCATION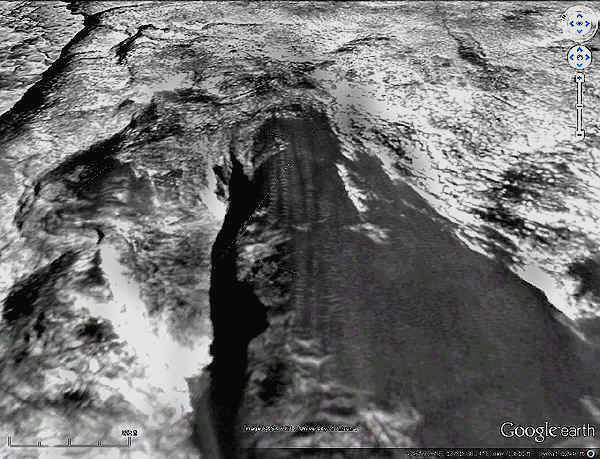 WIDE ANGLE AND HIGH ALTITUDE VIEW SHOWS A MAJOR
FLOW OF MATERIAL EMANATING FROM THE CENTRAL POINT IN QUESTION. THE BLUE ARROW TOP LEFT IS POINTING TO THE RED PATH OF CURIOSITY ROVER, THE TWO BLUE CENTER ARROWS INDICATING TWO POSSIBLE DIRECTIONS OF THE MASS FLOW OR SCARP. THE QUESTION RAISED; IS IT A NATURAL MARS GEOLOGY OR IS IT SOMETHING ELSE? THE ROVER IS 2.6 MILES FROM THIS SITE, AND 1.6 MILES FROM RUNIC ROCK AND IT'S PROJECTED PATH IS DIRECTED TO THIS MYSTERIOUS ZONE OF OBJECTS.
_______________________________________
OBELISK? AND WALLED FORTRESS?
CURIOSITY'S DESTINATION IS THIS PLACE!!!
RUNIC MONUMENT AREA IS MORE THAN JUST
A LARGE FEATURE ON THE MARTIAN SURFACE.
MAY BE A FORTRESS COMPLEX OF
ENORMOUS SIZE. 600FT BY 1000FT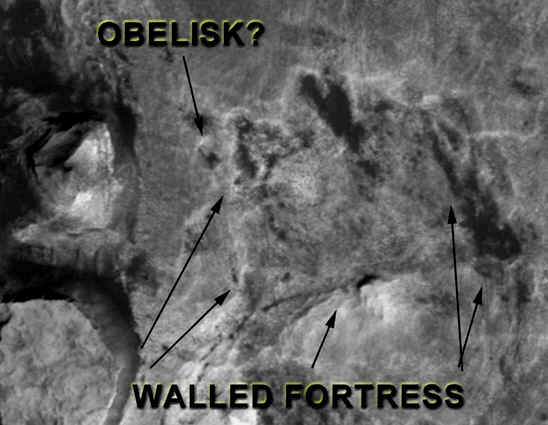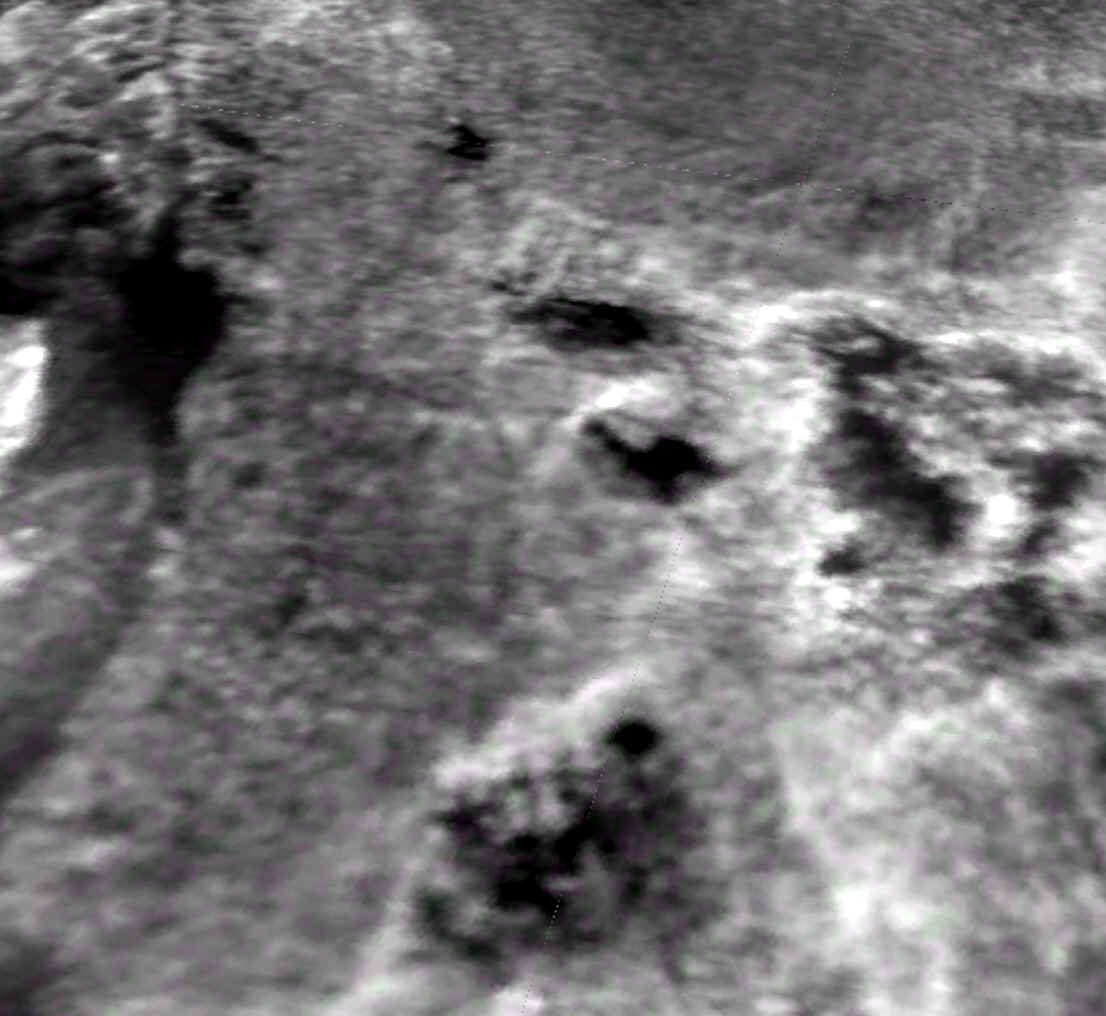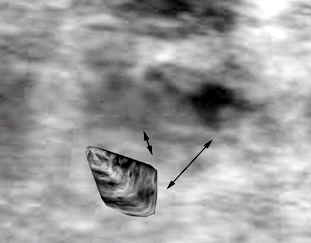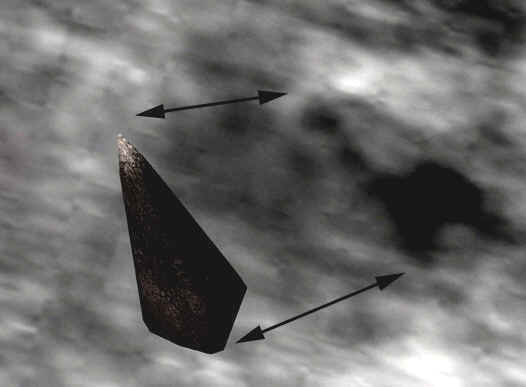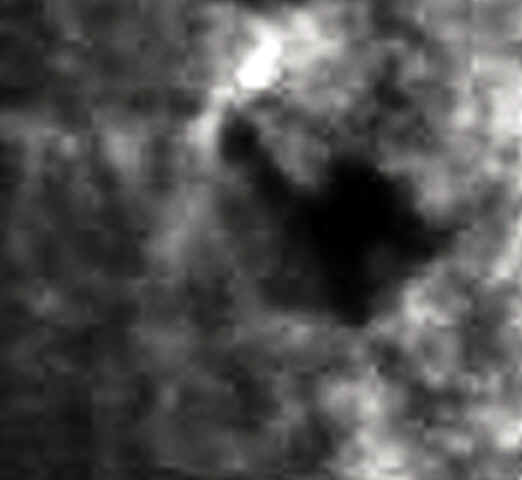 RUNIC MONUMENT MAY HAVE AN OBELISK
AND A WALLED CITY FORTRESS? 600FT BY 1000FT
NEXT TO THE MONUMENT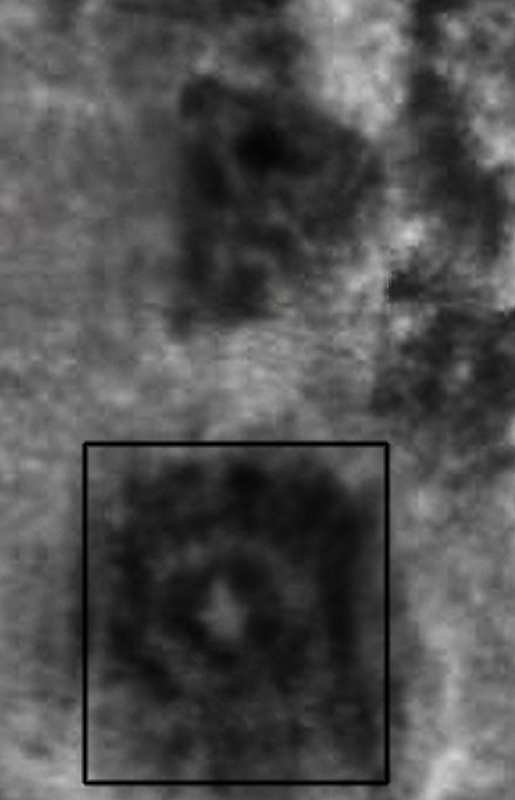 STAR IN A CIRCLE? PATHWAYS?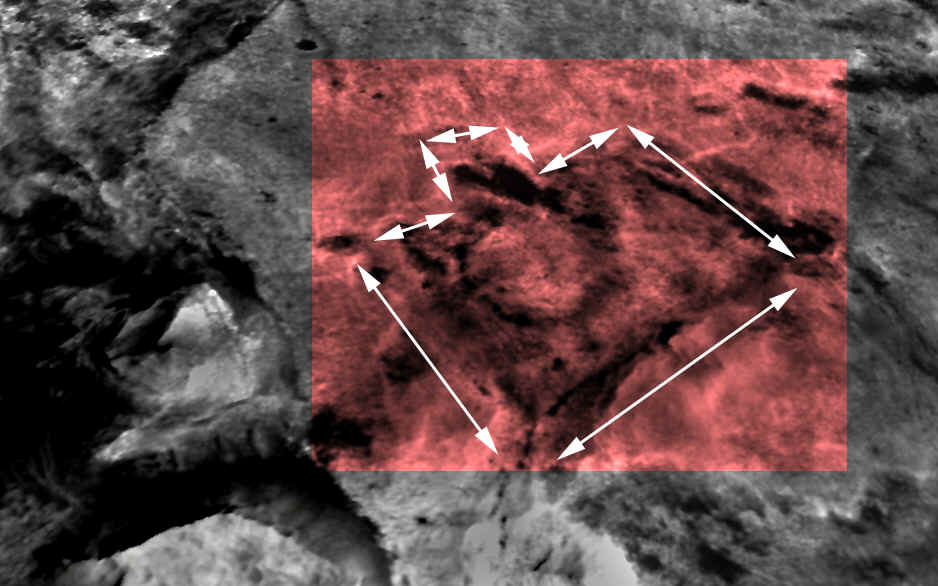 600FT BY 1000FT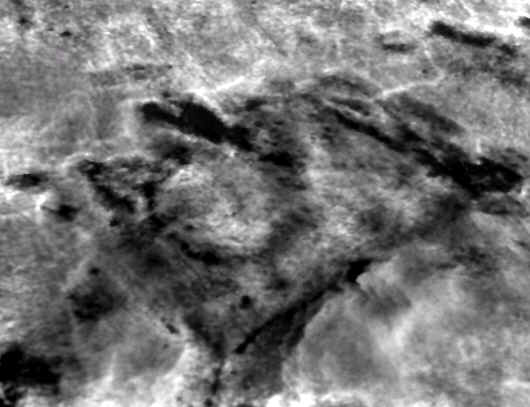 THE WALLED AREA IS 600FT BY 1000FT
ENORMOUS SIZE WALLED COMPLEX WITH
ROUND CIRCULAR FEATURE WITHIN
THE SQUARE WALL LOOKING ZONE WITH PATHWAYS
PATHWAYS INDICATE FOOT TRAFFIC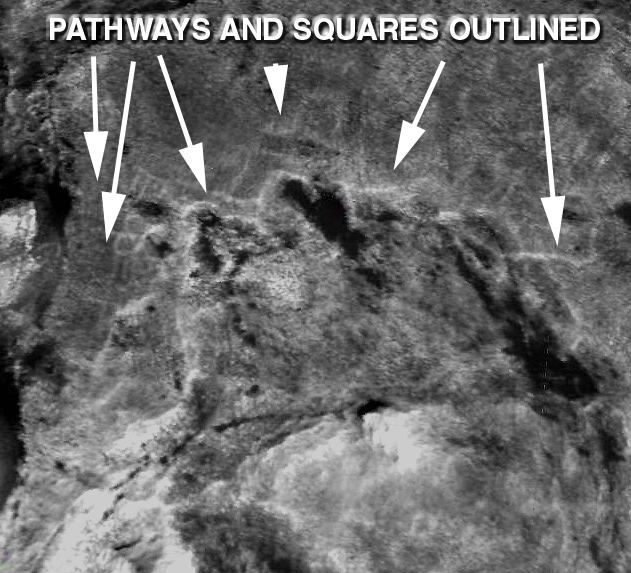 ENHANCEMENTS WERE MADE TO HIGHLIGHT
THE LIGHTER PIXELS TO BRING OUT THE PATHWAYS
_________________________________________
Copyright All Rights Reserved © 2015 by Dseth
UPDATED OCT 2018