lakes
OPPORTUNITY ROVER'S ROUTE TOOK IT
AROUND WHAT MAYBE
LIQUID WATER? AND SANDY BEACHES
CIRCLING THE PERIMETER OF THE LAKES


Mars Global Surveyor MOC Image e0900020


TREES? IS THIS CONSISTENT OF A DESERT OASIS?
THE DARK SPECKS FOUND MOSTLY ON THE SHORE LINE
ARE VERY SPURIOUSLY TREE LIKE OBJECTS
WITH LONG SHADOWS
CASTING A SHADOW--TALL ROCK PILLARS? ARE ALSO POSSIBLE
THE IMAGE IS PIXILATED THEREFORE NOT DEFINITIVE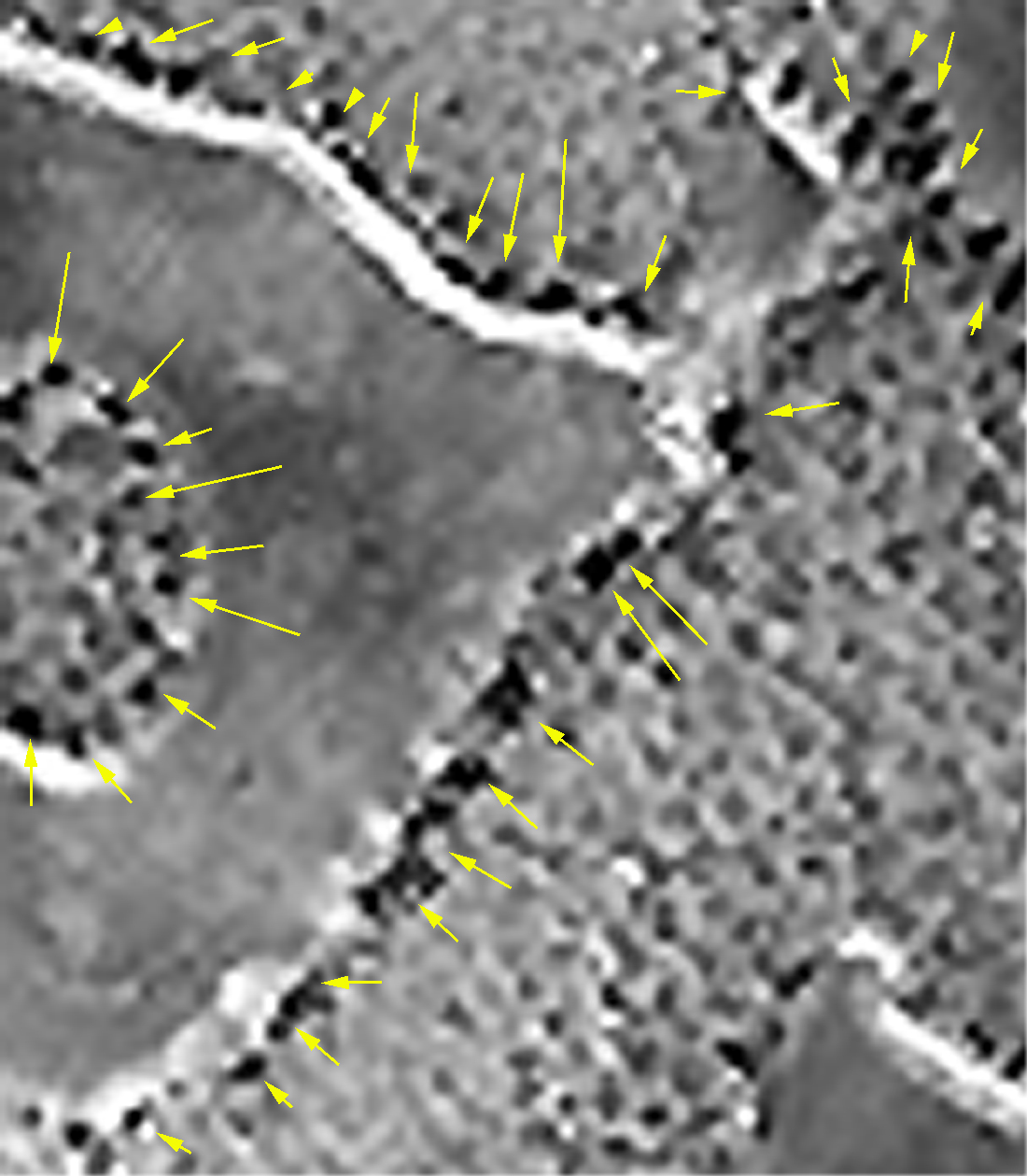 TALL ROCK PILLARS? OR TREES CASTING SHADOWS???

LAKE IMAGES FROM GOOGLE EARTH
BULLARDS BAR LAKE NORTHERN CALIFORNIA
WITH LIGHT SAND ON THE EDGE OF THE
WATER LINE AROUND LAKE PERIMETER.
---
LAKE IMAGES FROM GOOGLE EARTH/MARS
THIS AREA IS CLOSE TO MARS EQUATOR A WARMER REGION
TEMPERATURES REACH 70F IN THE DAY TIME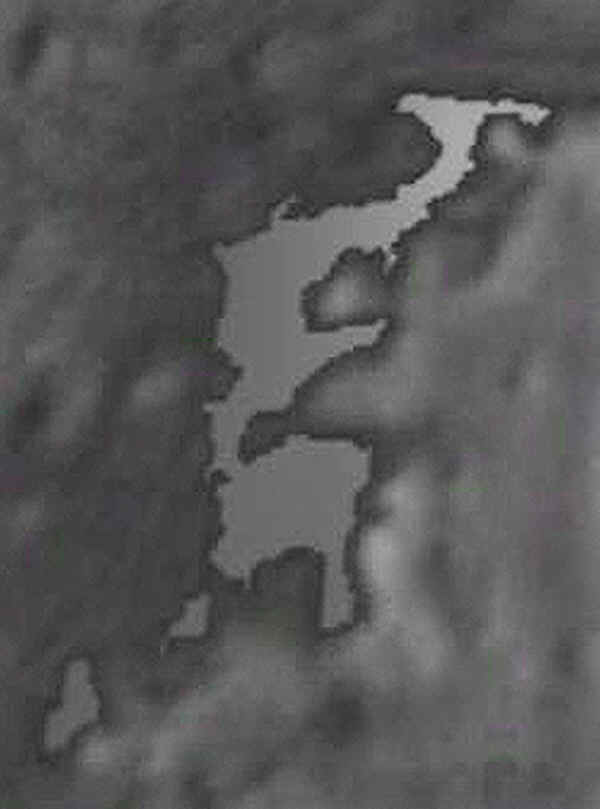 GOOGLE EARTH/MARS IMAGE + COLORIZED REFLECTING SURFACES
OPPORTUNITY ROVER SKIRTING ENDEAVOUR CRATER

REFLECTING SURFACES CONSISTENT OF LIQUID WATER
OUTLINE IS SIMILAR OF A SHORE LINE CONSISTENT OF BEACHES
REFLECTING THE SKY- A MIRROR LIKE FLAT SURFACE
SEEKING LOWER TOPOGRAPHY CONSISTENT OF WATER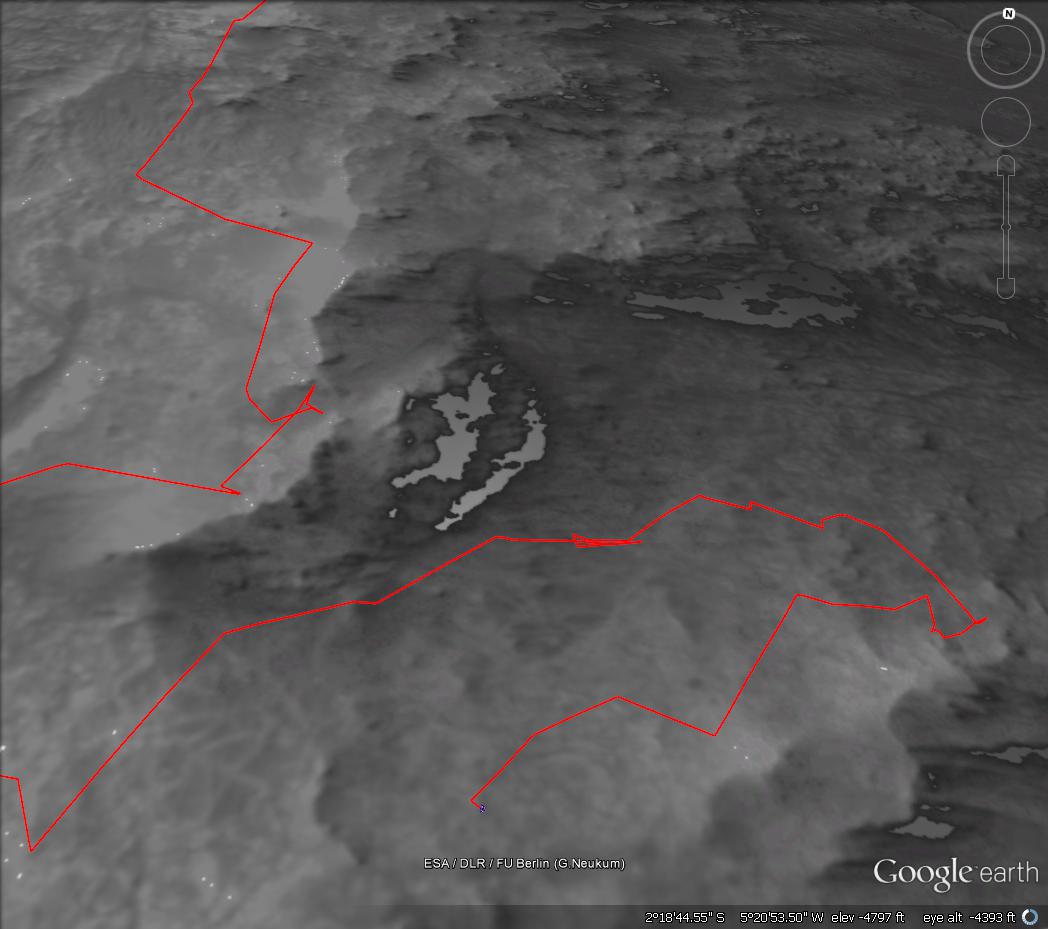 OPPORTUNITY ROVER'S ROUTE (RED) MADE A VERY
CLOSE ENCOUNTER OF A POSSIBLE LAKE
---
EVIDENCE OF LIQUID WATER
SANDY BEACH SHORE LINE
OF A LAKE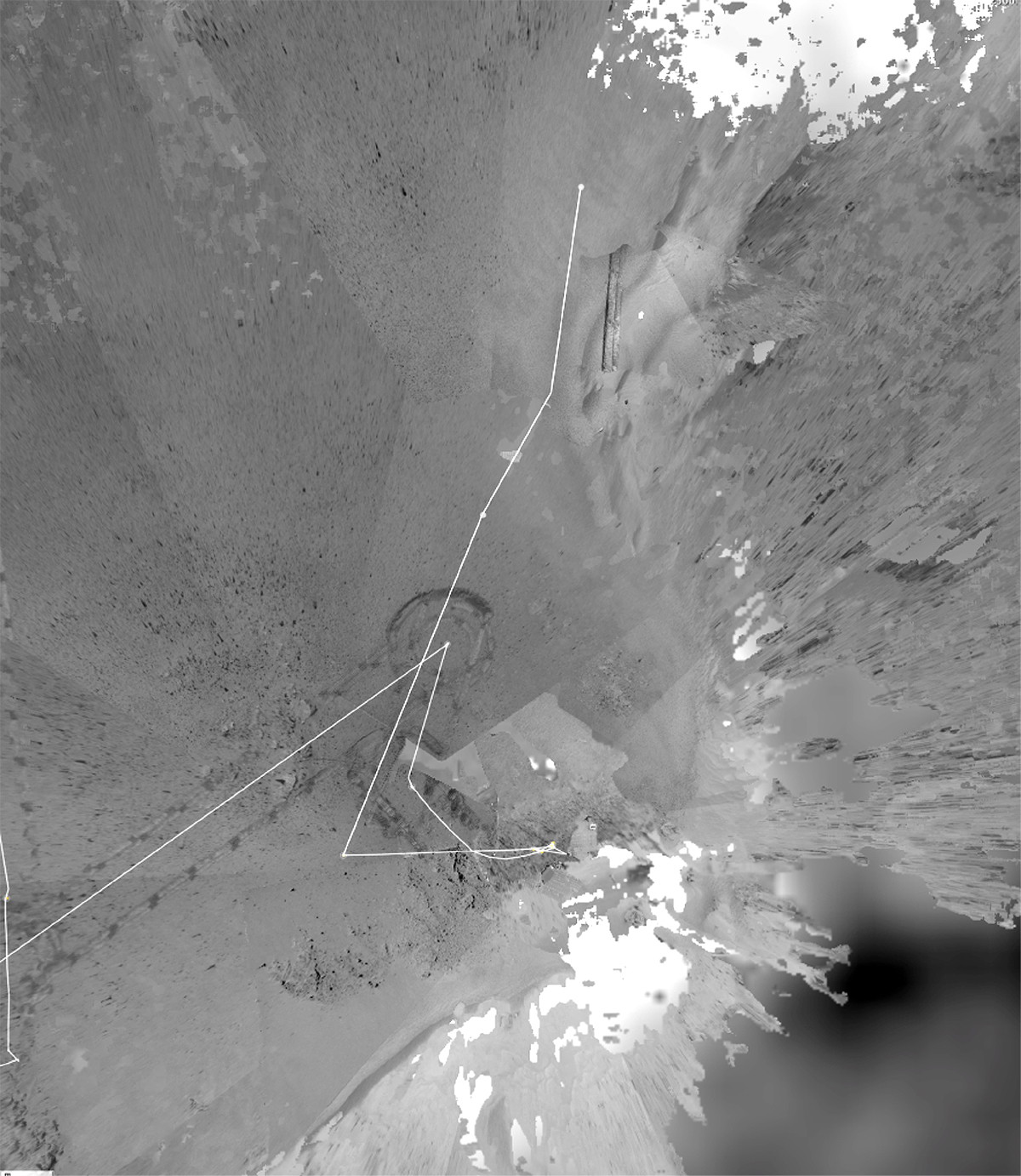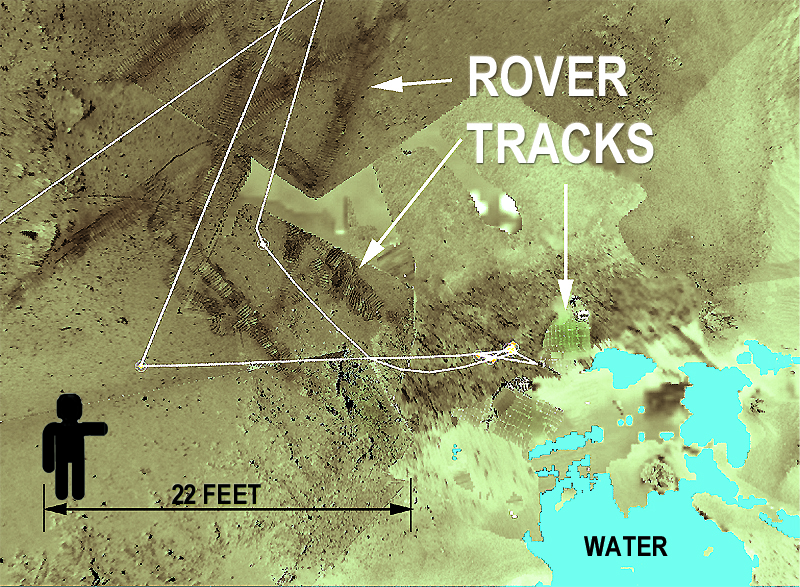 https://www.nasa.gov/multimedia/imagegallery/image_feature_2250.html
CLICK ON THE LINK ABOVE TO SEE HIGH RESOLUTION IMAGE
THE BRIGHT REFLECTION OF THE SUN LIGHT OFF THE SURFACE OF
LIQUID WATER

WATER REFLECTING THE ATMOSPHERE IS UNMISTAKABLE
EVIDENCE WATER IS PREVALENT ON MARS
EVIDENCE OF WATER SHOWS
TRACKS FROM THE ROVER ARE ON A SAND BAR OR MUD

TRACKS ON MOIST GROUND WOULD LEAVE HIGH PILE
GROUND AND TRACKS ON DAMP SAND WOULD LEAVE LOW
IMPRESSION AS SEE BELOW


WATER REFLECTING THE SKY HAS BEEN COLORIZED BLUE FOR
BETTER VISUAL REVIEWING

THE TRACKS ON DRY GROUND FORM UP IN PILES
WHILE THE TRACKS IN THE SAND FLATTEN OUT
DUE TO MOISTURE AND FINE SAND
CONSISTENT WITH BEACH SAND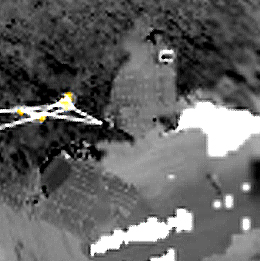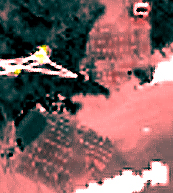 RED FILTER TO EXPOSE CONTRAST PATTERN OF ROVERS WHEELS
WHITE LINE SHOWS THE ROVER'S PATH
THE LIQUID WATER IS VERY CLOSE TO THE TURN AROUND
ZONE, HOWEVER WHEN ZOOMED IN
PATTERS OF ROVER TRACKS ON A TRANSVERSE SURFACE
SUGGESTS DIRT, ROCK, AND SAND.
SAND WEATHERED BY THE ACTION OF WATER FROM A
LIQUID WATER LAKE
SPECIAL NOTE
THE RESOLUTION IN THE IMAGE WITH THE DIRT/SAND TRACKS IS FROM SATELLITE IMAGERY
NOTICE JUST HOW CLEAR THE DIRT TRACKS ARE!
THIS IS PROOF OF HIGHER RESOLUTION CAPACITY SO WHY ARE MOST IMAGES SO BLOCKED OUT BY POOR RESOLUTION?
---
MANY LAKES IN THIS AREA ARE CONSISTENT OF
LIQUID WATER LAKES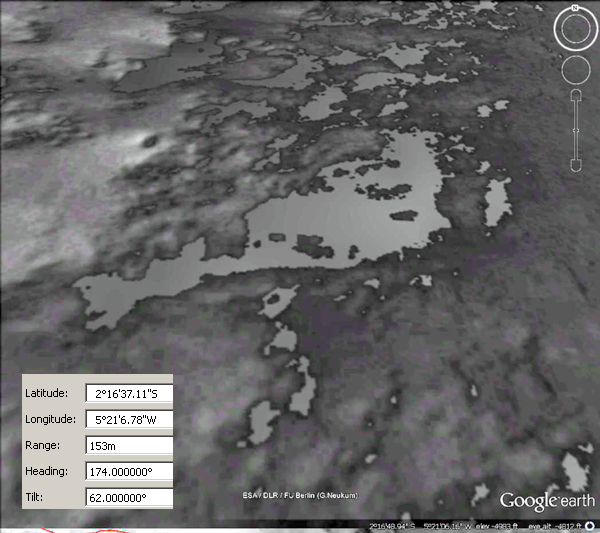 SEE THE LATITUDE AND LONGITUDE

NOTICE ALL THE POSSIBLE LAKES REFLECT THE SKY AND
ARE ABOUT AT THE SAME LEVEL- AS WATER SEEKS IT OWN LEVEL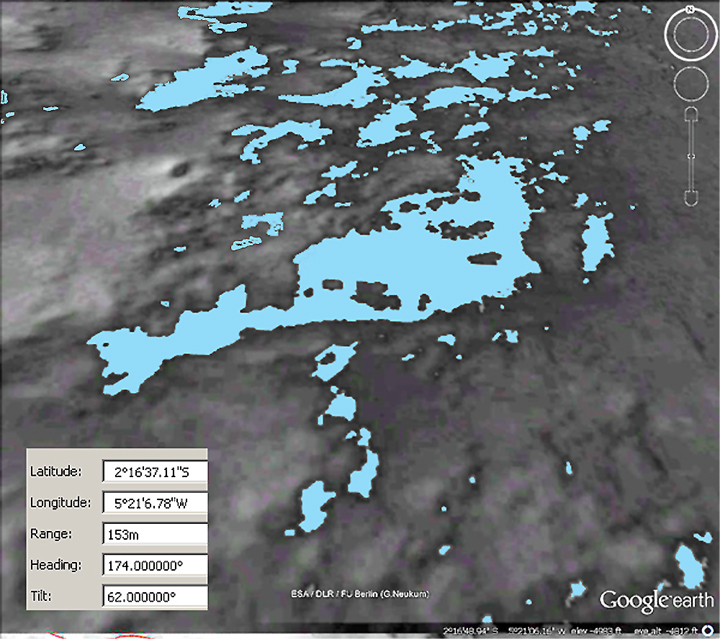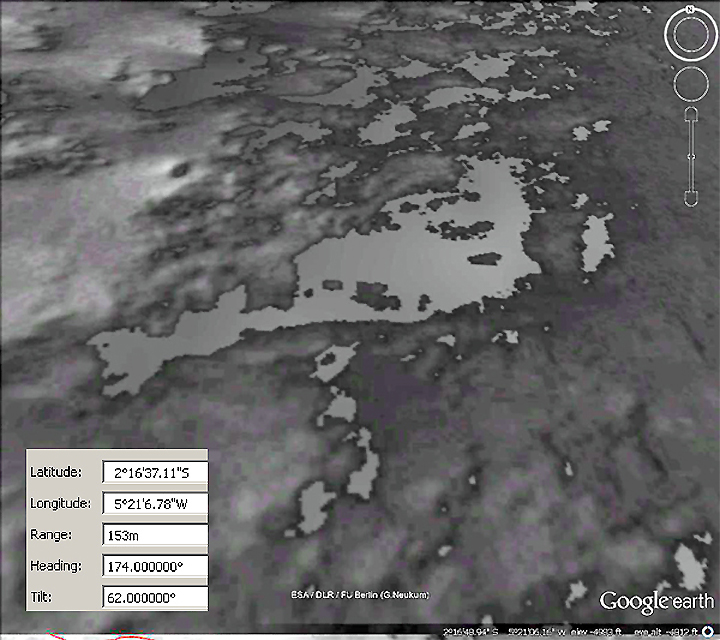 LAKES REFLECTION WAS COLORIZED TO HIGHLIGHT
ONLY WHAT APPEARS TO BE LAKE REFLECTIVE SURFACES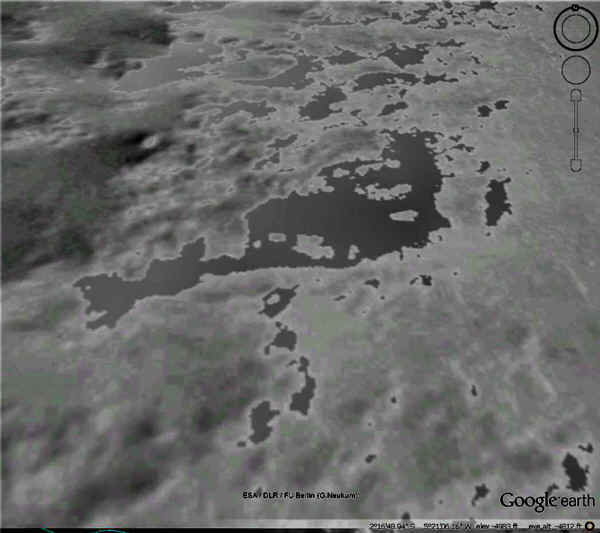 THIS IMAGE IS A INVERTED NEGATIVE IMAGE WHICH
SUGGESTS THE CONSISTENCY OF LIQUID WATER
DEFINED OUTLINE CONSISTENT OF BEACHES

GOOGLE EARTH/MARS IMAGE RAW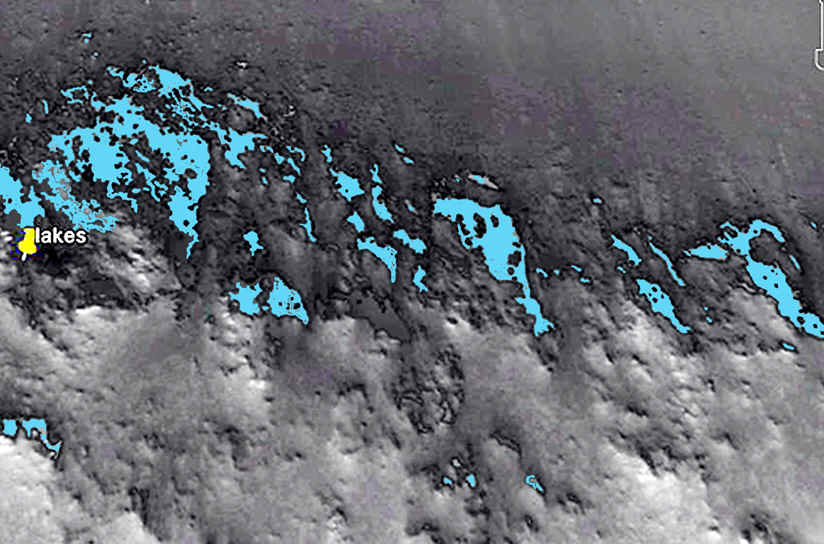 GOOGLE EARTH/MARS IMAGE COLORIZED REFLECTING PIXELS BLUE
A HIGH ALTITUDE IMAGE SHOWS THE EXTENT OF POSSIBLE
LIQUID WATER ON THE SURFACE OF MARS
THIS SHOULD BE THE MEDIA'S TOP STORY
TO FIND THIS SITE GO TO GOOGLE EARTH
CLICK ON MARS FIND THE OPPORTUNITY'S LINK
FOLLOW THE ROUTE TO 38km GO TO EAST OF THAT AND SEE MANY LAKES ALMOST TO END OF THE
ROVERS ROUTE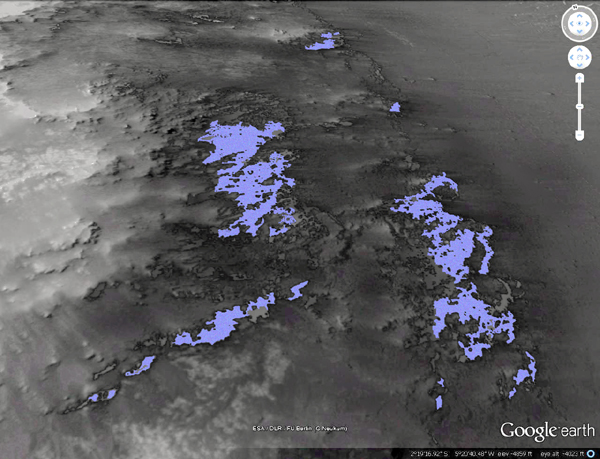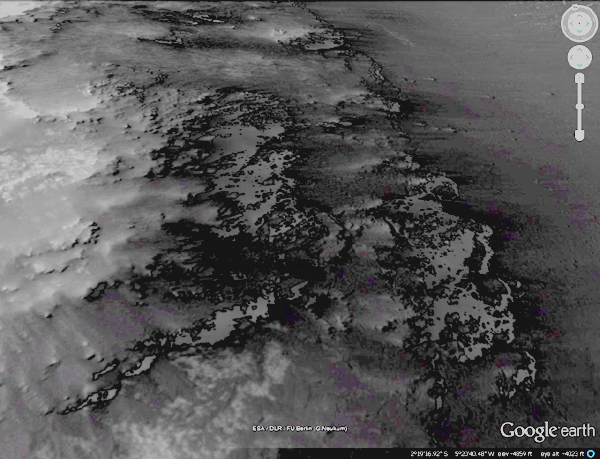 TWO MORE IMAGES SIDE BY SIDE
BLUE COLOR ADDED DIGITALLY TO HIGHLIGHT A POSSIBLE
SHORE LINES OF SEVERAL LAKES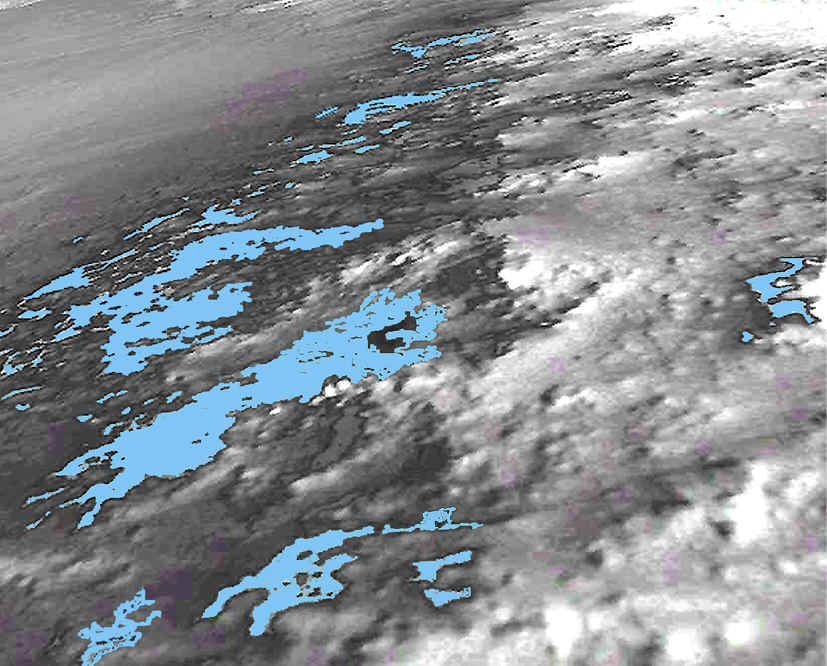 MORE GOOGLE EARTH MARS IMAGES
---
GOOGLE EARTH/MARS IMAGES BELOW ARE A COUPLE OF MILES SOUTH
OF THE LAST ROVER POSITION
100'S OF SMALL LAKES AND PONDS ARE VERY PREVALENT IN THIS REGION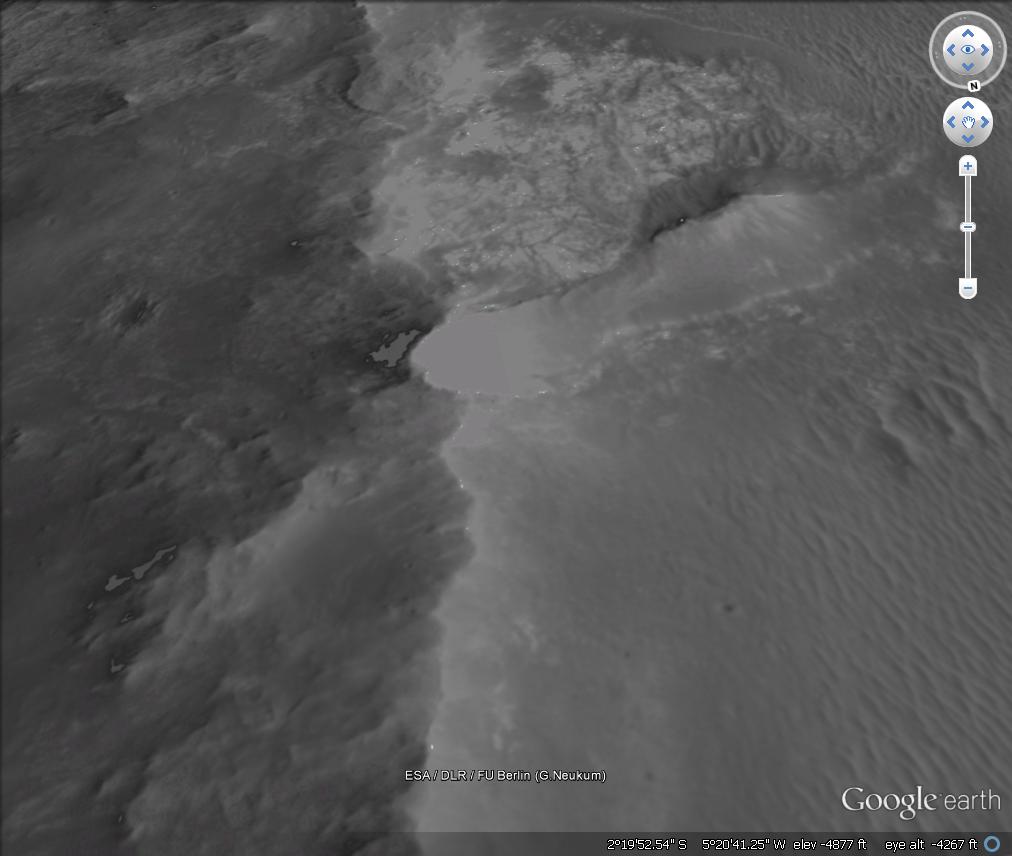 GOOGLE EARTH/MARS IMAGE OF A DRYING LAKE BED 500 FEET LONG
MORE WATER COLLECTED TO THE LEFT FORMING A POND 55 FEET LONG
AND BELOW LEFT MORE PONDS
THIS DRYING UP LAKE BED HAS WATER STILL AT IT'S FAR END CENTER IMAGE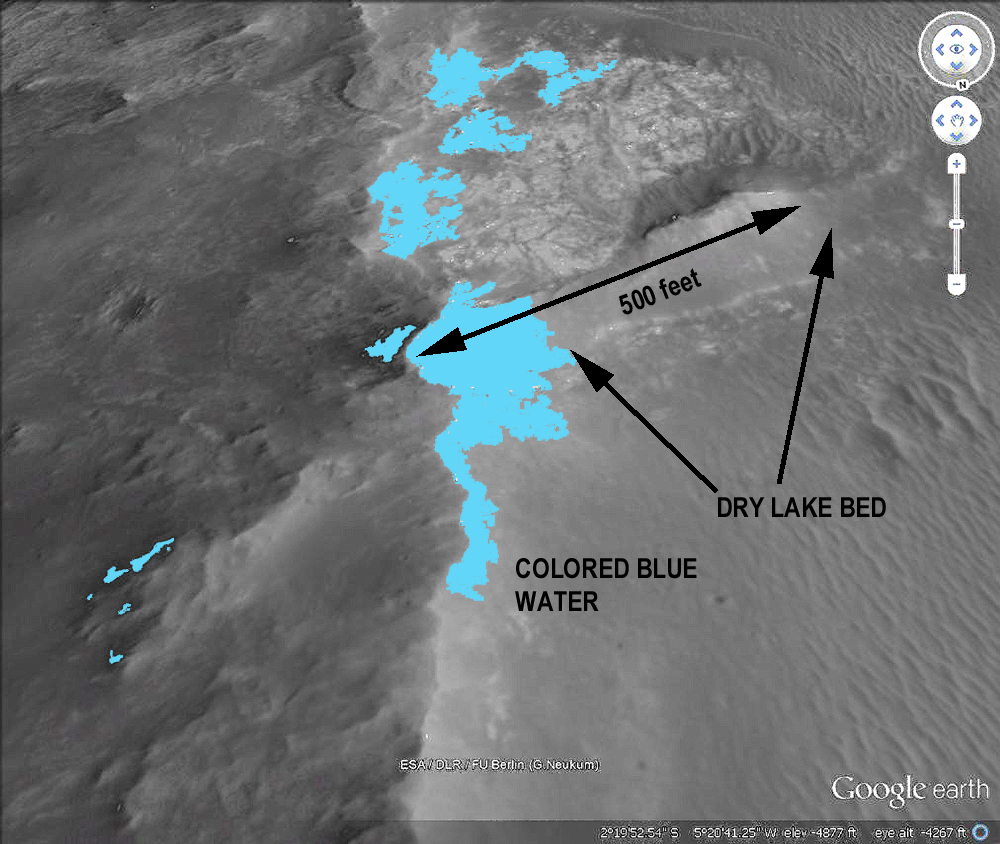 GOOGLE EARTH/MARS IMAGE OF A DRYING LAKE BED 500 FEET LONG
THIS IMAGE IS THE SAME AS THE ONE ABOVE, HOWEVER THE BLUE COLORIZING WAS
USED BY SELECTING THE REFLECTING PIXELS AND COLORING ONLY THEM
THIS METHOD BRINGS OUT LOCATION OF WATER
SOME PIXELS WERE WHITE WHICH MAY BE ICE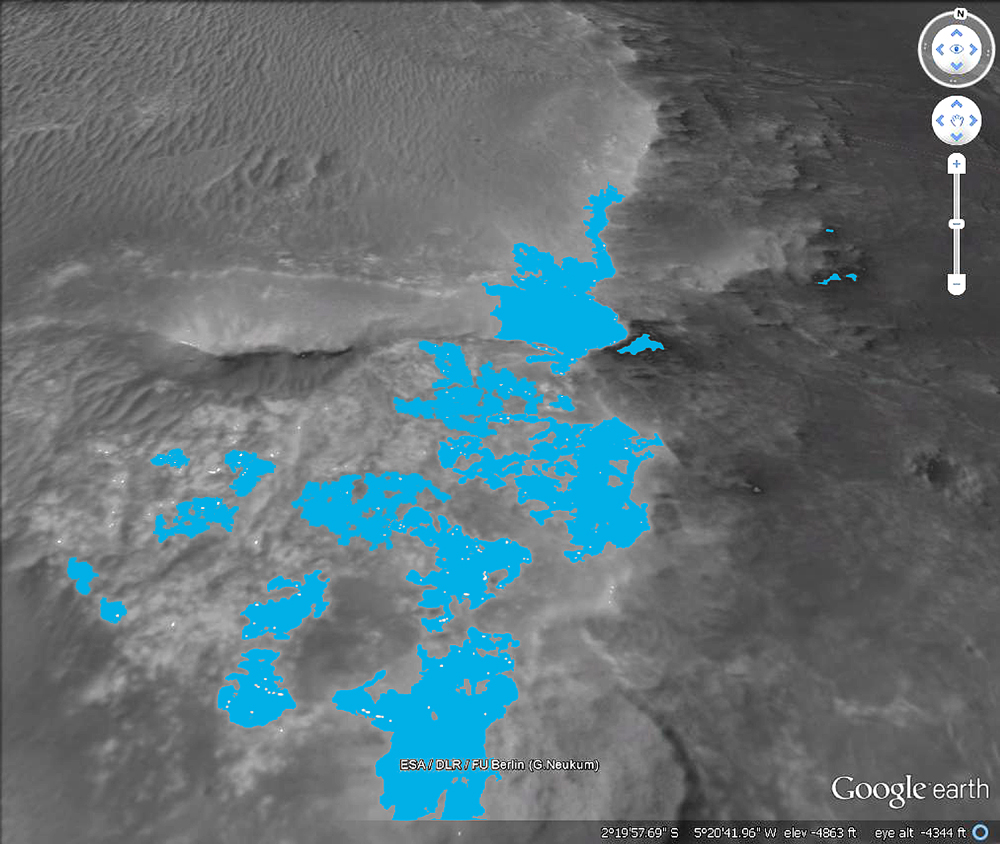 GOOGLE EARTH/MARS IMAGE OF THE DRYING LAKE BED VIEW LOOKING SOUTH
THIS VIEW BRINGS OUT MORE WATER AND SHOWS THE ICE IN WHITE
PIXELS
---
LAKE ON EARTH IMAGE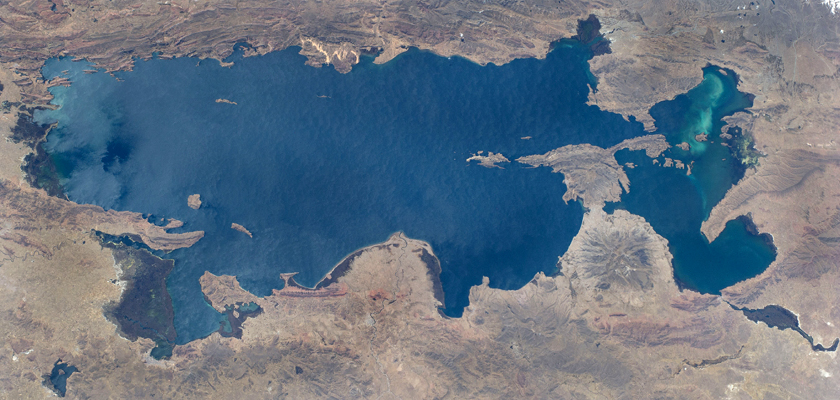 A LAKE ON EARTH IMAGE SHOT BY SATELLITE
EARTH'S ATMOSPHERE AND LIGHTING SHOW HOW
SKY WILL REFLECT-OUTLINE-FOLLOW TOPOGRAPHY

http://ida.wr.usgs.gov/html/e09000/e0900020.html
Mars Global Surveyor MOC Image e0900020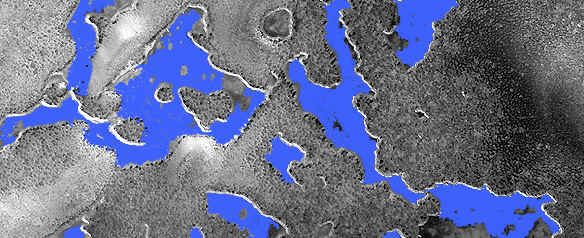 WATER COLORIZED SHOWING ONLY REFLECTION SURFACES

---
ANCIENT BEACH ???
IMAGE MAY BE A BEACH NEXT TO
LIQUID LAKE
JPL COLORIZED BY NASA CLOSE UP OF WHAT LOOKS LIKE ANCIENT BEACH
CLICK ON THE IMAGE AND SEE FULL STORY
---
THE FACE MAY BE AN EXAMPLE OF THE MIND
FILLING IN WHAT IT IS ACCUSTOMED DOING
LIKE AN INK BLOT
AN INTERESTING ILLUSION BUT MAYBE
NOT??
A FACE OUTLINED WITH COLOR IMAGING TOOLS ---NEXT TO RAW IMAGE
CROP CIRCLES ON EARTH AND FACES ON MARS CAN BE
ACCOMPLISHED BY USING GPS COMPUTER AND A
MECHANICAL EARTH MOVER

SEE MORE IMAGING OF FACE ILLUSION ??
---
COPYRIGHTS ARE APPLIED TO ONLY THOSE IMAGES ENHANCED BY DSETH
Copyright All Rights Reserved © 2015 by Dseth
UPDATED NOVEMBER 2016
webmaster dseth101@proseth.com