bang
NO BIG BANG
IF NO BIG BANG,
https://www.thunderbolts.info/wp/2015/02/18/discourses-on-an-alien-sky-series-2/
Static convergence of sub atomic matter forming black holes
thus a electric cosmos and answering why so many galaxies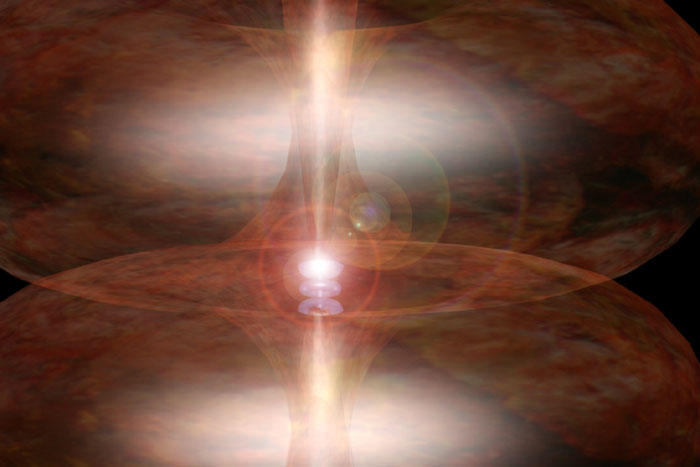 Copyright All Rights Reserved © 2015 by Dseth

WE ARE TOLD EVERY THING CAME FROM A "SINGULARITY" OUT OF A TOTAL VOID. ABSOLUTE NOTHING SUDDENLY BECAME EVERYTHING IN A MASSIVE EXPLOSION CREATING ALL THE MATER IN EXISTENCE. THE FIRST LAW OF PSYCHICS, " MATTER CAN NOT BE CREATED OR DESTROYED, ONLY CONVERTED". THEREFORE THE BIG BANG IS NOT POSSIBLE. THE KNOWN UNIVERSE IS DEFINED AS HOW FAR WE SEE GALAXIES THROUGH A TELESCOPE, 13.5-14 BILLION YEARS BASED ON THE SPEED OF LIGHT, HOWEVER THERE IS NOW ACKNOWLEDGMENT OF A UNKNOWN UNIVERSE, WHAT IS BEYOND THE VIEW OF LONG RANGE TELESCOPES. IF THE BASIC PREMISE IS WRONG ALL THE FOLLOWING THEORIES ARE MISDIRECTED TOO. THE WORLD WAS FLAT ONCE ACCORDING TO THE GREAT MINDS OF THE TIME.

WHAT CAN EXPLAIN ALL THAT IS?

THE COSMOS IS ALL THAT IS, ALL THAT WAS, AND ALL THAT WILL BE, IN ALL SPECTRUMS OF TIME AND SPACE. "IN THE BEGINNING" , THERE WAS NEVER A BEGINNING, ALL THAT IS, HAS ALWAYS BEEN IN ONE FORM OR ANOTHER.
THERE WAS A BEGINNING TO MATTER WHEN IT'S SUBATOMIC PARTS WERE CHANGED BY ELECTROSTATIC FORCES AND CONDENSED INTO BLACK HOLE VORTEXES. .
MATTER; THE SUBSTANCE OR SUBSTANCES OF WHICH ANY PHYSICAL OBJECT CONSISTS OR IS COMPOSED. MASS; A PROPERTY OF A PHYSICAL BODY WHICH DETERMINES THE STRENGTH OF ITS MUTUAL GRAVITATIONAL ATTRACTIONS TO OTHER BODIES AND ITS RESISTANCE TO BEING ACCELERATED BY A FORCE. A ATOM IS SMALLEST UNIT OF MATTER THAT DEFINES THE CHEMICAL ELEMENTS. EVERY SOLID, LIQUID, GAS AND PLASMA IS MADE UP OF NEUTRAL OR IONIZED ATOMS. ATOMS CONSISTS OF PROTONS, NEUTRONS, AND ELECTRONS AND ARE HELD TOGETHER BY ELECTROMAGNETIC FORCES.

ELECTROMAGNETIC FORCE

ALL MATTER WAS ONCE SUB MATTER WITHOUT
QUANTUM ELECTROMAGNETIC FORCE FIELDS.


THERE WAS A BEGINNING TO MATTER WHEN IT'S SUBATOMIC PARTS WERE CHANGED BY ELECTROSTATIC FORCES. SUB- MATTER (MAYBE DARK MATTER) HAS BEEN IN EXISTENCE AS THE FABRIC OF WHAT WAS THOUGHT TO BE THE VOID.
SUB ATOMIC MATTER WITHOUT A FORCE FIELD OF ELECTROMAGNET INFLUENCE TO HOLD IT TOGETHER IS NOT SOLID MATTER YET!. A NEUTRINO IS A ELECTRICALLY NEUTRAL WEAKLY INTERACTING ELEMENTARY SUBATOMIC PARTICLE. NEUTRINOS ARE PART OF SCIENCE'S QUEST TO UNDERSTAND THE PSYCHICS OF EXISTENCE, BUT SCIENCE HAS NOT DEFINED GRAVITY OR FULLY UNDERSTAND THE ELECTRIC INFLUENCES OF SUB MATTER.. ALL MATTER WAS ONCE SUBATOMIC PARTICLES, MAYBE IN MANY FORMS OF ELECTRIC CHARGED OR MONOPOLE MAGNETIC FORCES. A MONOPOLE IS A SINGLE POLARITY MAGNETIC FORCE, NO POSITIVE AND NEGATIVE POLES, BUT ONE NOT THE OTHER. ALL ATOMIC MATTER MAY HAVE ONCE BEEN A MONOPOLE WITHOUT A POLARIZED MAGNETIC FIELD. THUS ALL MATTER MAY BE MADE UP OF ELECTRIC COMPONENTS NOW THOUGHT TO BE DARK MATTER.

THE OCEAN OF SUB MATTER MAY BE OF A SPECTRUM OF ELECTRICAL MONOPOLES THAT MIGRATE TO A CENTRAL POINT AND ASSEMBLE THEIR PARTS INTO TO QUANTUM MATTER. THAT MAKES A BLACK HOLE, A ATOM FACTORY.
INFINITE ETERNAL OCEAN OF SUB MATTER UNTIL
THEY CLUSTER INTO THE VORTEX OF A BLACK HOLE.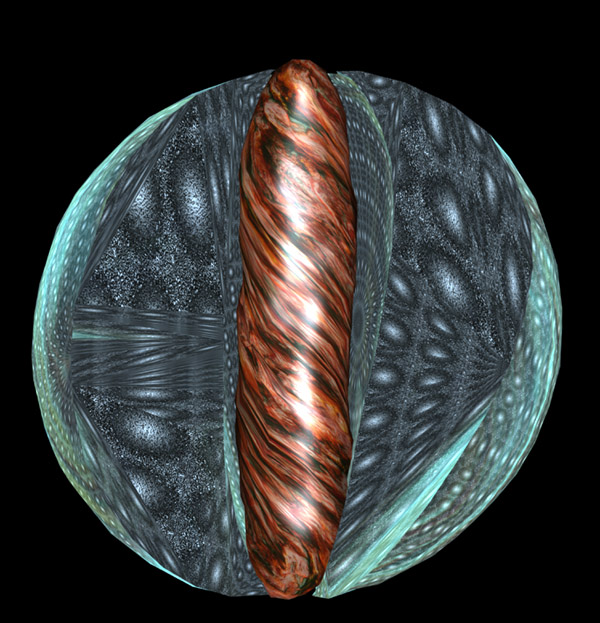 SPINNING INTO A VORTEX AND DRAWING SUBATOMIC ELECTRICALLY NEUTRAL WEEK PARTICLES CREATING A ENTITY NOW KNOWN AS A BLACK HOLE . THIS WOULD EXPLAIN WHY THE FORMATION OF BLACK HOLES ARE RANDOM AND PREVALENT THROUGH OUT THE COSMOS. ETERNITY SPADING TIME AND SPACE AND EXPLAINING WHY BLACK HOLES ARE IN INFINITE NUMBERS.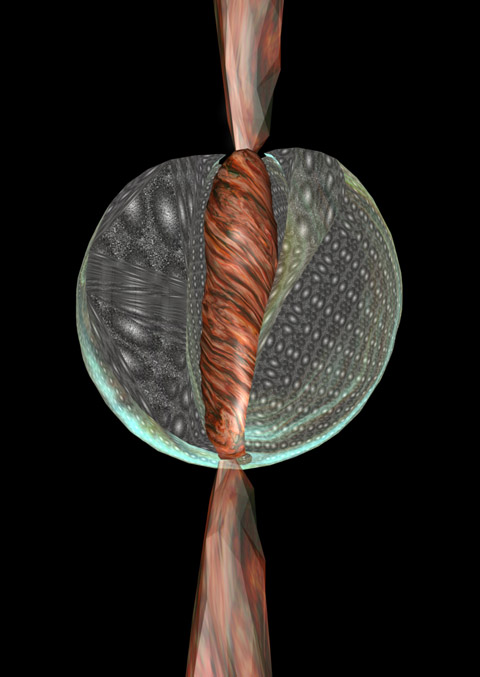 ONCE A BLACK HOLE REACHES A VELOCITY OF SPIN IN THE CENTRAL VORTEX A CRITICAL MASS OF SUBATOMIC PARTICLES REACHES THE POINT OF A STRONG MAGNETIC FIELD, ELECTRICALLY NEUTRAL FORCES BECOME STRONG ELECTRICAL FORCES FORMING SUB-MASS TO PLASMA TO ATOMIC MASS. ATOMS AND SUB ATOMS IN PROGRESS ARE FORMED WHEN THE ELECTRIC ENERGY REACHES AN END POINT OF STABILITY AND ELEMENTS ARE FORMED. THE VORTEX IS NOW A MASSIVE SPINNING VORTEX OF LIGHTENING LIKE STRUCTURE UNABLE TO BE CONTAINED IN THE BLACK HOLE.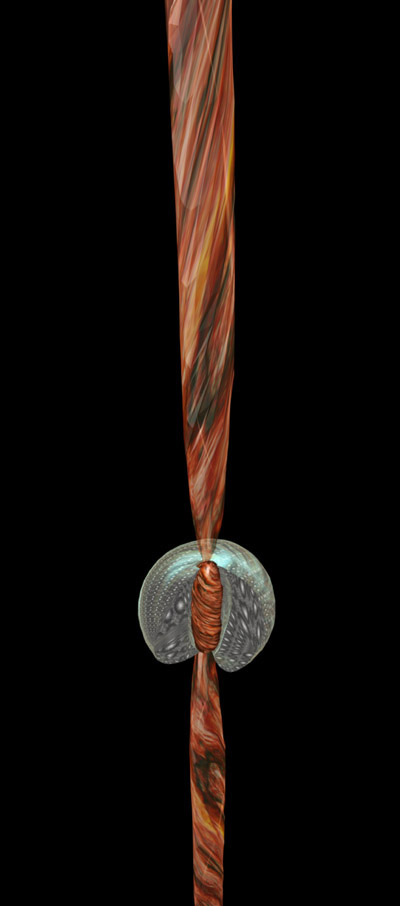 THE VORTEX NOW REACHES A CRITICAL MASS OF PLASMA MASS AND A IGNITION OF PLASMA IS REACHED. THE PLASMA CONDITION CONTINUES TO BE CONTAINED BY THE MASS OF THE BLACK HOLE UNTIL A NEW HIGHER LEVEL OF CRITICAL MASS IS REACHED AND EACH END OF THE BLACK HOLE EXTENDS THE SPIN OF THE VORTEX AS A POSSIBLE WORM HOLE EXTENDING THOUSANDS OF LIGHT YEARS. THE NEW ATOMS, ALMOST COMPLETE ATOMS AND ELECTRICAL PLASMA CARRYING MASS, AND PARTS OF THE BLACK HOLE ARE NOW FORMING TWO SPOKES OF A GALAXY.
THE RELEASE OF THIS MASS BRINGS THE CENTER OF THE BLACK HOLES VORTEX UNDER THE CRITICAL LEVEL AND THE CORRIDOR OF TIME AND SPACE IS SHUT DOWN, UNTIL THE NEXT BUILD UP. THE SPIRAL OF GALAXY'S ARE IN PAIRS. THE MORE PAIRS OF SPOKES THE OLDER THE GALAXY. HYDROGEN AND ELEMENTS WITHIN THE COLUMN ARE NOW CAUGHT IN THE INERTIA OF THE SPIRAL TO FORM SOLAR SYSTEMS. BITS OF BLACK HOLE NOW BECOME THE NUCLEUS OF STARS AND PLANETS TO FORM SOLAR SYSTEMS AND SUSPENDED ELECTRICALLY CHARGED MATTER.
ANCIENT DRAWING ON CAVES AND STONE SHOW MANY ADOPTIONS OF WHEELS WITH SPOKES FROM THE CENTER OUT. ANCIENT HUMANS DID NOT HAVE TELESCOPES, THEREFORE SOMETHING HAD TO SHOW THEM THE WONDERS OF THE COSMOS.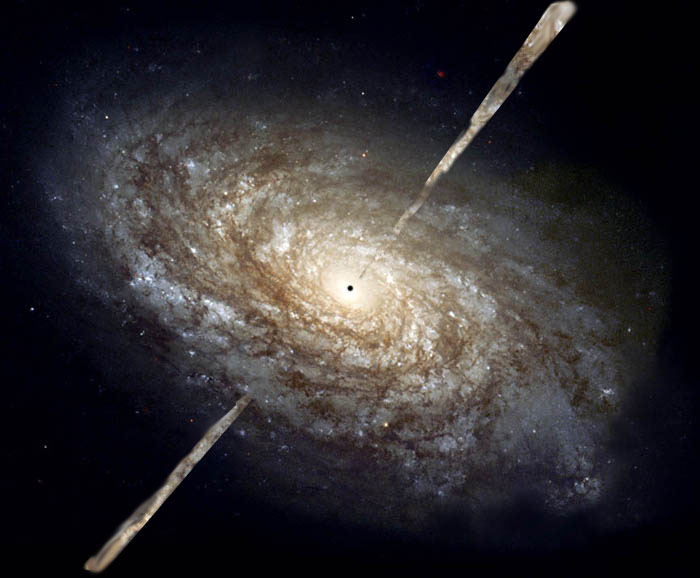 ONCE THE EXTENDED HOLE SHUTS DOWN THE MASS IS NOW PARSEC'S AWAY AND BECOMES SUSPENDED AROUND THE BLACK HOLE. THE INERTIA CONTINUES THE SPIRAL ALLOWING THE ELEMENTS TO FORM SOLAR SYSTEMS. THE SOLAR SYSTEMS GO TO SUPER NOVA AND FURTHER CONTRIBUTE TO FORMATION OF THE GALAXY. THIS PROCESS IS BEING CARRIED OUT THROUGH OUT TIME AND SPACE INFINITELY, WHICH MAY EXPLAIN A CONTAGIOUS ELECTRIFIED COSMOS. THE PLASMA GENERATED THROUGH OUT THE DARK MATTER IS LIKE A CAPACITOR HOLDING A CHARGE, GIVING OUR SYSTEMS ENDLESS ENERGY.
THE REASON SOME JETS FLOW PERPENDICULAR TO A OLD GALAXY'S SPIRALS IS DUE TO AGE ROTATION. THE OLDER A GALAXY THE MORE LIKELY THE MASS OF THE SPIRALS CAUSES A ALIGNMENT PERPENDICULAR TO THE JETS. A NEW BLACK HOLE HAS NO SPOKES THEREFORE TIME HAS NOT ALLOWED THE ALIMENT SHIFT.
IF NO BIG BANG, WHAT DOSE IT MEAN?
IF THERE WAS NO BIG BANG IT MEANS THE CURRENT WISDOM OF EXISTENCE IS ALL WRONG. THE COSMOS WAS NOT FORMED BY SINGLE EVENT WHICH IS REFERRED TO THE THEORY OF RELATIVITY, STATING GRAVITY IS PROOF AND CAUSE FOR ALL MATTER TO ACT AS IT APPEARS TO ACT. . EVEN ALBERT EINSTEIN STATES THERE WERE SOME INCONSISTENCIES IN HIS OWN THEORY.
THUS
THE UNIVERSE THE COSMOS AND ALL THAT IS MAY BE MUCH OLDER THAN EVER CONCEIVED.
BEINGS WHO EVOLVED BILLIONS AND BILLIONS OF YEARS AGO HAVE A COSMIC KNOWLEDGE ALLOWING THEM TO TRAVEL ANY WHERE IN THE COSMOS AND SEEDING ANY AND ALL PLANETS THEY CHOSE WITH LIFE.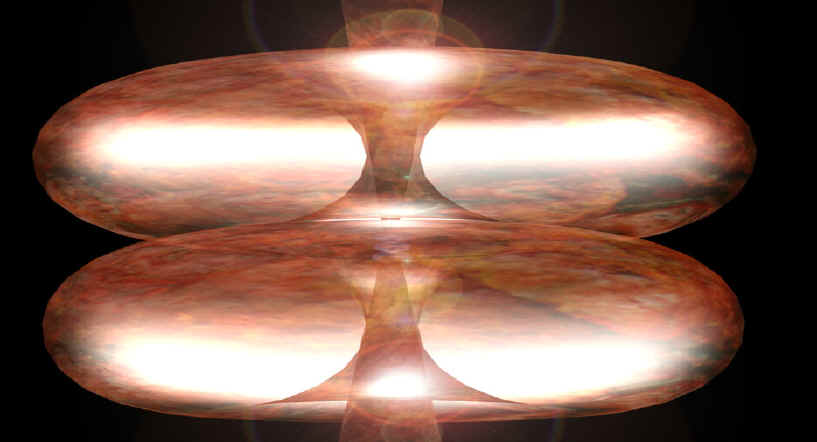 ---
Copyright All Rights Reserved © 2015 by Dseth