710
SOL 710

SOPHISTICATED TECHNOLOGY
POSSIBLY A
"Djed PILLAR" ON IT'S SIDE

A METAL
CYLINDER WITH COMPLEX ADVANCED DESIGN
IN AMONG MANY OTHER MACHINES
RESEMBLES A "Djed PILLAR"
FOUND ON EGYPTIAN WALL CARVINGS
ASSOCIATED WITH A
ELECTRIC POWER SOURCE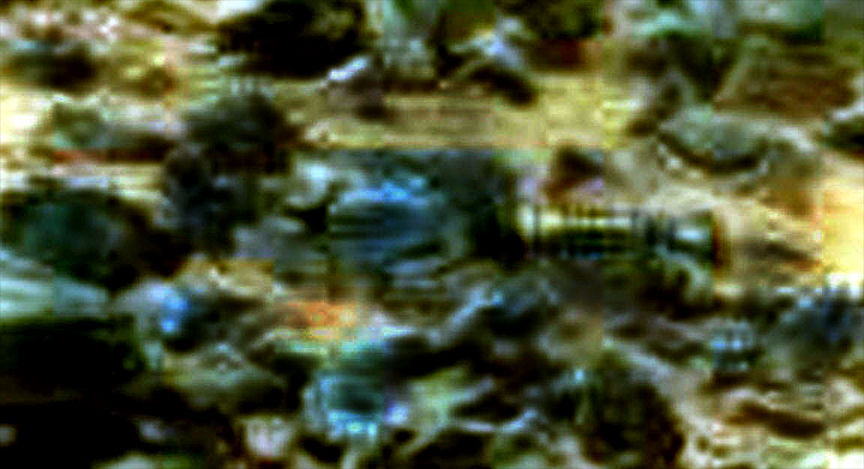 CYLINDER AND MANY INDUSTRIAL MECHANICAL
COMPONENTS==== NOT ROCKS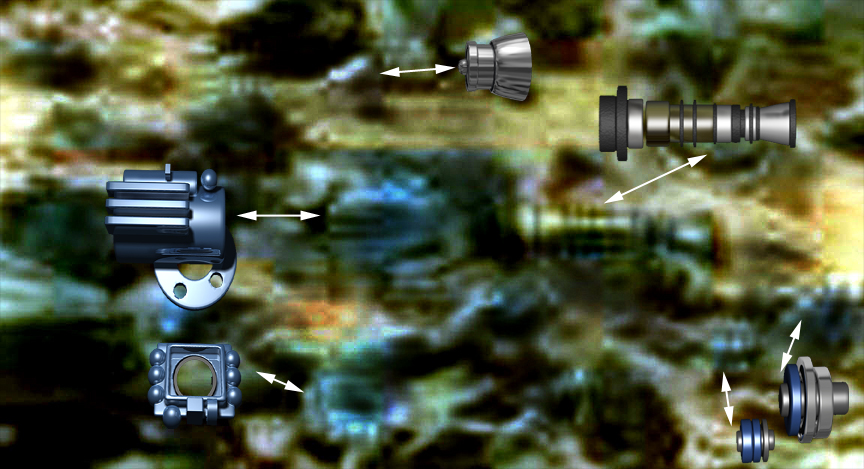 CYLINDER & INDUSTRIAL COMPONENTS
WITH COMPUTER AIDED DRAWING HIGHLIGHTING
A FEW OF THE INDUSTRIAL COMPONENTS
IN THIS IMAGE
THE IMAGE IS LOADED WITH PARTS AND MACHINES
AND A POSSIBLE "Djed PILLAR"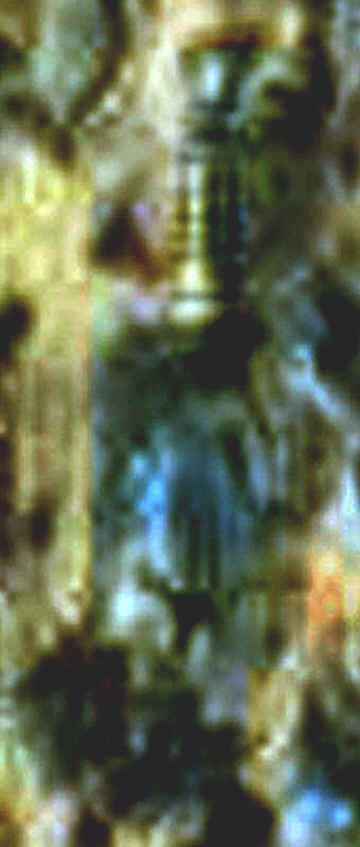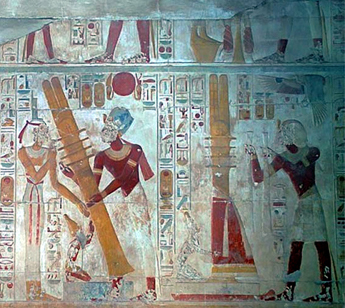 WHAT IS A Djed PILLAR?
http://www.geocities.ws/nephilimnot/ancientech_dendera_lamps.htm
A ANCIENT ELECTRICAL DEVICE SAID TO BE USED BY EGYPTIANS
FOR A ELECTRIC SOURCE
TESLA COIL HAS A SIMILAR DESIGN AND MAY BE OF THE SAME FUNCTION
THE SOPHISTICATED ELECTRONIC DEVICE IS A
POSSIBLE CONNECTION FROM MARS TO
ANCIENT EGYPT AND MAYBE EVIDENCE THE TWO WORLDS
MAY HAVE BEEN CONNECTED IN ANCIENT TIMES
http://www.researchingaliensandufos.com/2014/08/electricity-ancient-7-photos.html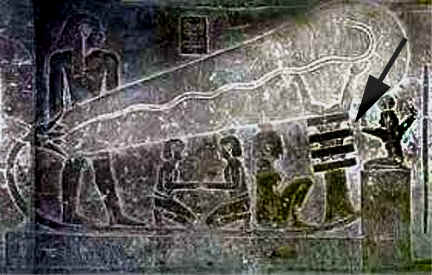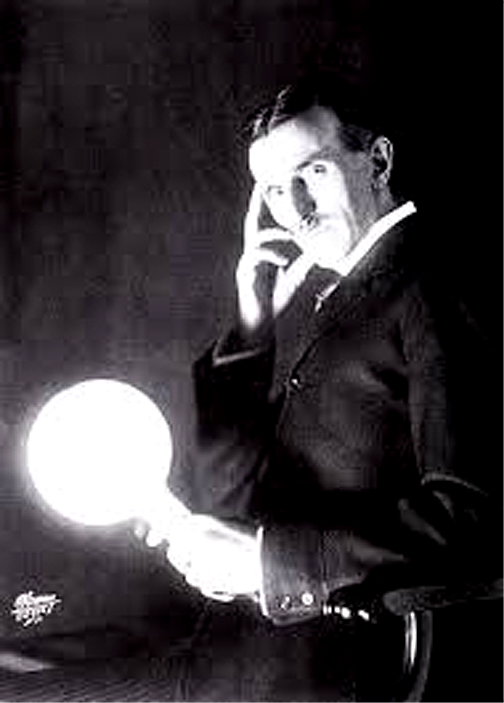 ELECTRIC SOURCE A Djed Pillar AT ONE END LIGHTS UP
THE GLASS BULB JUST LIKE TESLA LIGHTS UP A FLORESCENT LIGHT
BULB NEXT TO A TESLA COIL WITH NO WIRES
_________________________________

MORE PARTS DETAILS FOUND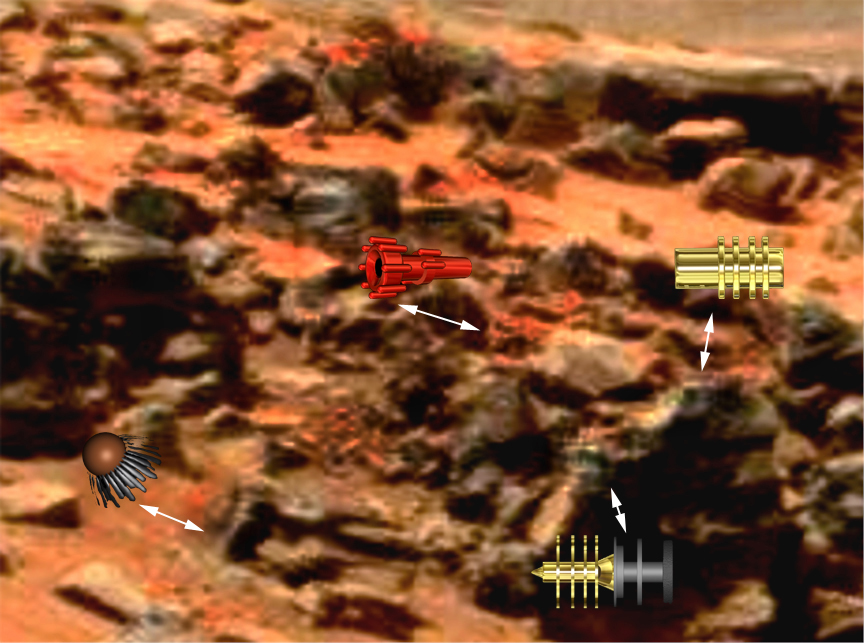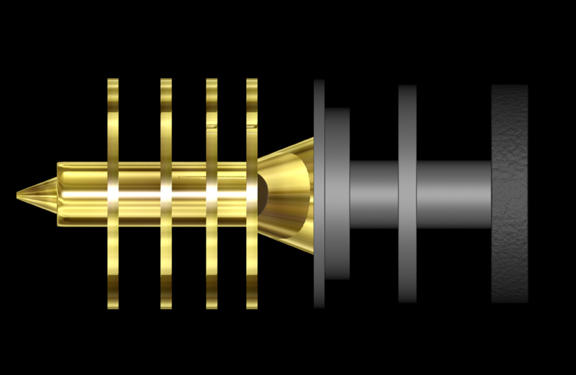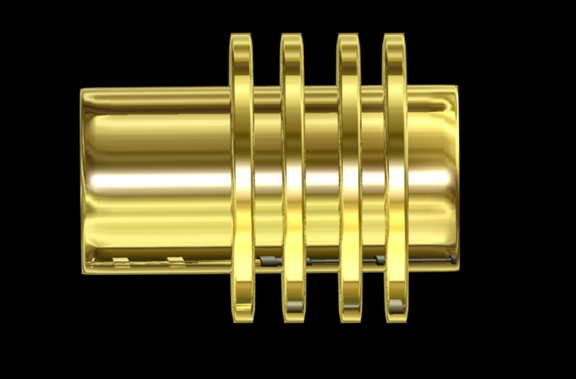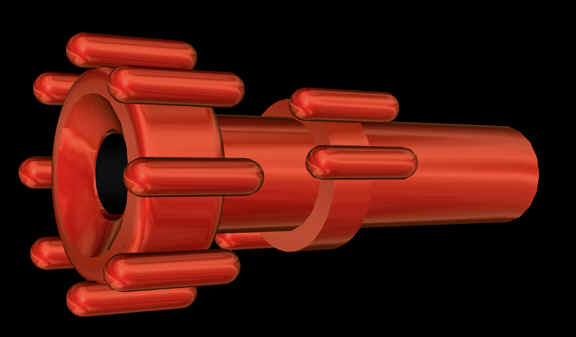 POSSIBLE DJED PILLAR PARTS
GOLD ELECTRICAL PROPERTIES ARE ALMOST ABSOLUTE
THUS WHY SO MUCH IS DEPENDENT ON GOLD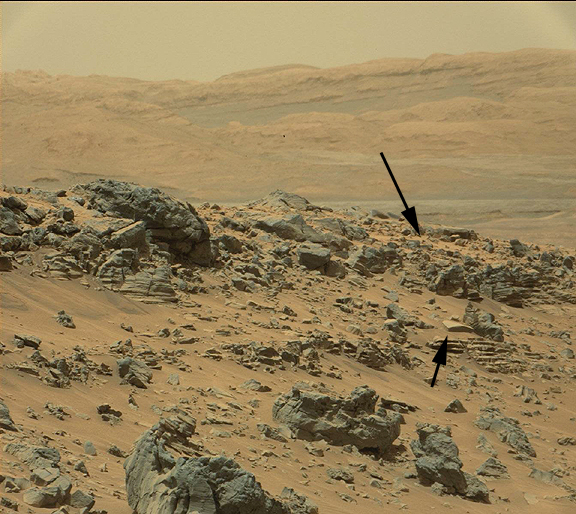 THE AREA WITHOUT COMPUTER ENHANCEMENTS
WOULD NOT
BE FOUND BY CASUAL VIEWING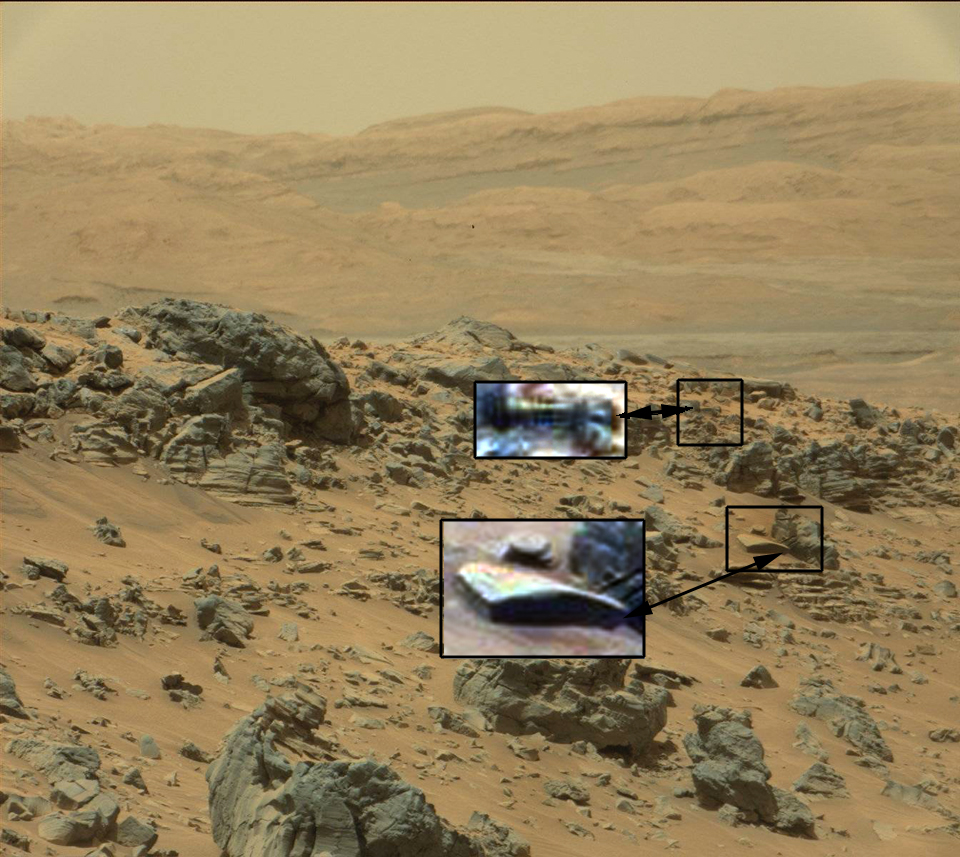 https://mars.jpl.nasa.gov/msl-raw-images/msss/00710/mcam/0710MR0030150150402509E01_DXXX.jpg
https://mars.jpl.nasa.gov/msl/multimedia/raw/?rawid=0710MR0030150150402509E01_DXXX&s=
This image was taken by Mastcam: Right (MAST_RIGHT) on board NASA's Mars rover Curiosity on Sol 710 (2014-08-5 13:28:56 UTC).
CLICK ON THE LINK AND THEN DOUBLE CLICK ON
THE IMAGE ON THE JPL/NASA WEB PAGE
THE DOUBLE CLICK WILL GIVE A SLIGHTLY SHARPER
VIEW, THEN ZOOM IN ON THE OBJECTS
PROOF OF "CHAIN OF CUSTODY", THAT OBJECTS ARE THERE AND NOT PHOTOSHOPED FAKES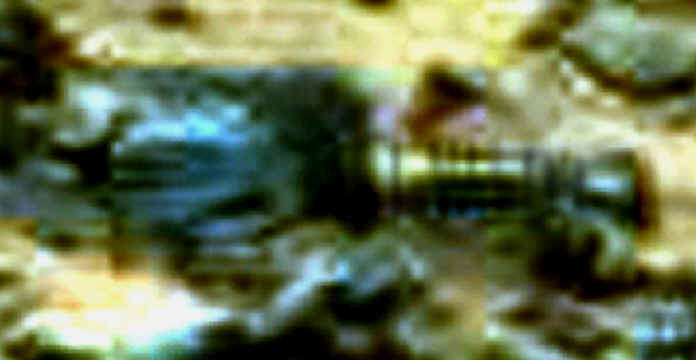 Djed PILLAR?
METAL CYLINDER WITH EXTENSIONS AND RINGS CLOSE UP
THIS OBJECT HAS DIFFERENT METAL ALLOYS
THAT HAS WITHSTOOD CORROSION LIKE GOLD AND PLATINUM
OR HIGHLY ADVANCED METALLURGY
MANY PARTS AND COMPONENTS
ALL AROUND THIS DOMINATE OBJECT WITH
HEAT SINK FINS TO COOL DOWN MECHANICAL DEVICES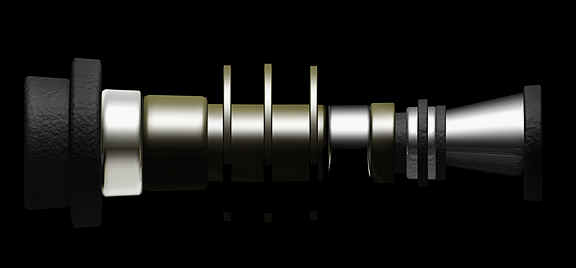 3D CAD RENDERING OF THE POSSIBLE
Djed Pillar
____________________________________
OBJECT IN THE SAND JUST BELOW THE DEBRIS FIELD
CONSISTENT WITH A DOOR WAY? OR A LID?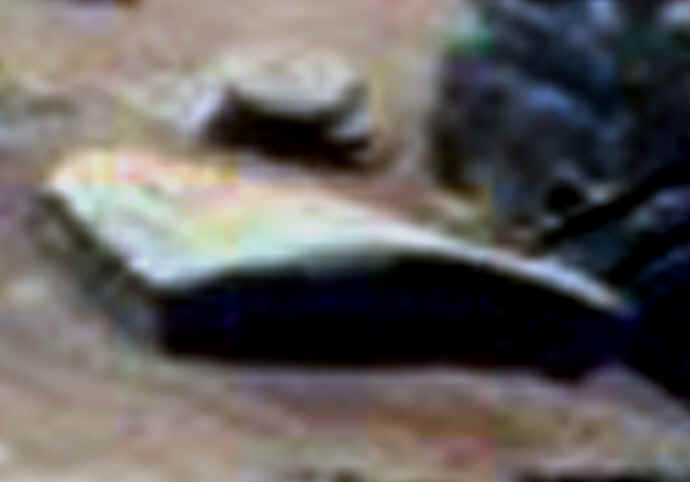 SQUARE CORNERS AND CURVED SYMMETRICAL TOP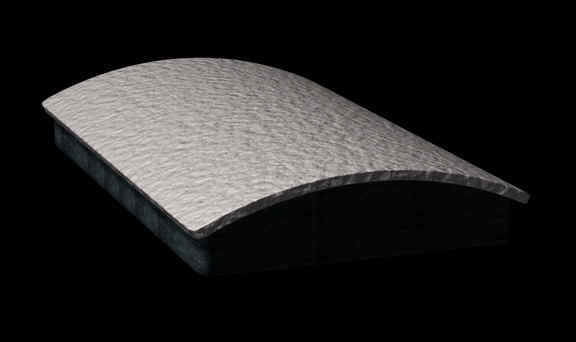 CURVED SYMMETRICAL TOP 3D CAD DRAWING
________________________
SOL 710 HAS MORE OBJECTS TO
PONDER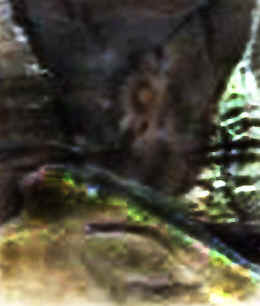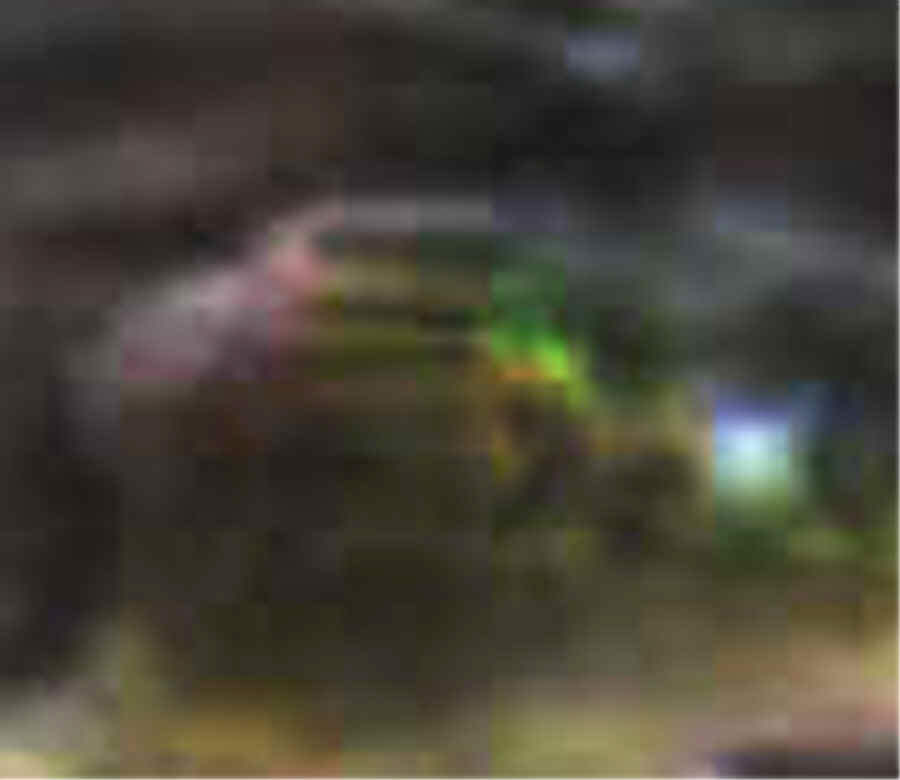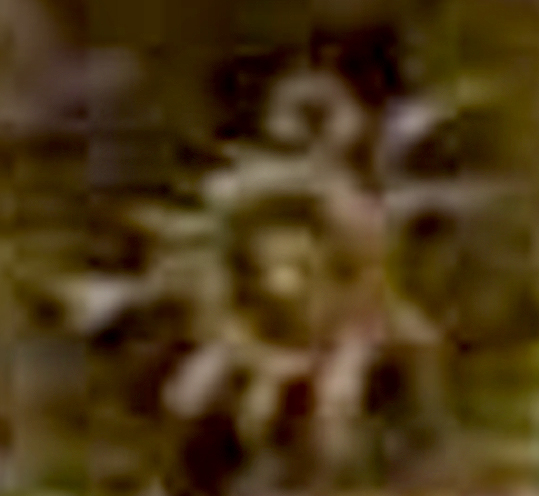 A POSSIBLE BOW OF A SHIP?
METAL SPLATTERED
IN A CLIFF FACE?
LARGE ELECTRIC MOTOR?
ANOTHER DOOR WAY IN THE SAND?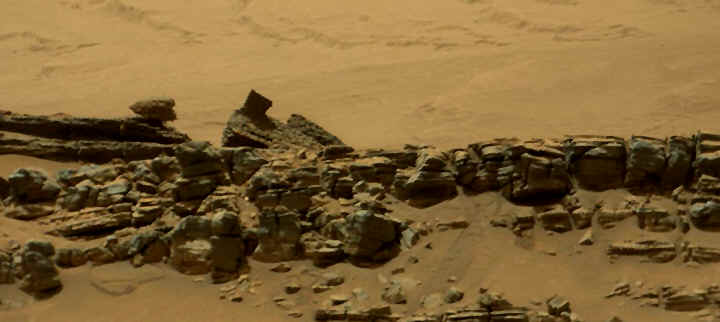 http://mars.jpl.nasa.gov/msl/multimedia/raw/?rawid=0710MR0030150010402495E01_DXXX&s=710
This image was taken by Mastcam: Right (MAST_RIGHT) onboard NASA's Mars rover Curiosity on Sol 710 (2014-08-05 13:22:36 UTC).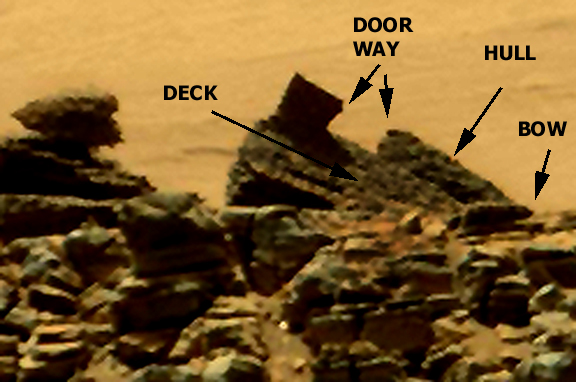 https://mars.jpl.nasa.gov/msl-raw-images/msss/00710/mcam/0710MR0030150010402495E01_DXXX.jpg
POSSIBLE HULL OF A SHIPS BOW, WITH TAPERED POINT, AND DOOR CUT OUT.
THE CATASTROPHIC EVENT THAT SWEPT MARS MAY HAVE INCLUDED MUD OR ELECTRIC STATIC CHARGED DUST, PLASMA DUST, WHICH WOULD HAVE COATED ANY METAL AND TURNED TO ROCK LOOKING COATING. IMAGINE A BOAT BEING SPRAYED WITH GAHNITE, (SWIMMING POOL) COATING BUT BROWN/RED IN COLOR. HOWEVER IN THIS CASE ELECTRIC STATIC HOT PLASMA DUST AS IN A PYROCLASTIC FLOW FROM A ELECTRIC CHARGED ARC THAT MAY HAVE BEEN THE CAUSE OF THE DESTRUCTION ON MARS. OF COURSE VOLCANIC OR METEORITE STRIKE COULD ALSO CREATE SUCH HIGH CHARGED MOLTEN DUST FLOWS.
__________________________________________________________
CLIFF SUN BURST LIKE OBJECT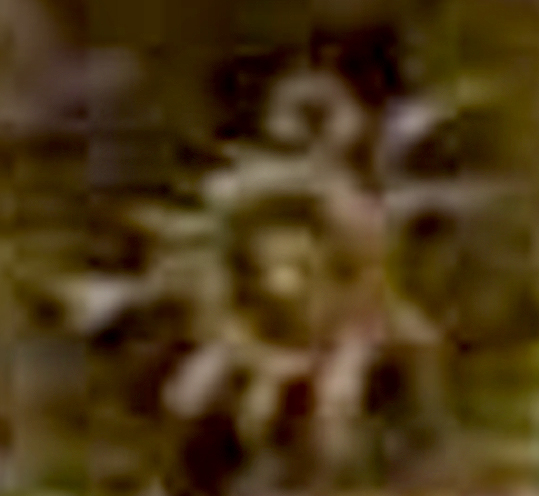 CLIFF OBJECT HAS BEEN TAGGED TO BE A
"XENOMORPH" LIKE IN THE MOVIE ALIEN
BY TABLOIDS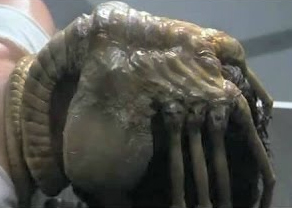 BALDERDASH SENSATIONALISM !!!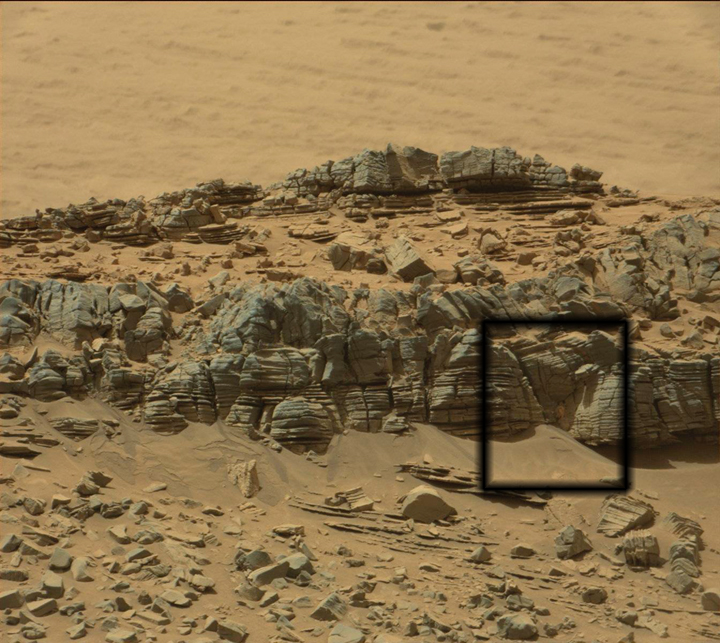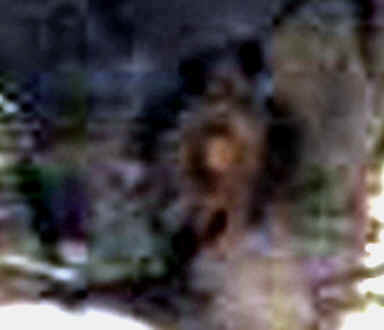 https://mars.jpl.nasa.gov/msl/multimedia/raw/?rawid=0710MR0030150070402501E01_DXXX&s=710
This image was taken by Mastcam: Right (MAST RIGHT)
on board NASA's Mars rover Curiosity on Sol 710 (2014-08-05 13:35:07 UTC)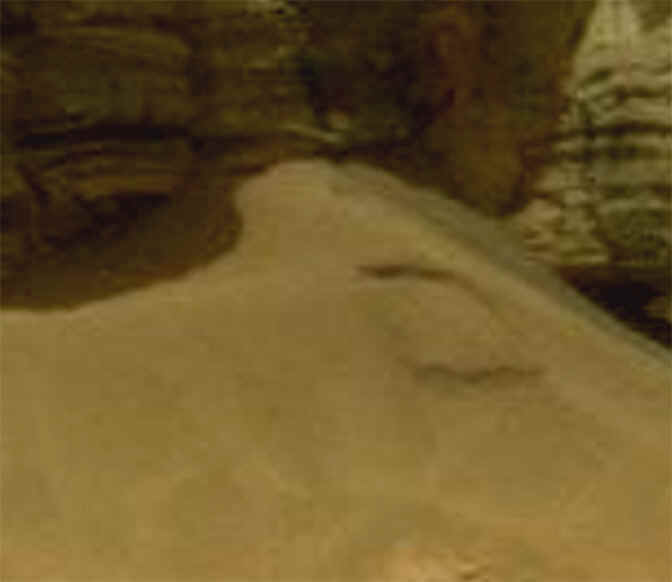 RAW IMAGE WITHOUT HIGHLIGHTS IMAGE HIGHLIGHTED REVEALS DETAILS
OBJECT IN THE CLIFF FACE
SHAPE IS NOT CONSISTENT WITH
SURROUNDINGS
ALONG WITH A
MYSTERIOUS MOTOR LIKE OBJECT HIDDEN BY
THE FOG OF MARS BLUR FILTER
AND A DOOR LIKE IMPRESSION IN THE SAND
JUST BELOW THE SUN LIKE OBJECT IN ROCK FACE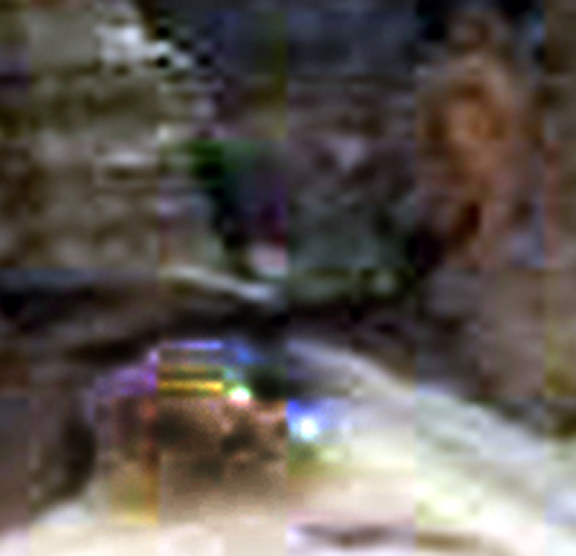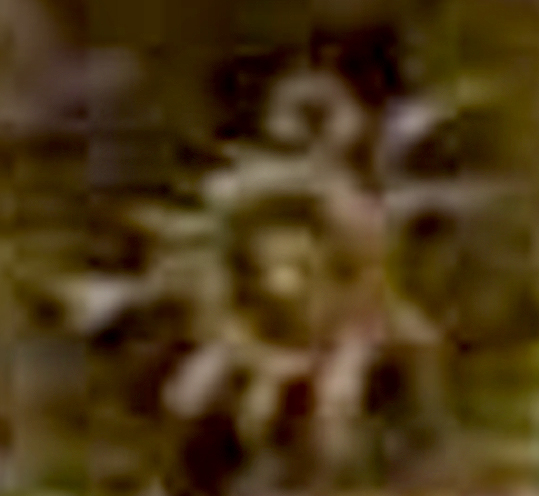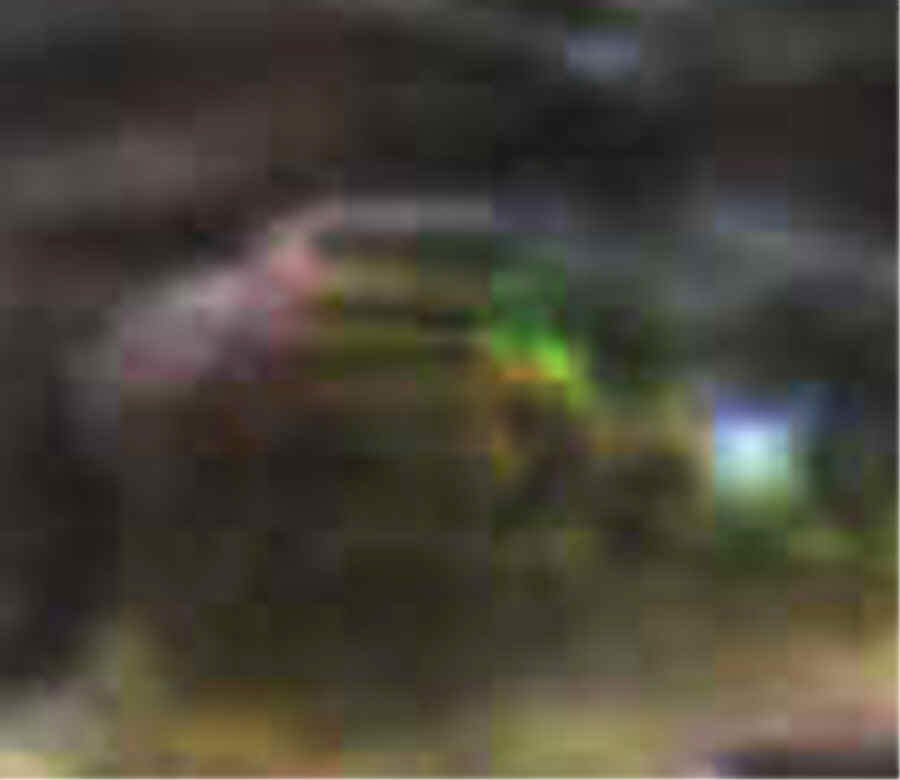 SPLATTER OF METAL PROJECTILE
TRAVELING AT HIGH VELOCITY & MOTOR
IS SEEN WHEN THE FOG OF MARS* IS LIFTED

DURING A CATASTROPHIC PLASMA BLASTS OBJECTS WILL TRAVEL AT VERY HIGH VELOCITY
THE SUDDEN STOP WOULD BE CONSISTENT WITH IMPACT
OF HOT METAL AT HIGH VELOCITY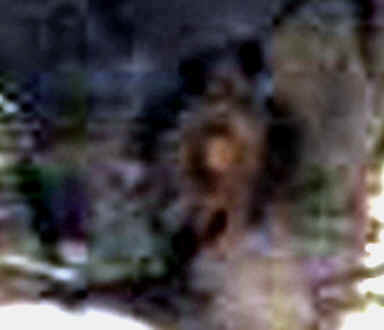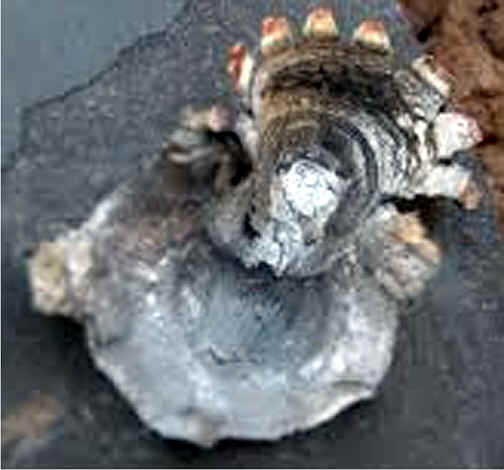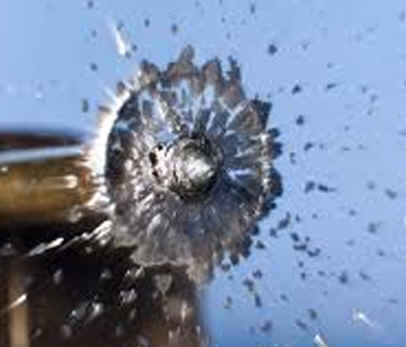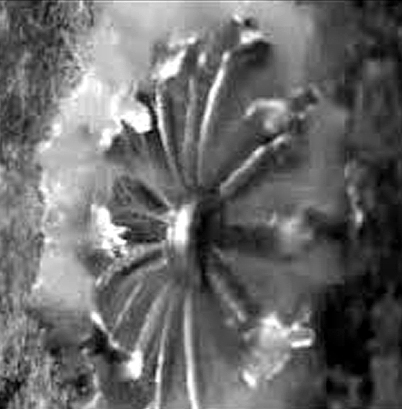 IMAGES OF BULLETS ON IMPACT

________________________________________________________________________
AT THE BASE OF THE CLIFF FACE UNDER
THE OBJECT IN THE CREVASSE IS DISTURBED SAND
IN THE SHAPE OF A RECTANGLE-A DOOR WAY?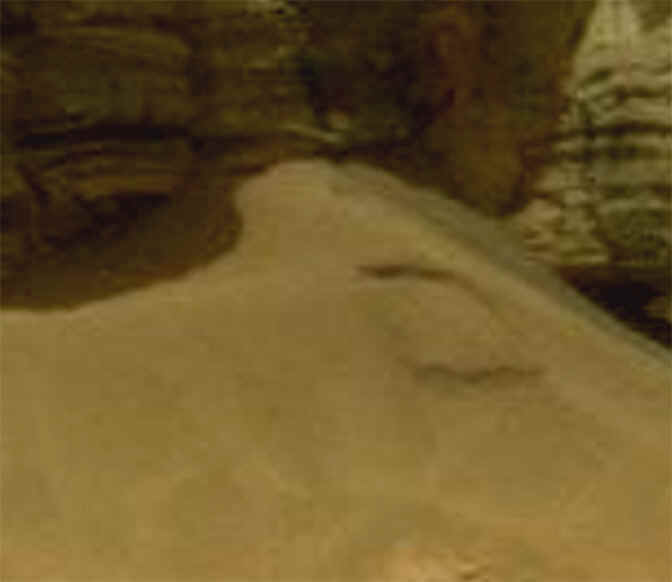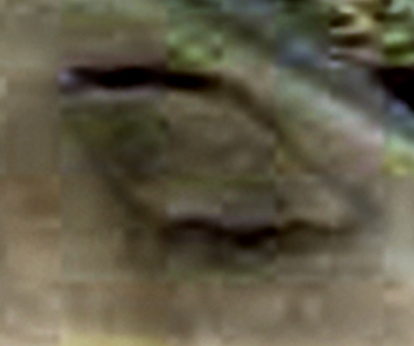 AT THE BASE OF THE CLIFF FACE- SAND HAS PILED UP, NOTICE THE SAND
JUST BELOW THE SPLATTER OBJECT HAS SHIFTED IN A RECTANGLE SHAPE?
IS THIS A TRAP DOOR WAY? MORE CAMOUFLAGED UNDERGROUND
COMPLEX EVIDENCE?
WAS THE RAW IMAGE TAMPERED WITH
THE FOG OF JPL/NASA* TO HID THE EVIDENCE OF A MOTOR
AND A DOOR WAY?
______________________________________________
MOTOR LIKE OBJECT

THE MOTOR LIKE OBJECT HAS BEEN FOUND UNDER THE
OVER EXPOSED WHITE OUT CONDITIONS OF THE IMAGE.
SOFTWARE ENHANCEMENTS EXPOSES
THE MOTOR LOOKING OBJECT

THE OVER EXPOSURE & FOG OF MARS* HIDES MUCH!
WORKING THE IMAGING SOFTWARE TO FIND
THE MOTOR LIKE OBJECT WAS SERENDIPITOUS
(A STROKE OF PERSISTENCE TO FIND THE ARTIFACT)
WHAT WE HAVE MISSED MUST BE TREMENDOUS
BECAUSE OF JPL/NASA'S FOG OF MARS FILTER
FURTHER ENHANCEMENTS WORKING THE MILD TONES AND SHADOW FUNCTIONS
BRINGS OUT THE OBJECT JUST ABOVE THE IMPRESSION IN THE SAND
WITH WHAT MAY BE
A MOTOR OR MECHANICAL DEVISE
HORSESHOE MAGNETS APPEARS TO BE PART OF THIS MOTOR DESIGN?

WITHOUT IMAGING SOFTWARE TO EXPOSE WHAT IS OTHERWISE HIDDEN
THE MOTOR OBJECT WOULD BE MISSED BY CASUAL VIEWING BY THE PUBLIC
THE FILTER JPL/NASA IS USING IS TO KEEP THE PUBLIC IN THE DARK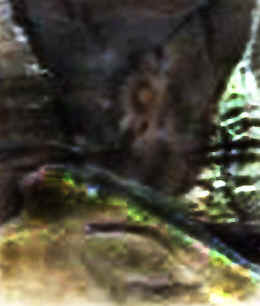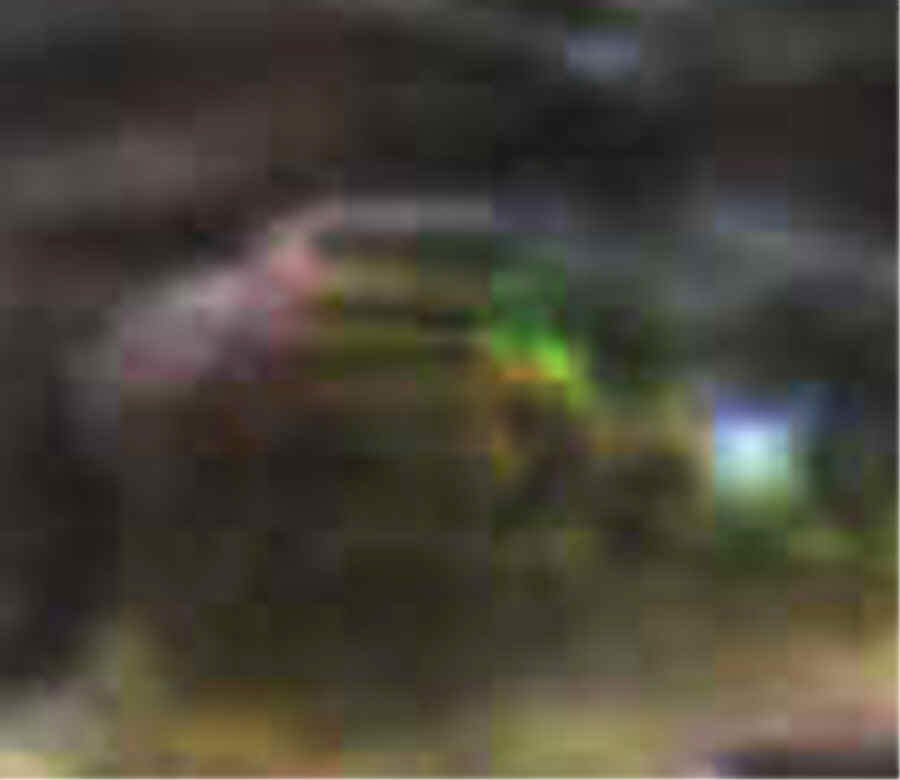 COOLING FINS ON CYLINDER SHAPE MECHANICAL DEVISE
CONSISTENT WITH A ELECTRIC MOTOR
WORKING THE ENHANCEMENT SOFTWARE JUST TO FIND THIS OBJECT WAS
EXTREMELY CHANGELING / THIS IMAGE WAS THE RESULTS OF MANY STEPS TO
FIND AND BRING OUT PIXELS SHOWING A OBJECT OF DESIGN AND ENGENDERING

JUST HOW THE DOOR IN THE SAND AND A POSSIBLE MOTOR WITH THE
OBJECT IN THE CREVASSE ARE RELATED IS A MYSTERY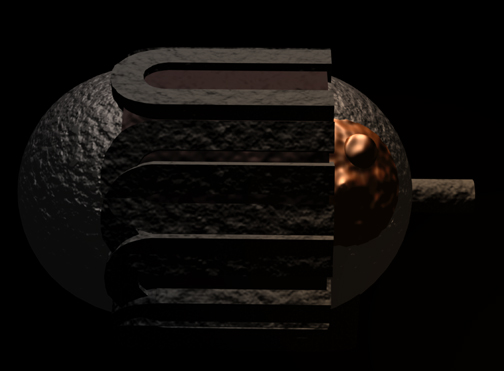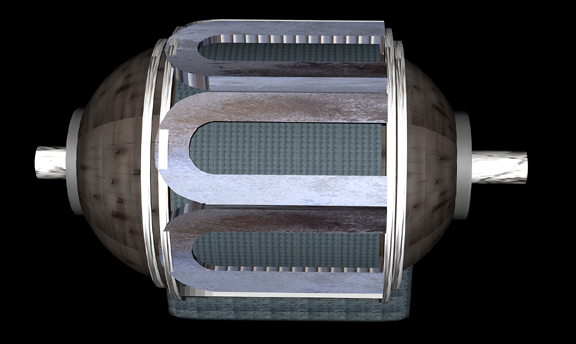 3D AUTOCAD DRAWINGS OF POSSIBLE ELECTRICAL MOTOR
IF A MOTOR ARE THESE MOTORS USING HORSESHOE MAGNETS?
__________________
FOG OF JPL/NASA FILTER LIFTED
*FOG JPL/NASA IS THE MASKING LIGHT BROWN COLOR FILTER
OVER LADED ON THE RAW IMAGES BY JPL/NASA TO OBSCURE REVELING DETAILS AND MUTE COLOR TO REDUCE THE DEPTH OF FIELD TO OBSCURE OBJECTS TO THE PUBLIC
_______________________________________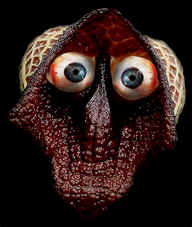 SPECULATION MARTIAN
(Aristolochia & Salvadorensis)


MARS WAS ONCE A PLANET WITH OCEANS LARGE ENOUGH TO SUPPORT
SHIPS OF COMMERCE AND ABUNDANT LIFE. WHEN THE OCEANS DRIED UP
IT EXPOSED SHIPWRECKS STUCK ON THE ROCKS.
LONG AFTER THE CATASTROPHIC DESTRUCTIVE EVENTS OTHER BEINGS MAY HAVE EXPLORED THE SURFACE FOR ARTIFACTS OF THE PAST CIVILIZATION FOR SALVAGEABLE REMITS. THE SUN'S POWERFUL RAYS AND RADIATION PREVENTED TIME EXPOSED TO THE HARSH EXTREMELY HARMFUL ATMOSPHERIC CONDITIONS, THEREFORE GOING UNDERGROUND FOR PROTECTION WOULD HAVE BEEN PARAMOUNT, EVEN WITH PROTECTIVE SUITS. USING LARGE METALLIC SIRENS TO SOUND THE EXPOSURE WARNINGS, OR WAS THIS OBJECT A DJED PILLAR?, FOR ELECTRIC POWER?
ARE THERE DOOR WAYS TO PROTECT UNDERGROUND SHELTERS? OTHER PASSAGE WAYS TO THE SURFACE MAY HAVE BEEN CAMOUFLAGED UNDER WHAT WOULD APPEAR TO BE SAND FLOWS FOR ACCESS TO POSSIBLE COMMUTATION DISHES IN THE CLIFF FACE. CAMOUFLAGED, BECAUSE THERE MAY BE COMPETING BEINGS ON THE SURFACE?
THE FOG OVERLAY FILTER OF JPL/NASA ON THE RAW IMAGES BY JPL/NASA TRIED TO HIDE REVELING DETAILS. WITHOUT COMPUTER SYSTEMS TO ENHANCE THE IMAGES THESE MACHINES WOULD NEVER SEE THE LIGHT OF DAY.
THE MARTIAN
---