569
SOL 569
HUMAN FIGURE IN SPACE SUIT
DRILLING EQUIPMENT
TANK TREAD LIKE VEHICLE
STORY STONES

STONE CARVING OF A HUMAN FIGURE
_____________________________________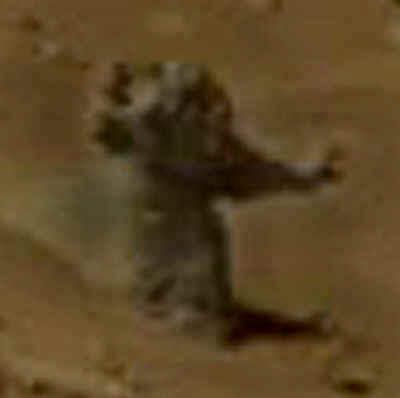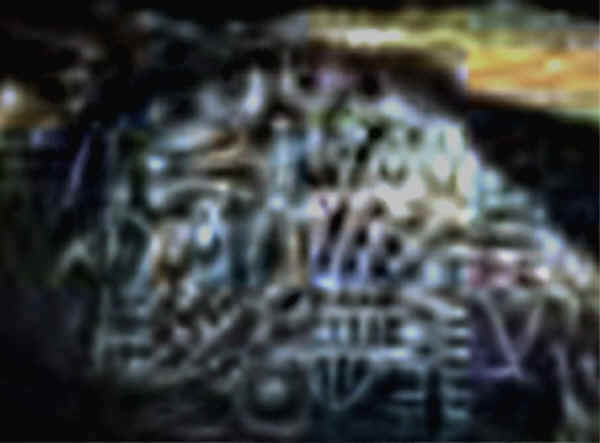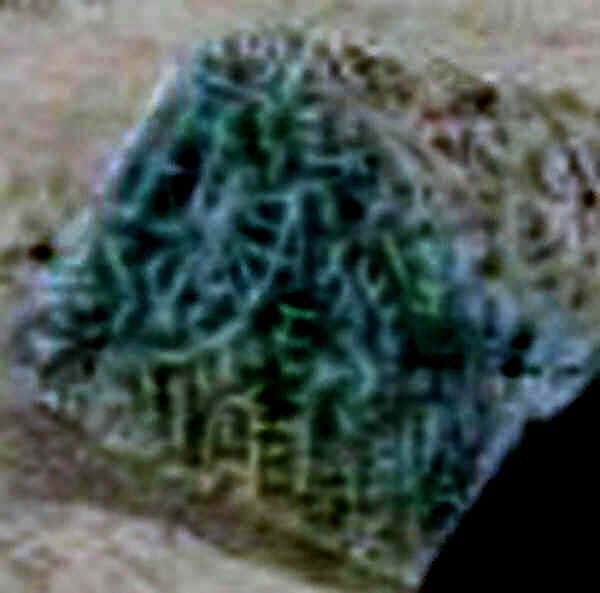 BREAKTHROUGH-UNCOVERING BLUR BOXES

---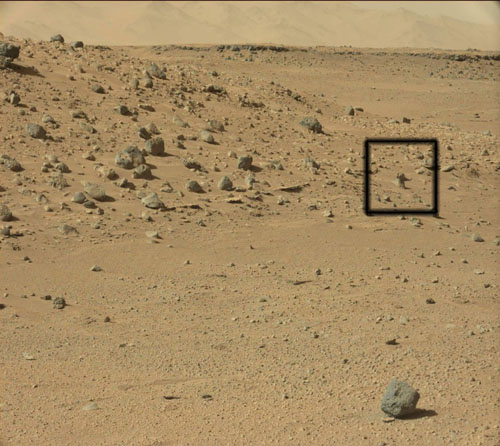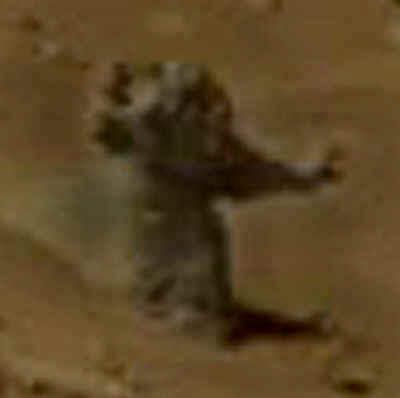 http://mars.jpl.nasa.gov/msl-raw-images/msss/00569/mcam/0569ML0023070040204830E01_DXXX.jpg
This image was taken by Mastcam: Left (MAST_LEFT) onboard NASA's Mars rover Curiosity on Sol 569 (2014-03-13 19:49:43 UTC)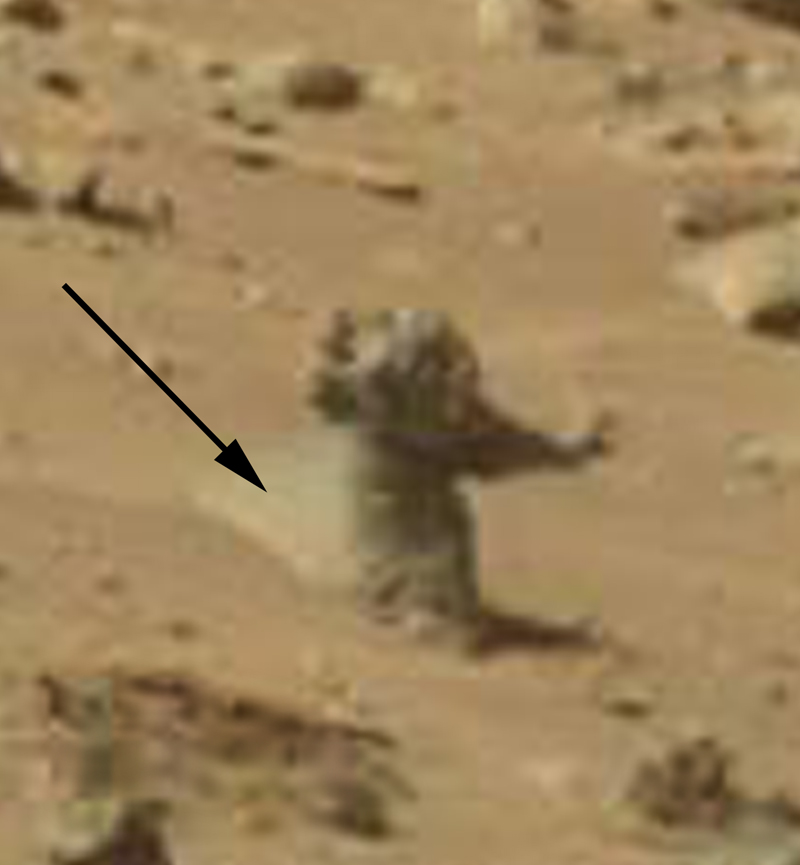 THE FIRST IMPRESSION !!
THIS INDIVIDUAL MAY HAVE BEEN RUNNING WHEN FROZEN IN TIME BY
AN ANCIENT BLAST OF PLASMA PETRIFYING
IT INTO STONE FOR ALL TIME???????
HOWEVER WHY THE DUST TRAIL?
THE ARROW IN THE IMAGE ABOVE IS POINTING TO THE
MARKINGS OF A DUST RAIL.
CONCLUSION: THE INDIVIDUAL IS MOVING AND THE BLURRING AND
DISTANCE FROM THE CAMERA MAKES DETAILS DIFFICULT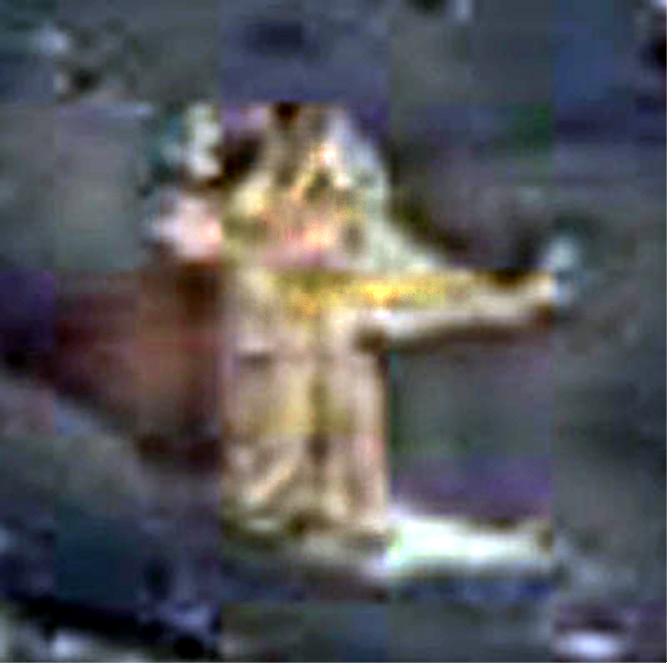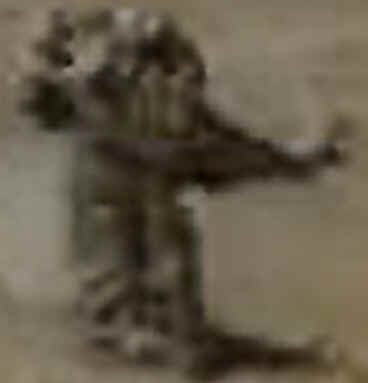 APPLYING A REVERSE NEGATIVE FEATURE TO IMAGING BRING OUT
THE DARK AND LIGHT IN REVERSE SHOW WHAT IS SHADOWING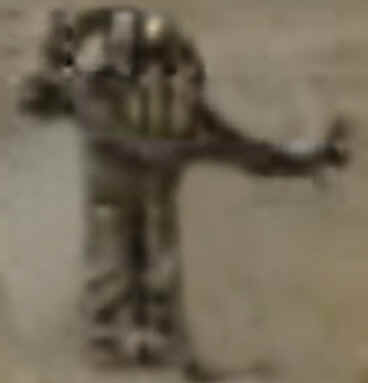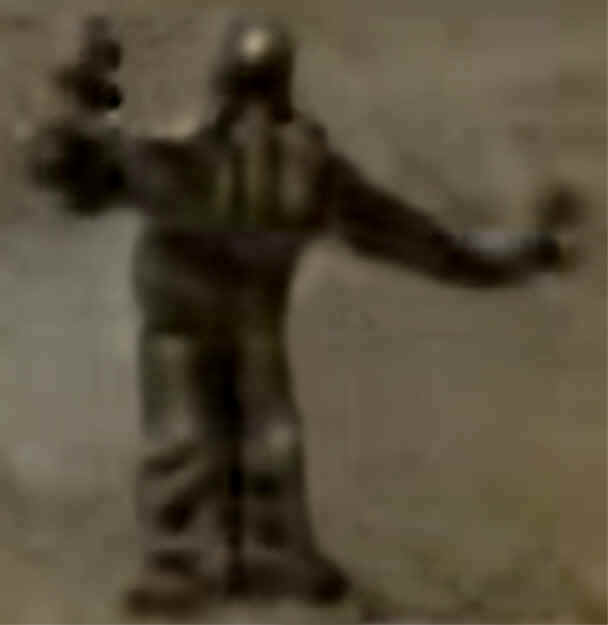 REMOVING THE SHADOW BLURS AND REMOVING THE HELMET ON
RIGHT SHOULDER EXPOSES THE
SUBJECT AS TWO LEGS TWO ARMS, HEAD AND TORSO.
THE ABOVE TWO IMAGES WERE GIVEN GREATER CONTRAST AND
SHARPEN. THE OVEREXPOSED PIXELS IN THE SHADOWS WERE GIVEN THE
BACKGROUND TO FURTHER BRING OUT THE FIGURE OF A HUMAN.
ADDITIONAL REMOVAL OF THE FACE SHIELD ON THE RIGHT SHOULDER
AND COLLAR WAS REMOVED AS WELL, TO HIGHLIGHT
THE HUMAN SPACE SUIT FOR BETTER VISUAL PRESENTATION........
ADDITIONAL IMAGING TO DETERMINE WHAT MAY
BE IN FRONT OF THE FEET BRINGS OUT EQUIPMENT
CONTRASTING AND IMAGE ADJUSTMENTS WILL
FAVOR FOREGROUND AT TIMES TO SEE VALUES NOT
OTHERWISE SEEN
---
ADDITIONAL OBJECT ON SOL 569
EXPOSES A TREADED LIKE TANK BODY VEHICLE
LOADED WITH EQUIPMENT, AIR TANKS, BORING TOOLS, AND
HIDDEN BY jpl OR nasa WITH BLUR BOXES TO CONCEAL A MACHINE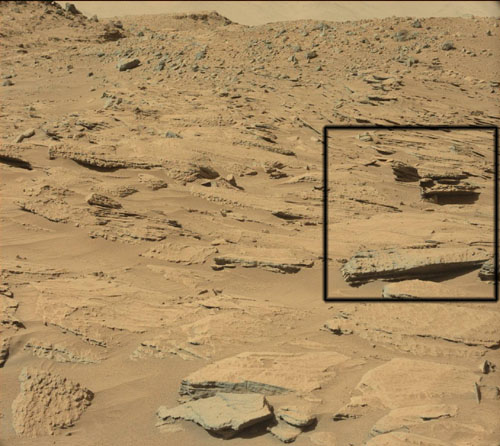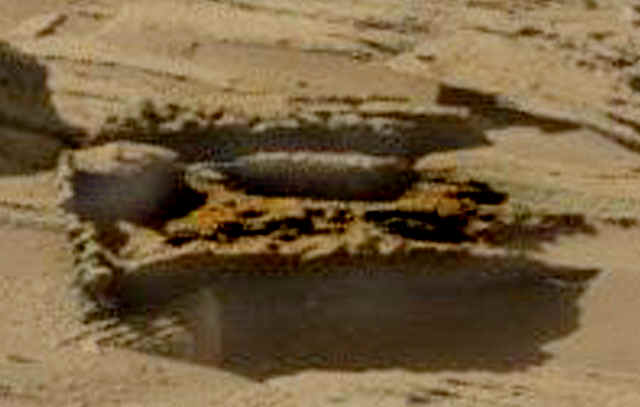 http://mars.jpl.nasa.gov/msl/multimedia/raw/?rawid=0569ML0023100000204820E01_DXXX&s=569
This image was taken by Mastcam: Left (MAST_LEFT) onboard NASA's Mars rover Curiosity on Sol 569 (2014-03-13 19:05:17 UTC).
BLUR BOXES EXPOSED BOXES
THE IMAGES ABOVE ONE WITH BLUR BOXES PLACED BY NASA AND
ONE EXPOSING MECHANICAL MACHINERY NASA IS KEEPING FROM THE PUBLIC
EXPOSED ACTUAL IMAGE FROM COMPUTER ENHANCEMENTS
WHAT'S UNDER ALL THE OTHER SURGICALLY PLACE BLUR
BOXES IN THOUSANDS OF POSTED IMAGES?

CLEANED UP THE PERIPHERAL PIXELS TO EXPOSE THE
PATTERN OF A MECHANICAL COMPONENT
THE GEOMETRIC PATTERNS ARE TO PRECISE TO BE
ANYTHING OTHER AND INTELLIGENTLY DESIGNED


3D MAX RENDERING: A CAD DRAWING IS REPLICATED AS A VISUAL AID
__________________________________________________
OFFICIALS DECEPTION UNCOVERED WITH A
EQUALIZING IMAGING TECHNIQUE
TO EXPOSE THE DECEPTION OF
MECHANICAL OBJECTS UNDERNEATH
THE BLUR BOXES
BLUR BLOCKS SATIRICALLY PLACED OVER PIXELS WHICH OTHERWISE
PROVE MECHANICAL DESIGN HAS BEEN UNCOVERED BY USING
IMAGING SOFTWARE-- EQUALIZE THE COLOR FUNCTION CAN BRING OUT PIXELS
WITHIN THE BLUR BLOCKS TO REVEL INCRIMINATING IMAGES
---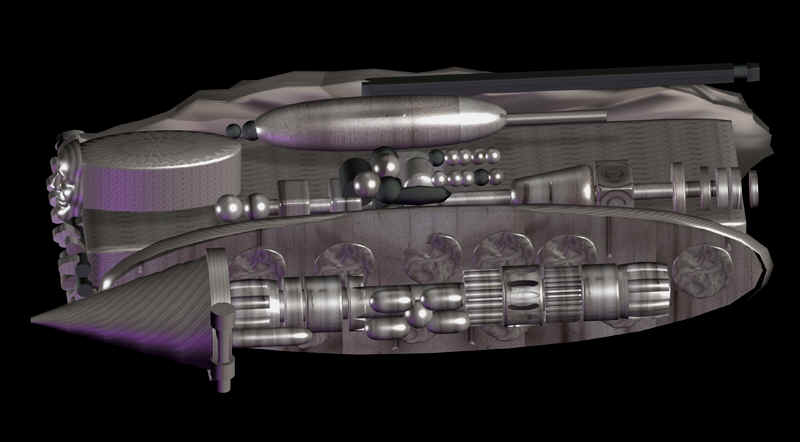 3D MAX IMAGE CREATED TO GIVE THE
VIEWER BETTER VISUALIZATION OF HOW
TWO OF THE MAJOR PARTS MAY HAVE GREATER
FUNCTION WHEN PUT TOGETHER THE UNCOVERED MACHINE
THE UNIT ALL PUT TOGETHER MAY HAVE BEEN A
DRILLING OR BORING RIG ???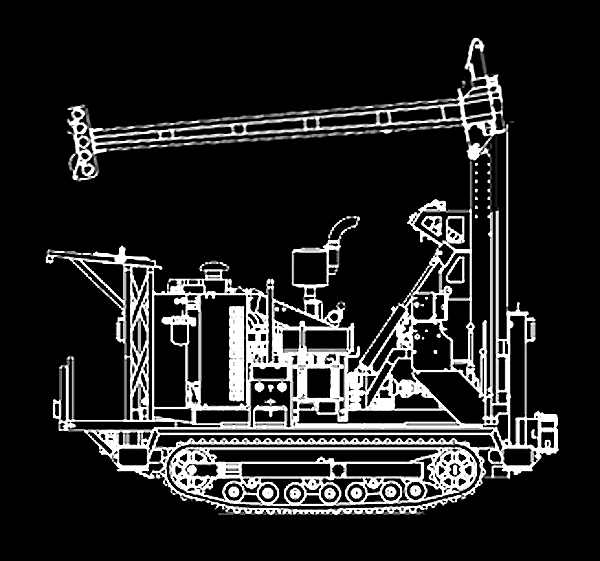 LINE DRAWING OF A EARTH TRACKED DRILL RIG
THE WEATHERING, BLASTING OF WIND STORMS AND TIME
WILL STRIP OFF THE UPPER SECTIONS OF A MACHINE
OF THIS NATURE
---
BELOW IS A FRAME BY FRAME DIGITAL ADJUSTMENT OF THE TREADED TANK LIKEOBJECT ON
SOL 569
1ST FRAME SHOWS THE BLUR SQUARES PLACED BY NASA FROM
THE RAW IMAGE
THE FOG LIKE SQUARES ARE TAKEN FROM OTHER
PIXELS OFF THE ORIGINAL IMAGE AND ARE USE AT
LOWER PERCENTAGES OF CLARITY CRATING A LIGHTER
BOXING EFFECT OVER THE ACTUAL IMAGE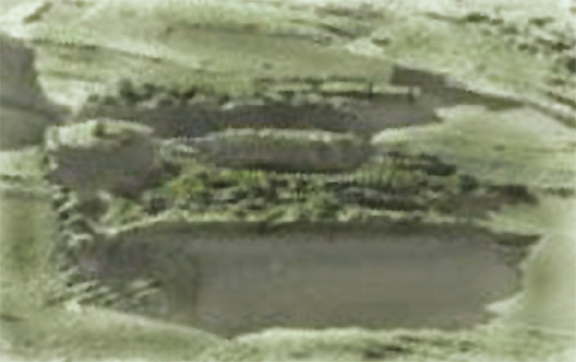 2ND FRAME SHOWS IMAGE COMPRESSED AND AUTO ADJUST
THE OUTLINE OF THE MECHANICAL SHAFT IS FAINT BUT VISIBLE
USE THE ZOOM FICTION OF YOUR BROWSER TO LOOK CLOSER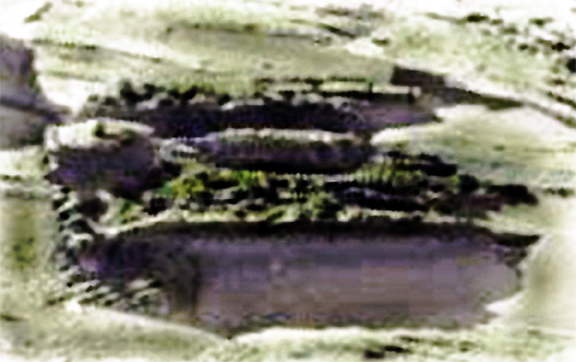 3RD FRAME SHOWS DE-SATURATED COLOR WHICH
BRINGS OUT THE COLOR IN BLACK AND WHITE SHOWING THE OUTLINED
GEOMETRIC DESIGN OF LONG SHAFT WITH COMPONENTS ABOUT IT
GEOMETRIC DESIGN WAS BROUGHT TO THE YELLOW
COLOR USING EQUALIZING COLOR FUNCTION OF THE IMAGING PROGRAM
DETAILS UNDER DIFFERENT COLOR OFTEN BRING OUT IMAGES
OTHERWISE NOT SEEN BY THE NAKED EYE
TANK TREADS?, BORING CONE?, MECHANICAL LEVERING?, FUEL CELLS ?, MECHANICAL ROLLERS ON FRONT? JUST UNDER WHAT LOOKS LIKE A FACE MASK?. THE CONE SHAPED OBJECT WITH MACHINED GROVES CAN BE OVER LOOKED UNLESS YOU LOOK CLOSE. A MACHINED CONE?
THE COMPONENT UNDER THE BLUR BOXES HAS
BEEN EXPOSED AND MAY BE A FUNCTION OF THE CONE?
THE COMPONENTS ALONG SIDE OF MAIN OBJECT MAY HAVE
ONCE BEEN ON TOP AND USE FOR DRILLING ?
THE CONE SHAPED OBJECT PARTLY IN SHADOW TO LEFT FRONT HAS A CROSS GRID PATTERN, INDICATING INTELLIGENT MADE . THE CONE WITH IT'S GROVES IN A TAPERED AND TWISTED GEOMETRIC PATTERN IS NOT A PILE OF ROCKS.
---
STORY STONES AND A SQUARE FOUNDATION
ADJACENT TO THE RIG ARE DEEP CARVED
STORY STONES AND NEAR BY A
SQUARE FOUNDATION PARTLY COVERED
WITH MARS OVER BURDEN OF DUST
http://mars.jpl.nasa.gov/msl/multimedia/raw/?rawid=0569ML0023100010204821E01_DXXX&s=569
This image was taken by Mastcam: Left (MAST_LEFT) onboard NASA's
Mars rover Curiosity on Sol 569 (2014-03-13 19:05:33 UTC).
SOL 569 HAS MORE TO OFFER, NEXT TO THE TRACKED LOOKING VEHICLE ON THIS RAW IMAGE ARE THREE STONE OBJECTS; SQUARED BLOCKED FOUNDATION, TWO STORY STONES WITH WHAT MAY BE A HUMAN FIGURE, AND LARGE SQUARED BLOCK PARTLY BROKEN WITH THE SYMBOLS OF MARS LETTERING
STORY STONES? WHAT KIND OF STORY?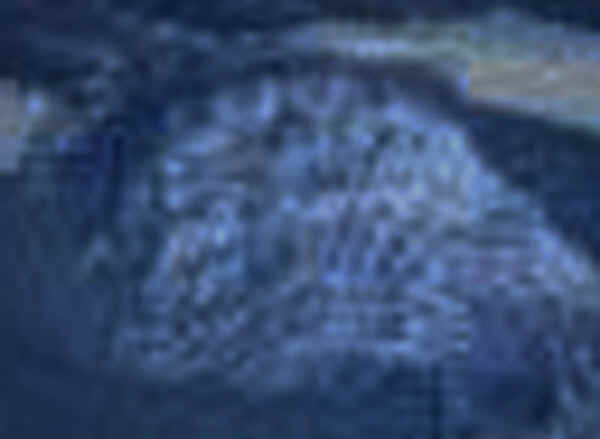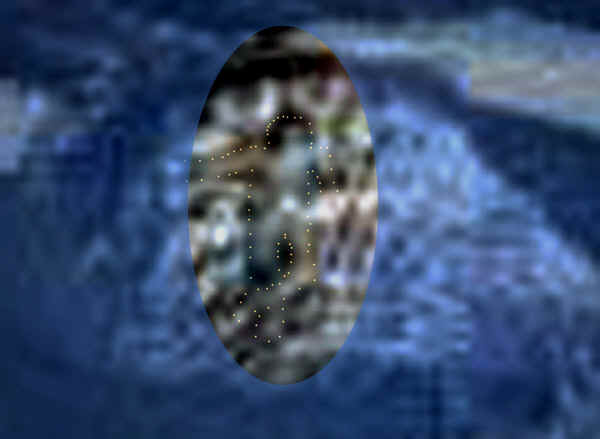 USING THE INVERTED AND COLOR ENHANCEMENT FUNCTION OF THE IMAGING
PROGRAM THE SHAPES OUTLINES ARE MORE VISIBLE.....DOTS PLACE AROUND THE
HUMAN FIGURE WERE PLACE TO HIGHLIGHT THE IMAGE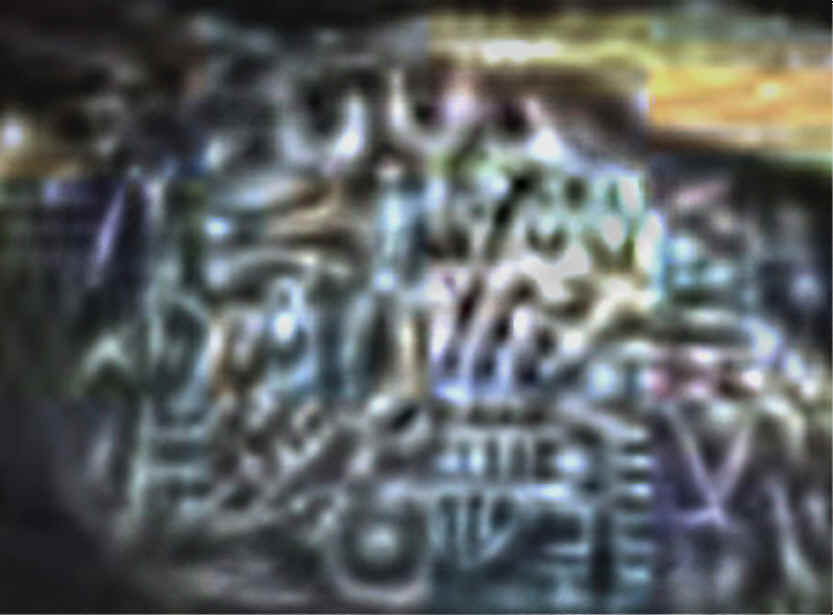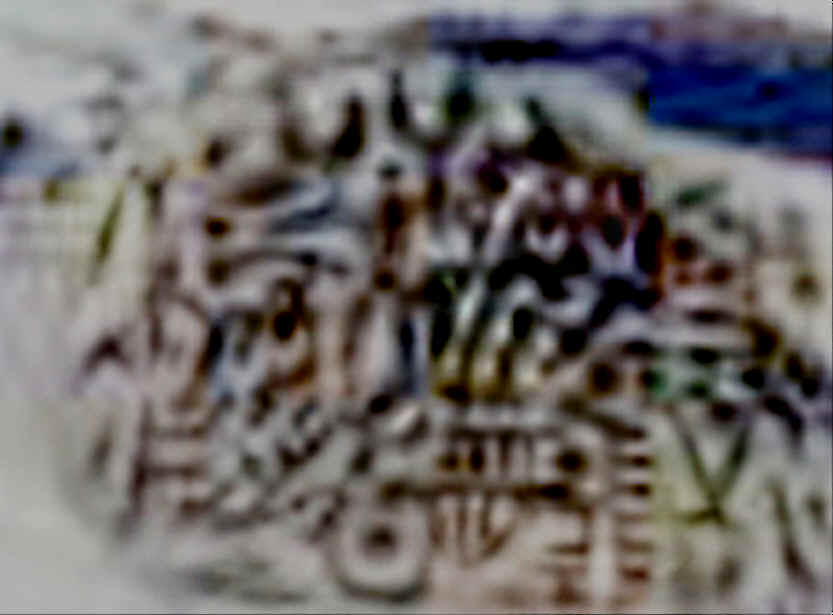 THE IMAGES ABOVE WERE DOUBLE REVERSED NEGATIVE VIEW TO BRING OUT
ADDITIONAL IMAGERY OF THIS STORY STONE
THE MAN FIGURE IN THE CENTER OF THE STORY STONE RIGHT ARM EXTENDED TO IT'S RIGHT, LEFT ARM TUCKED IN LEFT LEG CROSSED OVER RIGHT LEG. USING FILTERS, COLOR, SHADING, HIGHLIGHTING, AND INVERTING THE IMAGE , SEVERAL VISUAL INTERRUPTIONS HAVE EMERGED. IS THIS A STORY STONE? IS IT PIXEL DISTORTIONS? THERE ARE MANY WAYS TO SEE THE SAME IMAGE WHICH LEAVES THIS A MYSTERY STONE. MANY OTHER STONES HAVE THE SAME SYMBOLS AND LETTERING
STORY STONE TWO IN LOWER RIGHT OF THIS IMAGE
HAS IMPRESSIVE DEEP CARVED IMPRESSION AS WELL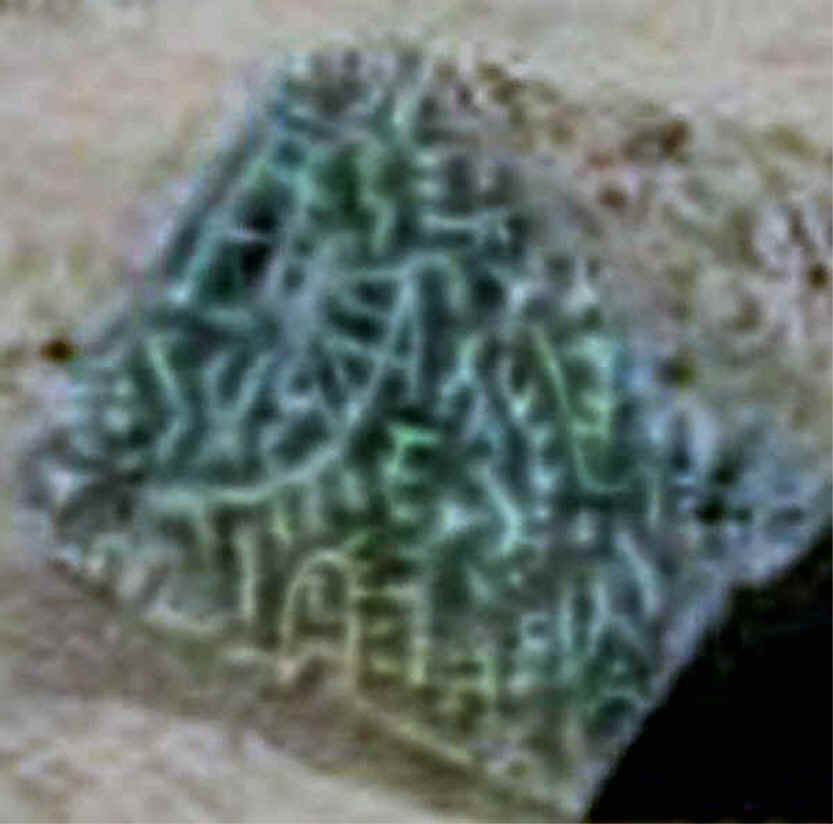 MANY OF THE SYMBOLS ARE FOUND ON
MARS DEEP CARVED STONES IN DIFFERENT LOCATIONS
SUGGESTING A WIDE SPREAD LANGUAGE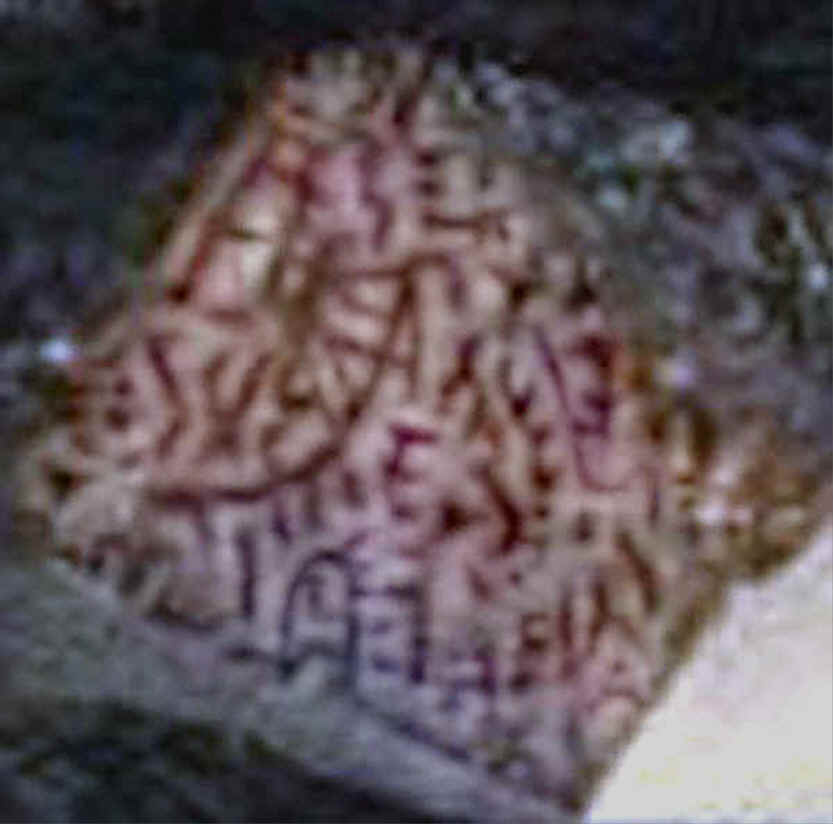 SYMBOLS AND LETTERS IN THE INVERTED/NEGATIVE VIEW
MAY VISUALLY REVEL A HIDDEN VIEW OF SYMBOLS
WHO EVER CUT INTO SOLID ROCK WAS USING A VERY
PRECISE AND ADVANCED TOOL
TO CREATE RAISED LETTERING
---
---
SOL 569 MORE
HAS MORE IN THE FORM OF LETTERS CARVED IN STONE
ENGLISH LOOKING "C V" ?
C V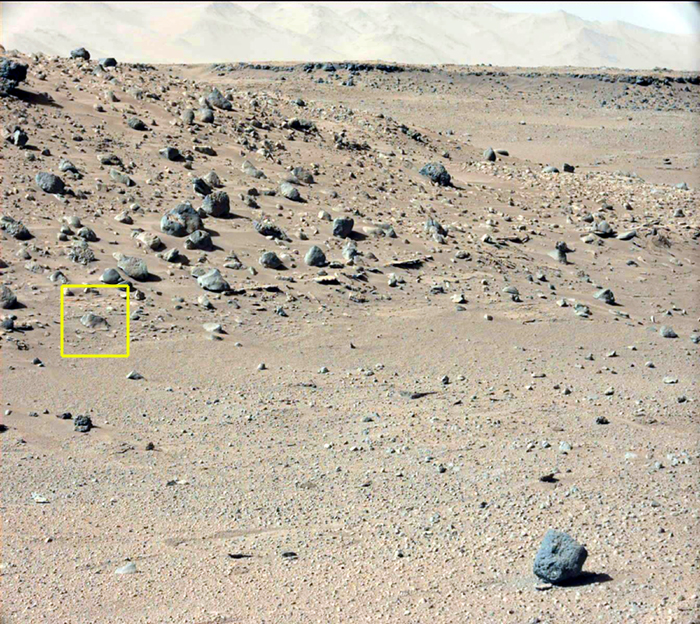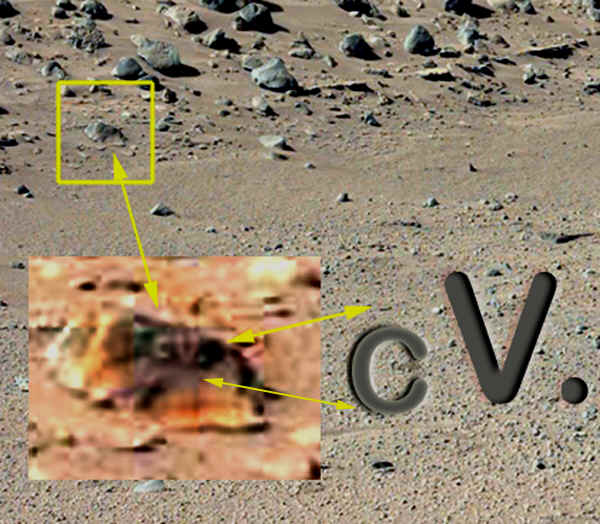 LETTERS C V CARVED IN STONE
---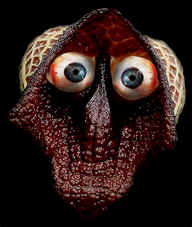 WILD SPECULATION FROM THE MARTIAN TWINS:
THE GUY IN THE SPACE SUIT IS RUNNING DOWN A DUSTY SLOP WITH HIS HELMET OFF AND ON HIS SHOULDER.
HE IS VERY CLOSE TO STORY STONES AND A VEHICLE JUST TO THE SIDE A LARGE FLAT SQUARED FLOOR.
THE VEHICLE LOOKS TO BE DRILL RIG AND NASA HAS PLACED BLUR BOXES TO KEEP THE PUBLIC FROM
SEEING THE EXOTIC EQUIPMENT WITH A FACE ICON ON THE FRONT OF VEHICLE.
THE DUST TRAIL BEHIND THE RUNNING GUY IN THE SUIT IS LIVE FREEZE FRAM EVIDENCE OF CURRENT
OCCUPATION OF SOMEONE? THE CARVING IN ONE OF STORY STONES SHOW A TWO LEGGED, TWO ARMED,
ONE HEAD BODY HUMAN LIKE FIGURE. WHO?

---
---
UPDATED FEB 2018