1492
WATER HOLE FOUND ON
SOL 1492
MORE PROOF
FLOWING WATER IS ON THE SURFACE
October 16 2016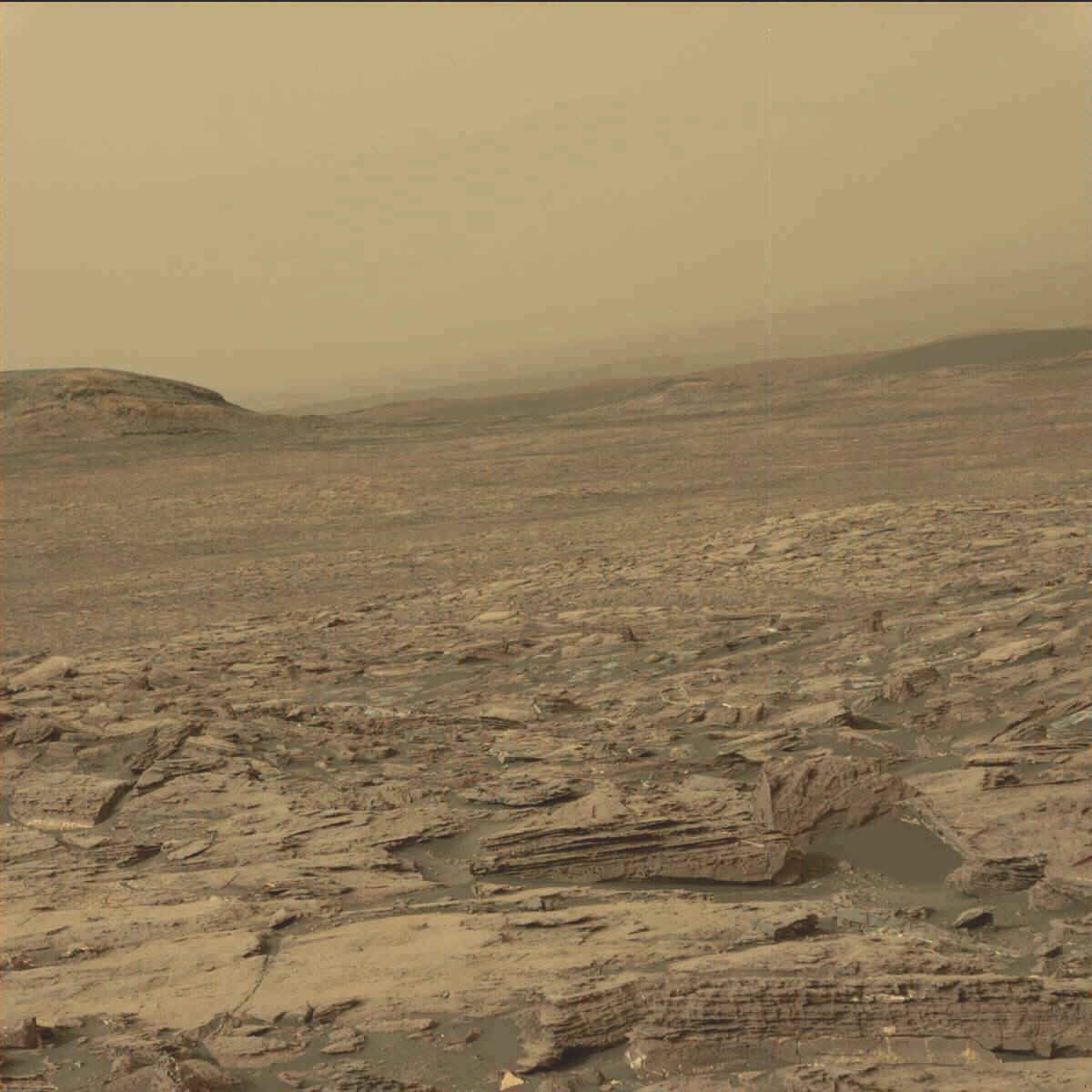 http://mars.jpl.nasa.gov/msl-raw-images/msss/01492/mcam/1492ML0075080260603700E01_DXXX.jpg
This image was taken by Mastcam: Left (MAST_LEFT) onboard NASA's Mars rover Curiosity on Sol 1492 (2016-10-16 22:15:09 UTC)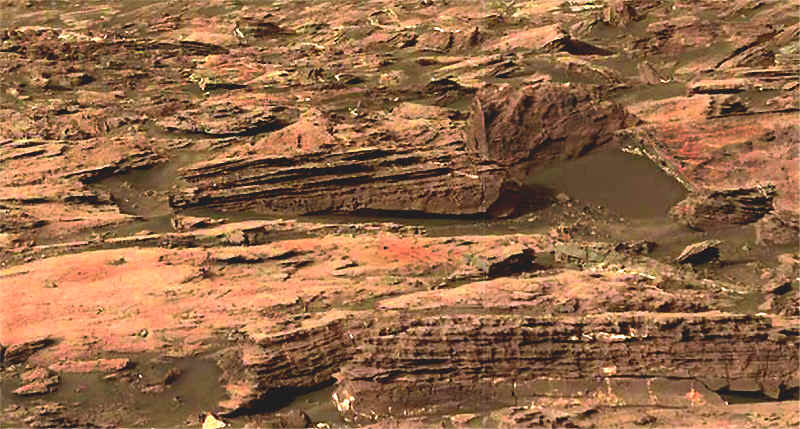 THE ABOVE IMAGE
WATER WITH SKY REFLECTIONS ARE BLURRED BY NASA
WATER FLOWING
WATER POOLING FOREGROUND MID-GROUND AND BACK GROUND
ROCK FACE WATER EROSION
AND EVIDENCE OF NASA TAMPERING WITH IMAGE TO
COVER UP THE WATER WITH COLORED BLURRING BOXES
BLUR BOXES ARE ONLY TRYING COVER THE REFLECTION OF THE
SKY======WHICH DRAWS MORE ATTENTION TO THEM
THE WATER HOLE WAS FOUND DUE THE METAL PLATE
EXTENDING FROM THE ROCK (SEE MORE BELOW)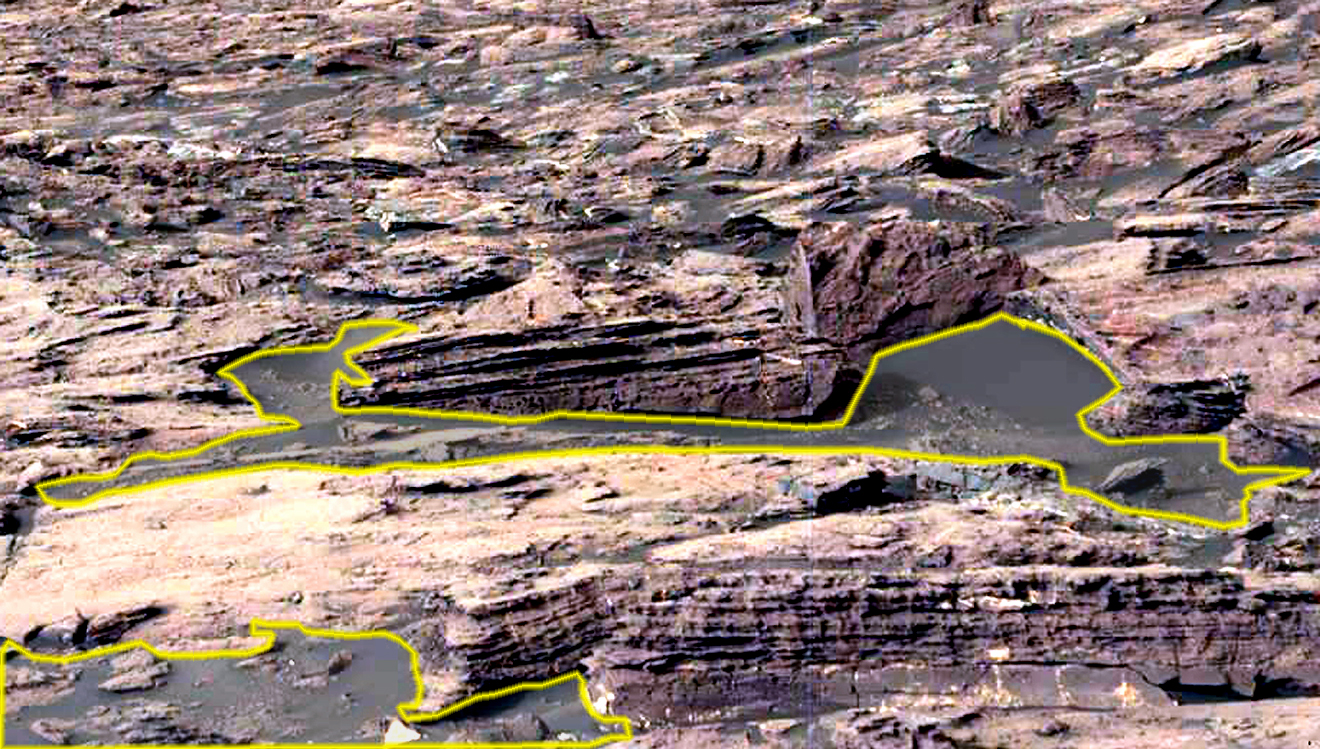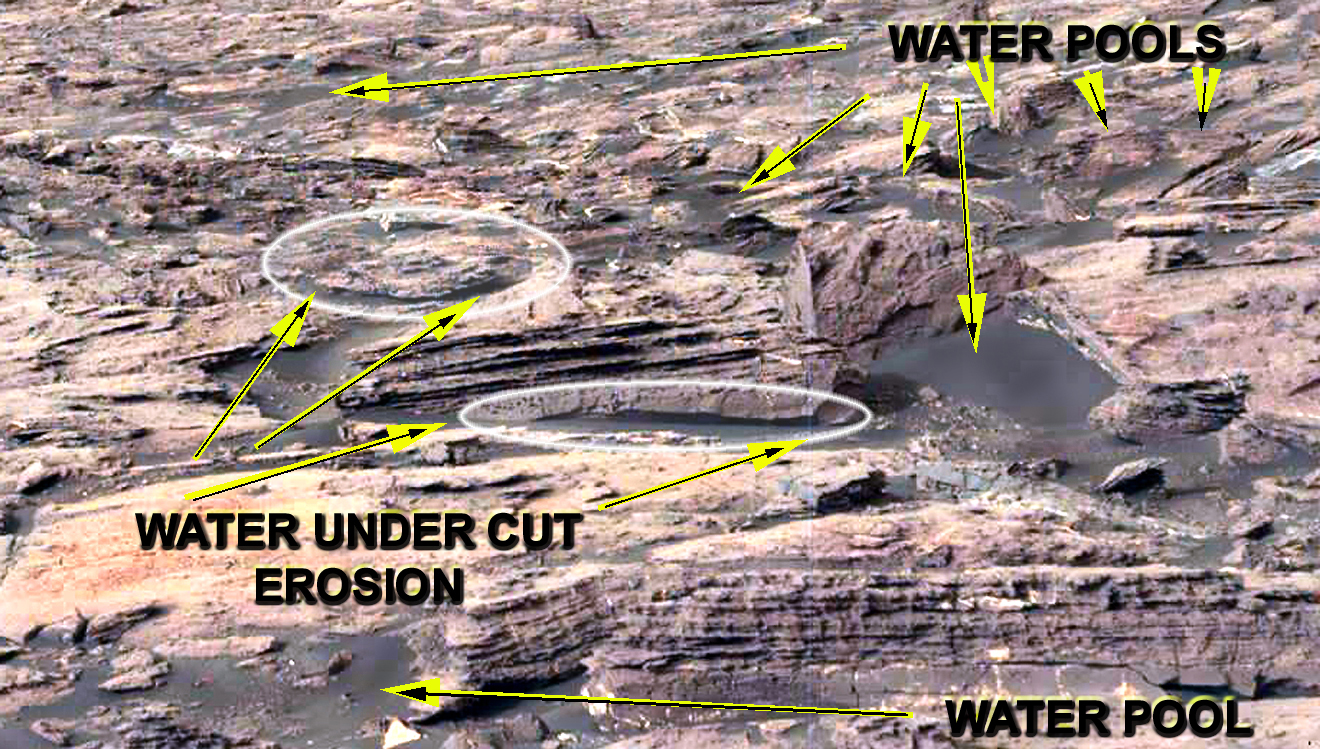 NOTICE WATER MARKS BOTTOM IMAGE JUST OVER THE YELLOW
LINE FROM "WATER POOL", WET TO DRYING ROCK FACE.
THERE ARE MORE POOLS IN IMAGE THAN THE ARROWS SHOW
AND ALMOST EVERY ONE HAS COVER UP BLUR BOXES?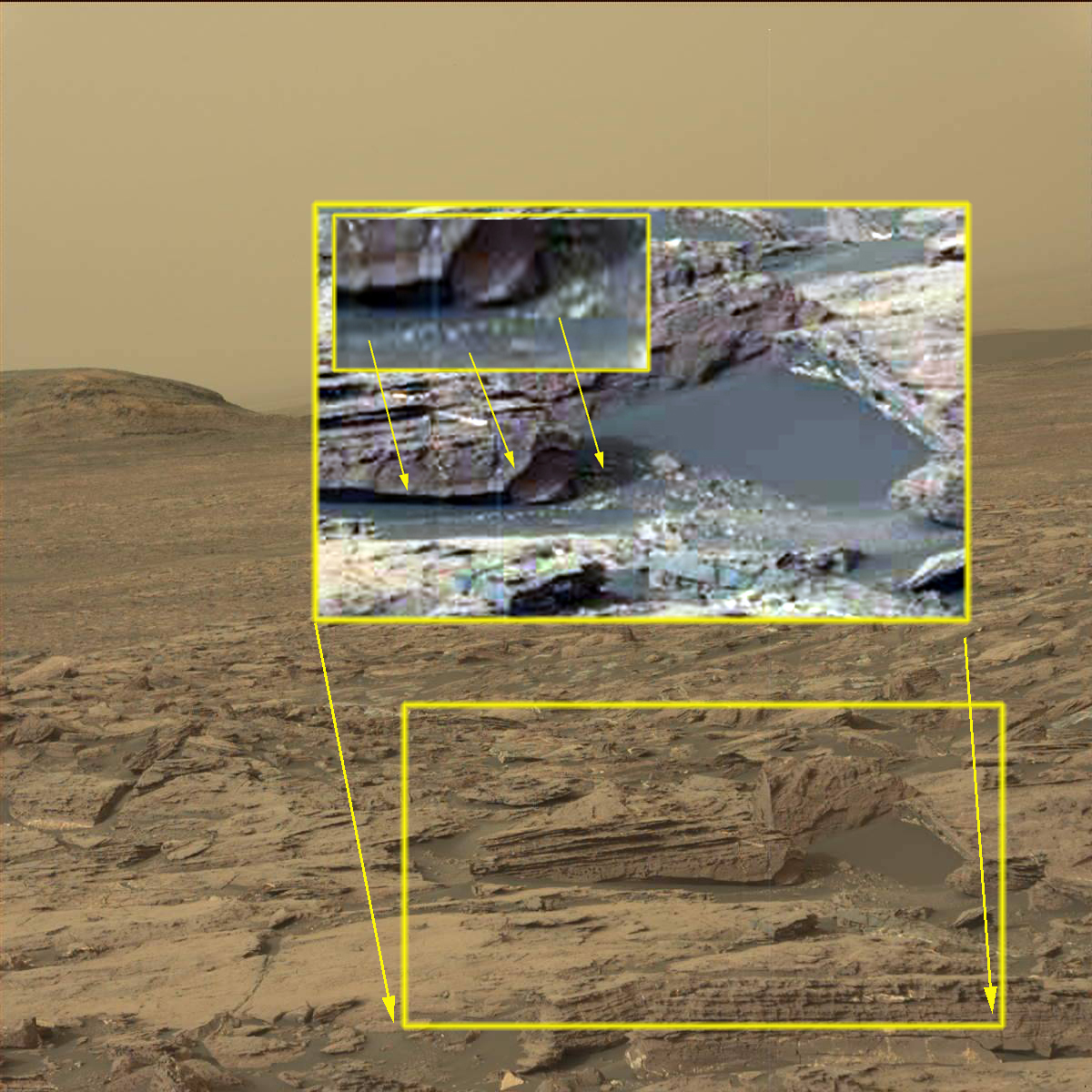 http://mars.jpl.nasa.gov/msl-raw-images/msss/01492/mcam/1492ML0075080260603700E01_DXXX.jpg
This image was taken by Mastcam: Left (MAST_LEFT) onboard NASA's Mars rover Curiosity on Sol 1492 (2016-10-16 22:15:09 UTC)
IMAGE OF WATER HOLE AND
UNDERCUT EROSION ON ROCK FACE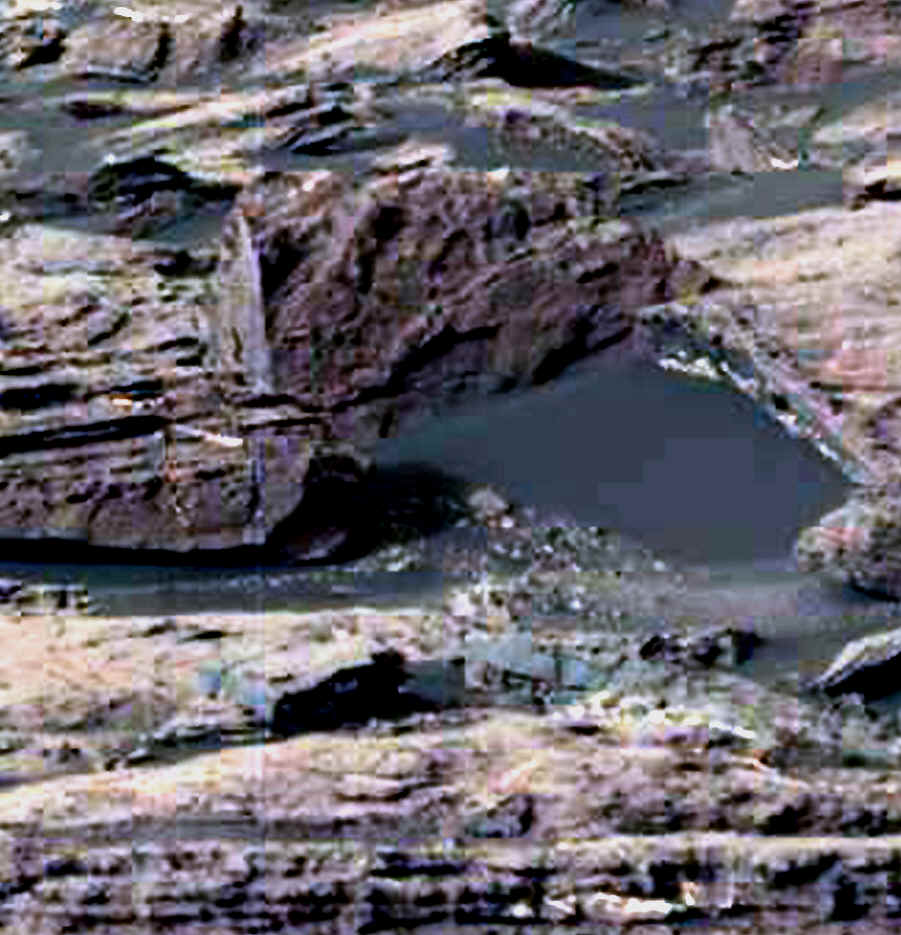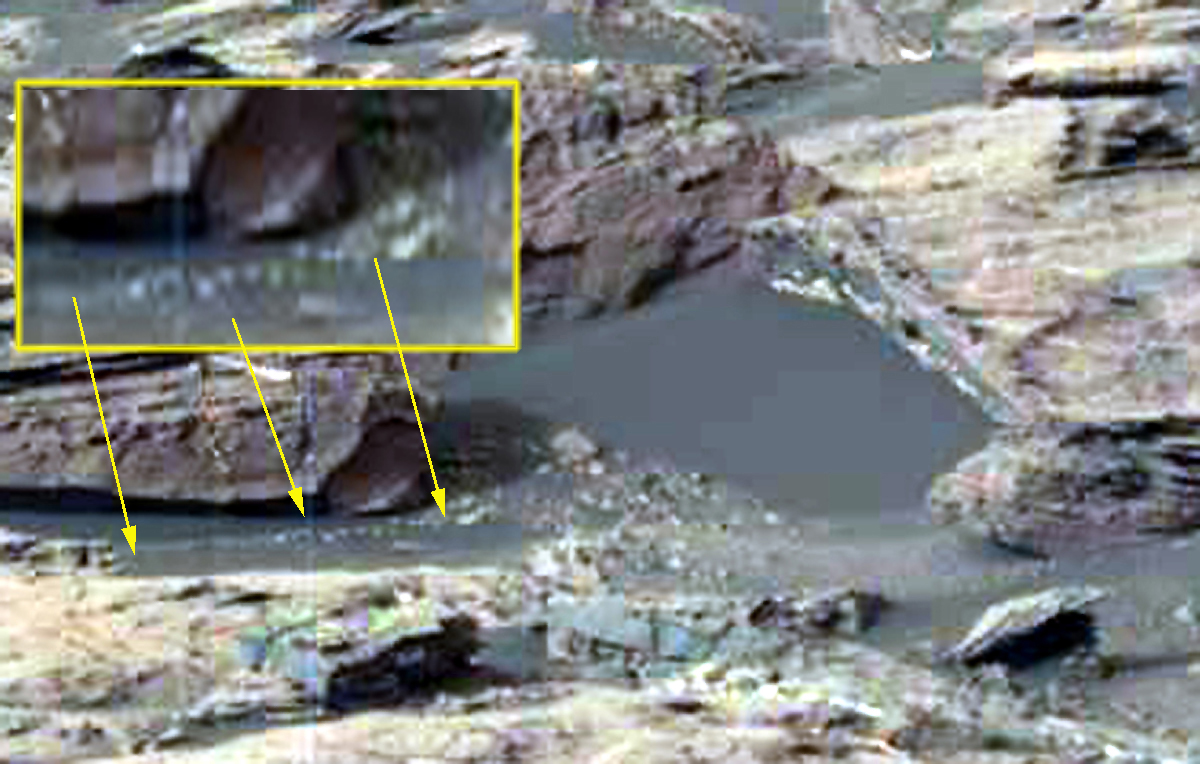 Notice the main pool is blurred with blur boxes
clear water to left side see the arrows pointing to
objects under translucent water
Water flow pattern from main pool leading up to rock face erosion
is more evidence of flowing water like a creek
Water line has zones of wet to dry sandy consistent with water hole
Objects just under the water line are on the left and
correctly distorted as under water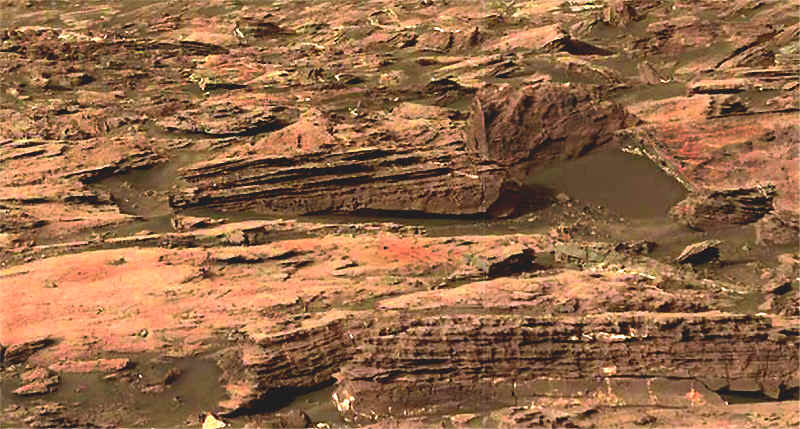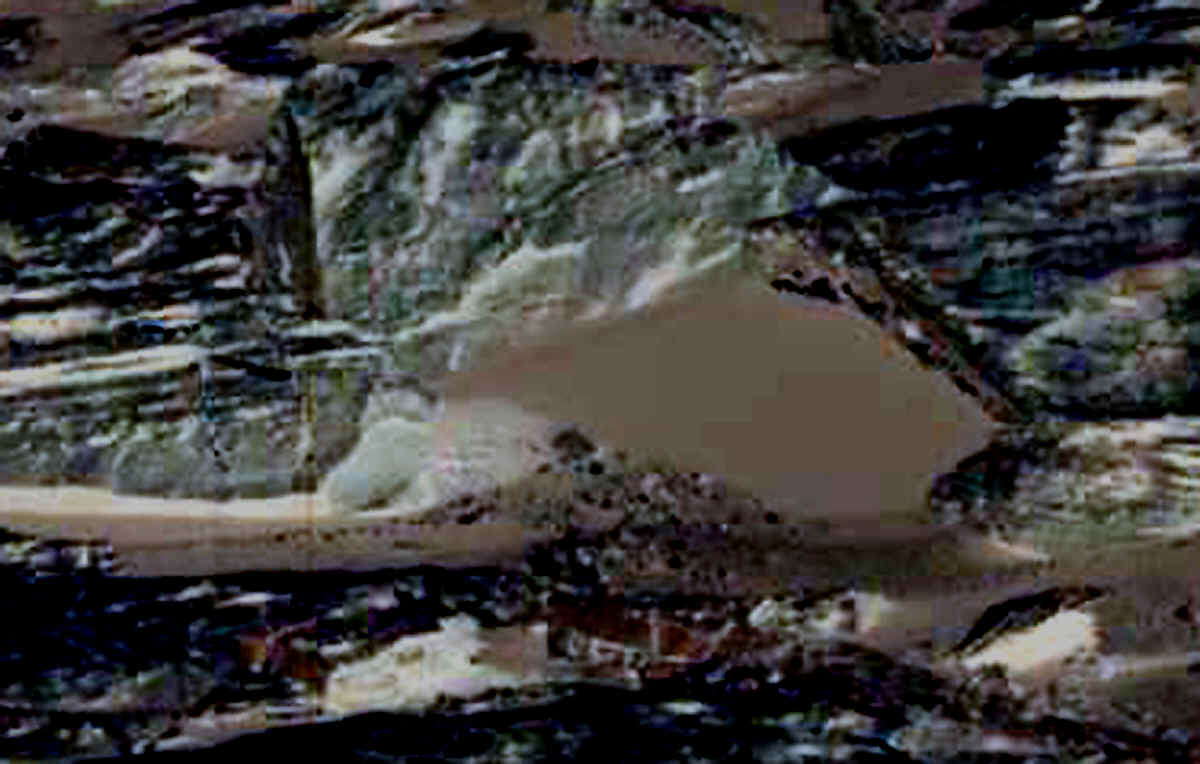 USING THE INVERT SETTING ON THE SOFTWARE THE COLOR
TAKES ON A MUD LIKE BROWN HOWEVER THE TRUE COLOR IS
FROM THE ADJUSTED AUTO COLOR ABOVE IMAGES
THE BLUR BOXES OVER THE REFLECTING PIXELS CONTRIBUTES
TO NASA'S DISTORTING THE IMAGES TO COVER UP FLOWING WATER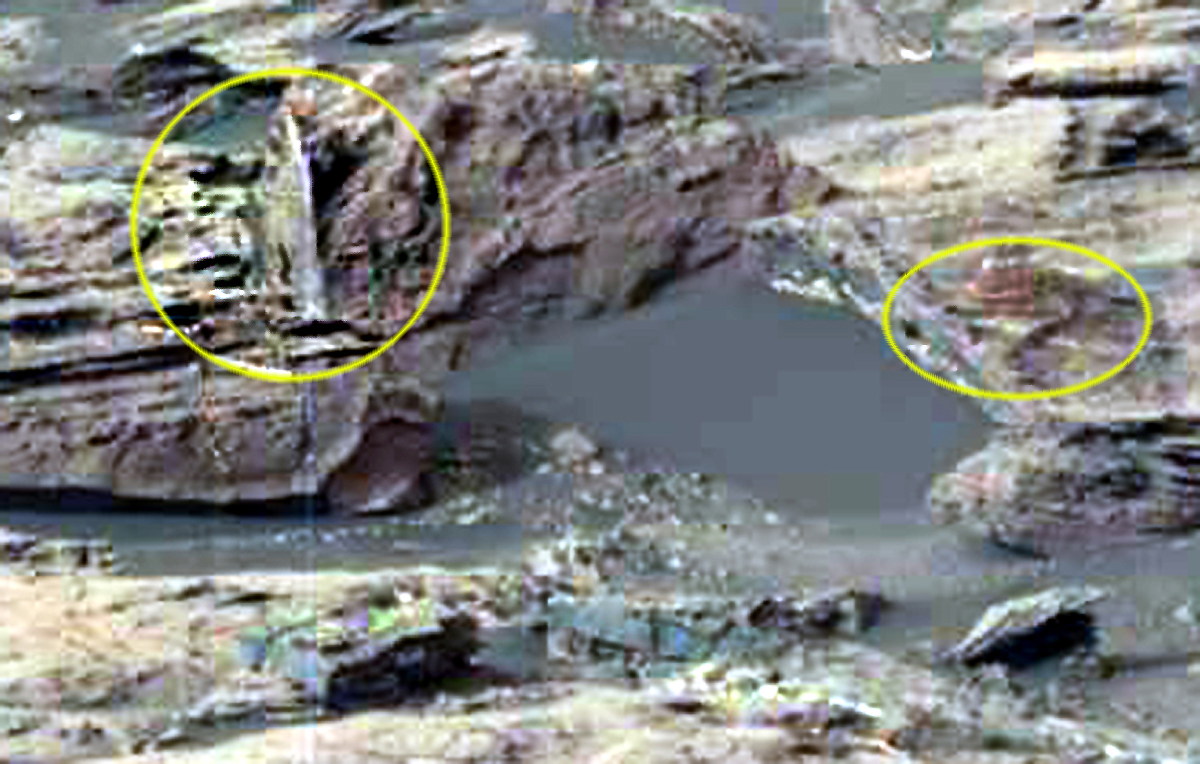 LEFT CIRCLE APPEARS TO BE METAL JAGGED PLATE
POSSIBLY DEBRIS FROM NEAR BY SHIP FIND
THE PLATE IS THE FEATURE THAT DREW ATTENTION TO THIS
IMAGE IN THE INITIAL INVESTIGATION OF THIS SHOT
CIRCLE ON THE RIGHT HAS "X" AND CYLINDER LOOKING OBJECTS
WITH IN A RECTANGLE OUT LINE MAYBE MORE PLATING FROM
THE SUNKEN SHIP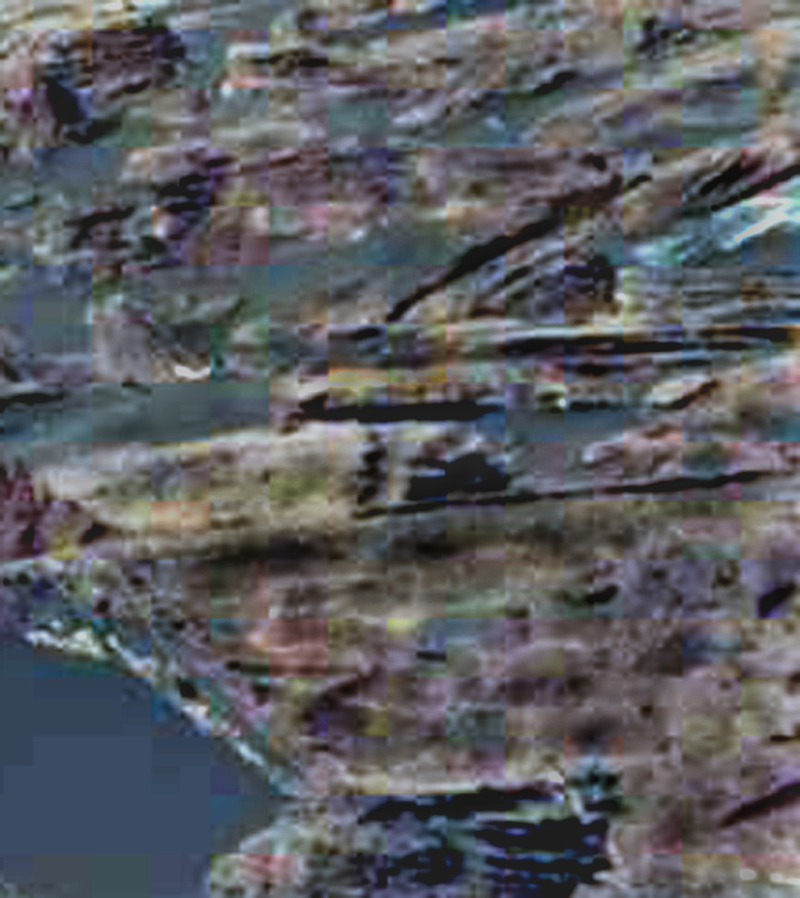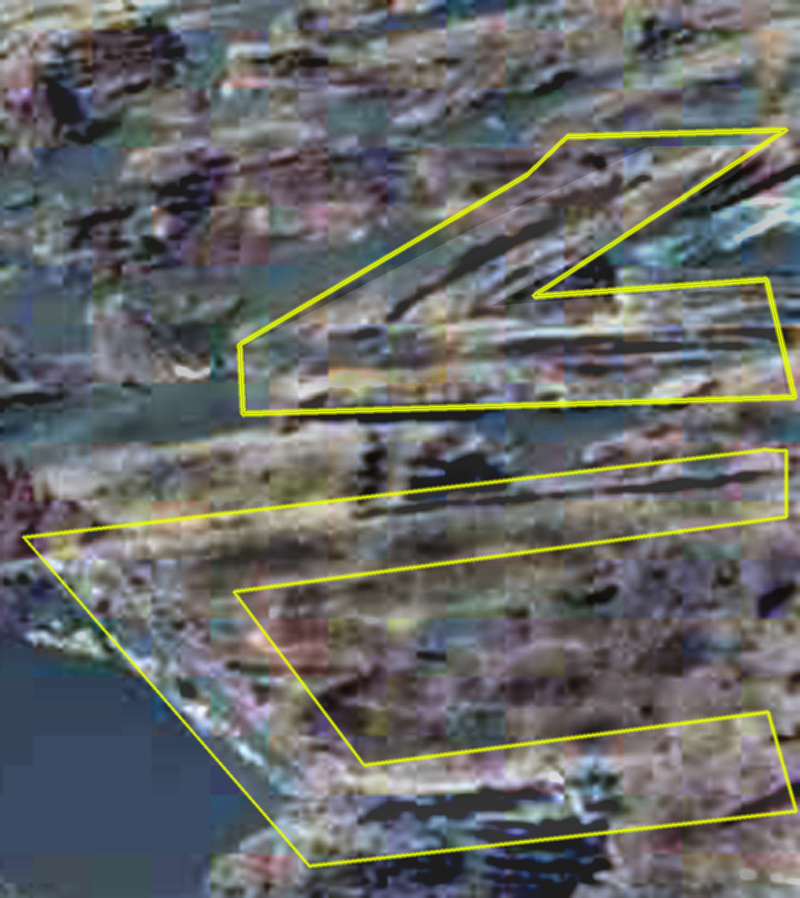 THE YELLOW OUTLINE OF SQUARE FOUNDATIONS
NEXT TO WATER HOLE IS FURTHER INTERESTING FEATURES IN
THIS IMAGE
---
SECOND WATER HOLE ON 1492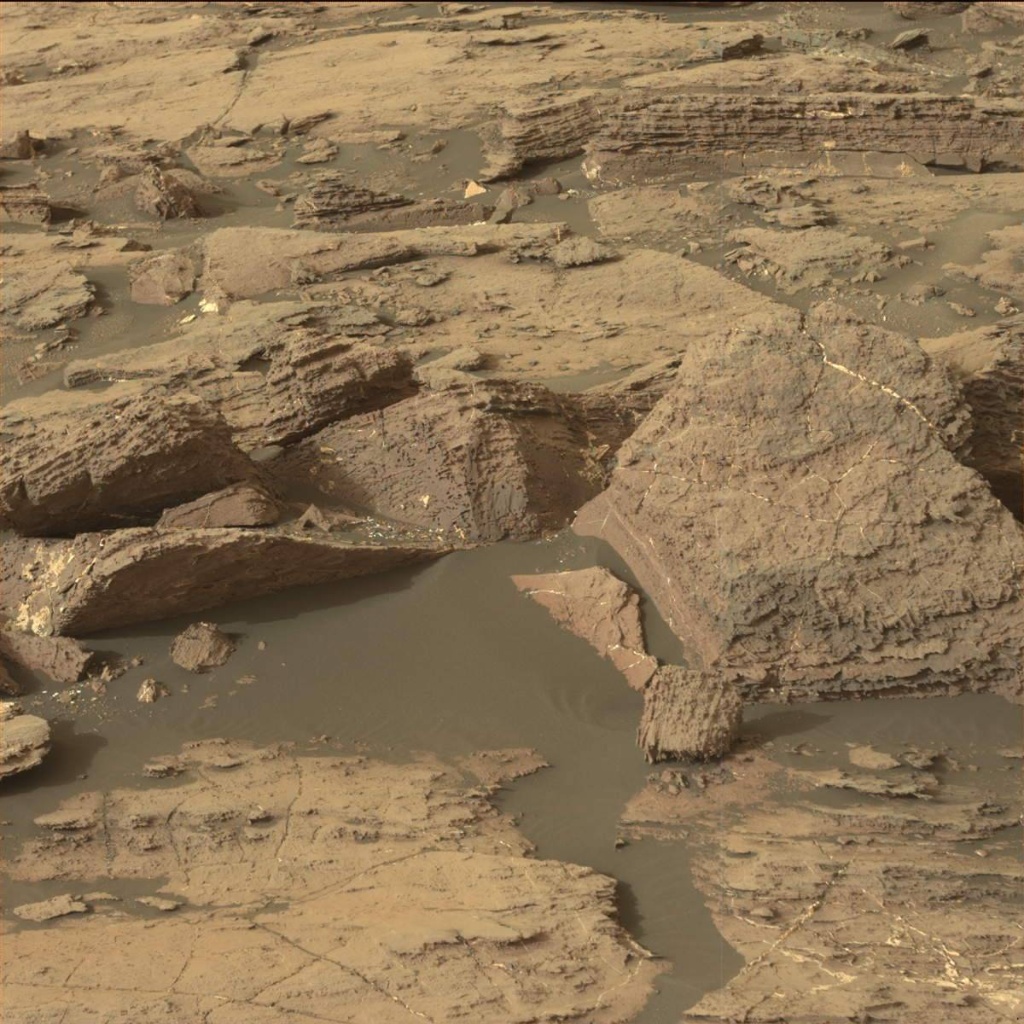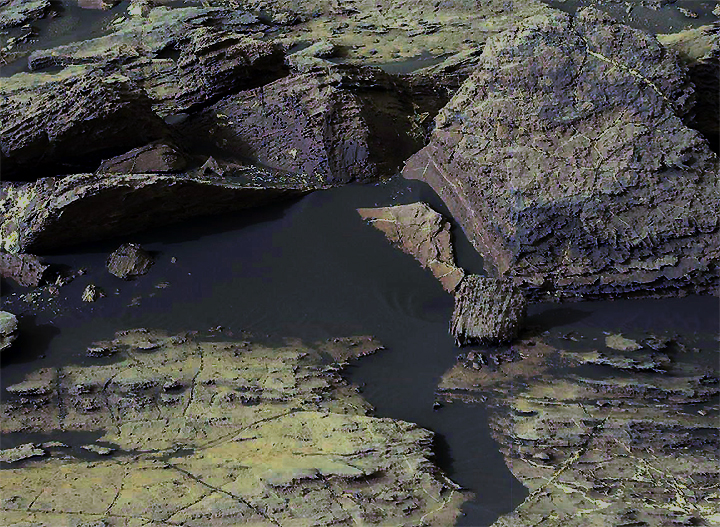 https://mars.jpl.nasa.gov/msl/multimedia/raw/?rawid=1492ML0075080610603735E01_DXXX&s=1492
This image was taken by Mastcam: Left (MAST-LEFT) ob board NASA's Mars rover Curiosity on Sol 1492 (2016-10-16 22:24;27 UTC).
---