141
Sol 141

BIRD LIKE CREATURE ?
OR
STATUTE CARVE FROM STONE?
OR
A MARTIAN HEMATITE FOSSIL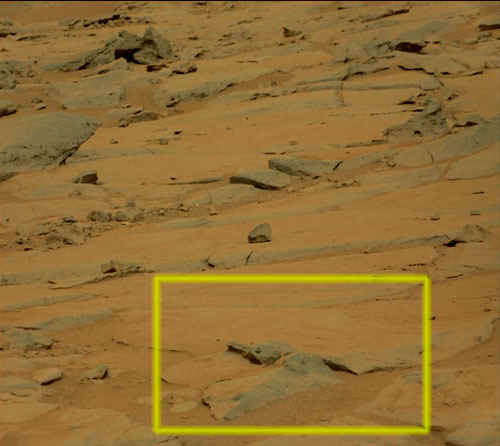 http://mars.jpl.nasa.gov/msl/multimedia/raw/?rawid=0141MR0820006000E1_DXXX&s=141
This image was taken by Mastcam: Right (MAST_RIGHT) onboard NASA's Mars rover Curiosity on Sol 141 (2012-12-28 19:38:31 UTC).
SOMETIMES GEOLOGY CAN FORM ROCK FORMATIONS THAT
RESEMBLE CREATURES AND CAUSE OPTICAL ILLUSIONS
NOT THIS TIME

WHAT MAKES THIS OBJECT SUBJECT TO NOT BEING A NATURAL ROCK.
THE HAS A NUMBER OF CHARACTERISTICS THAT RESEMBLES
A WINGED CREATURE OR FACSIMILE IN STONE POSSIBLY HEMATITE?

RELATIONSHIP OF SKULL TO BODY AND BEAK
RELATIONSHIP OF EYES TO SKULL
RELATIONSHIP OF BEAK TO SKULL
RELATIONSHIP BODY TO WINGS
AERODYNAMICALLY CONSISTENT WITH FLIGHT
IS IT BIRD? IS IT A PLANE? IS IT A CARVED ROCK OF A BIRD?
OR HAS A ROCK SOME HOW TAKEN ON MOST CHARACTERISTICS
A WINGED CREATURE?
OR
HAS IT BEEN CREATED BY THE SAME PROCESSES THAT FORMS
HEMATITE?
SEVERAL IMAGING CORRECTIONS HAS OUTLINED A FULL VIEW OF
THIS OBJECT ON SOL 141 AND IS CONSISTENT OF A FLYING CREATURE IN
FOSSIL OR CARVED STONE FORM

THIS FORMATION RESEMBLES A BIRD WITH WINGS,
EYES, HEAD AND BEAK LIKE SNOOT, AERODYNAMICALLY CONSISTENT WITH
FLIGHT

HEMATITE
MARTIAN SPHERULES KNOWN AS BLUEBERRIES DUE TO THEIR BLUE HUE
AND GEOLOGIC FORMATION OF IRON SPHERULES
KNOWN ON EARTH, AS HEMATITE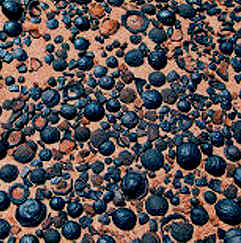 HEMATITE OCCURS WHEN HOT WATER RICH IN IRON DEPOSITS ON GRAINS
AND THE DEPOSITS KEEP GROWING LARGER FORMING SPHERULES AS THEY
TRAVEL ALONG WATERWAYS AND END UP CAPTURED IN MUD AND SAND
GEOLOGICALLY CAPTURING THE NODULES IN SANDSTONE
THE NODULES ARE MUCH STRONGER THAN THE MATRIX THEY END UP IN
AND WHEN THE MATRIX IS BLOWN WAY BY WEATHERING-THE STRONGER
HEMATITE REMAIN

FOSSILS ON EARTH FORM FROM CALADIUM CHEMISTRY EXCHANGES
WITH BONE CHEMISTRY AND FORMS ROCK FROM BONE OVER TIME

MARS DESTRUCTION WOULD HAVE CAUSE A LOT OF HOT WATER AND
THE GEOLOGY FUNCTION OF CREATING BLUEBERRIES MAY BE
APPLIED TO CREATURES CAUSING THE ORGANIC MOLECULES TO BECOME
NON ORGANIC AND FORM IRON LARGE HEMATITE IN THE FORM OF A CRITTER
LOOK CLOSE AND YOU SEE UNDER THE HEAD AND BEAK THE MATRIX
SANDSTONE HAS BEEN REMOVED BY WEATHERING WIND ACTION
HEMATITE STRUCTURE IS DENSER THAN THE SANDSTONE AND WHEN
THE WINDS BLOW THE SANDSTONE AWAY THE HEMATITE SURVIVE
THE WEATHERING AND REMAIN
THE OBJECT IN THE IMAGE MAY BE A VERY LARGE HEMATITE FOSSIL ?

---